Links to Amazon on this blog are affiliate links*
This year has been jam packed full of fun adventures, including writing a book called Baby Sleep Solutions. Yes, WRITING A BOOK. I am so proud of this accomplishment. It's been on my list of things to do for awhile now, and suddenly I did it! I am an author and can hold my words in paperback form. It's so wonderful to say.
Below you will find a detailed section on what is in this book, along with a video sneak peek! Baby Sleep Solutions is basically my how-to guide on getting your baby to sleep a full 12 hours at night. And it's written for parents- it's the HOW, not just the WHY…and it's a length that you can actually read, even as a sleep deprived parent!
My passion for baby sleep took on new levels this year as we welcomed our third child in December of 2018. I suddenly was back in the trenches of newborn life in 2019 and was eager to take on the challenge of getting our baby sleeping well, and helping him to learn to prioritize sleep.
This year I've been writing a lot less on my blog as a result, and I've honestly been so stressed about that. I used to write a minimum of 1 to 3 times a week. It was a good balance and I really enjoyed it. I still do, but this year the amount of blogging I did dropped off significantly as I took on more and more projects, along with having an infant.
I managed to write updates about William's schedules throughout the year, and a few other posts here and there, but that was about it!
Having an infant and a 4 year old means that I just don't have as much time to myself anymore. Their nap schedules didn't line up well for a long time, and activities and school for our 4 year old keep us on the go.
For most of the year, I've gotten either no time to myself during the day, or minimal amounts- maybe an hour to an hour and a half. This is even with consistent nap times and independent play time. Schedules of children at such different ages just don't always line up they way we might want them to. When they are not in nap or independent play time, I do my best to focus on them.
And so, this year blogging took a back seat. This year started with a newborn in my arms. About 6 months later I started a second blog, one that is dedicated to April Rey (our second child that died at birth). I then started selling physical products in my store, and soon after that I made my blogging business official as I started an LLC. Shortly after all of that I was publishing my book on baby sleep.
Of course, now I'm also working on another project (I like to keep busy apparently)- a book series on grief for parents and children going through baby loss- specifically termination for medical reasons. Needless to say, it's been a whirlwind of a year!
Almost 5 years ago I started writing this blog- Mama's Organized Chaos. In this post you can read about why I started the blog and why I called it "Mama's Organized Chaos."
"There is a lot of general 'chaos' that enters your life when you become a parent. Things that feel out of your control. Except my realization came pretty quickly, that we can organize that chaos. We can provide structure to the seemingly chaotic mess that is the baby stage and there after. You don't have to assume you'll be waking up at all hours of the night for eternity just because you are now a mom."

Why I Chose to Start a Babywise Blog
I started the blog for several reasons as I describe in the above linked post, but the main reason being that I simply wanted to record what we were doing. I fell in love with using baby schedules and wanted to document our journey for others and for ourselves to use with future children!
Teaching babies to sleep well became a passion of mine. At one point I even looked into becoming a sleep consultant because I loved it so much. Then I decided that parents shouldn't have to pay a sleep consultant to get help, when this was something they could do themselves.
I started a group on Facebook and I promoted my blog instead. As people found the blog they often reached out for help. I helped people one on one for free and answered their questions and wrote as much as I could on the topic.
I immersed myself in it because it was helping people and I wanted parents to know that they could be successful in teaching their baby how to sleep. I wanted parents to know that they didn't need a baby sleep specialist, because there are straightforward tactics that all parents can use to be successful on their own, without paying tons of money.
A baby coach, sleep coach, sleep specialist, sleep consultant- they may go by different names, but here's the secret– they all teach the SAME things, and you don't have to pay hundreds of dollars to hear what they are going to tell you. You can just read it on this blog or in my book. It's all of the same tactics. Yes, it has my twist on it from my personal experiences, but when it comes down to it, this is the same stuff that all the sleep consultants are charging you hundreds to hear.
After implementing the things we'd learned and practiced with our first child, and helping many others one on one, I felt confident going into things with our next living child. Things went smoothly and my husband and I fine tuned our approach. It was fun and fascinating to see things in action again.
While in the middle of this first year with our son, the words started flowing and I knew I wanted to document our ideas.
I am a book person, not a blog person to be honest. I know that information is so wonderful to have at our hands on the internet, but when it comes down to it, I love holding a book to read or reference. I don't read a lot, but when I do, it's never in kindle form, it's never an e-book, and it's rarely a blog (unless I need quick information fast). My preference is a good old fashioned paperback book.
And so, my goal of putting together a book on baby sleep has been written down for quite some time. This felt like the year to do it since the topics of baby sleep were at the forefront of my mind with an infant in my arms.
When my paperback book was published, it was thrilling to hold my own words in my hand in paperback form. Call me a nerd, but I was so glad to have it as a book to reference- yes I've literally used my own book this year as a reference.
I had post-its with notes on them on each of the schedule pages, and I'd make notes on how I needed to adjust William's schedule each month. It was nice to not have to find the information I wanted by searching my blog, but rather just sitting down and flipping to the chapter of interest. I just find it so handy.
So, what's in this book you might be wondering?
It's all of my tips and tricks for baby sleep.
It's learning how to do sleep training (as in teaching your baby to sleep, not cry it out).
It's bedtime routines, and nap routines.
It's how we got our babies sleeping 12 hours at night.
It's everything we do during the day to set our babies up for success at night.
It's our trial and error fine tuned.
It's the HOW TO. The real nitty gritty of what we did and how we solved problems along the way.
Today I'd like to give you a sneak peek and show you what this book is all about.
Baby Sleep Solutions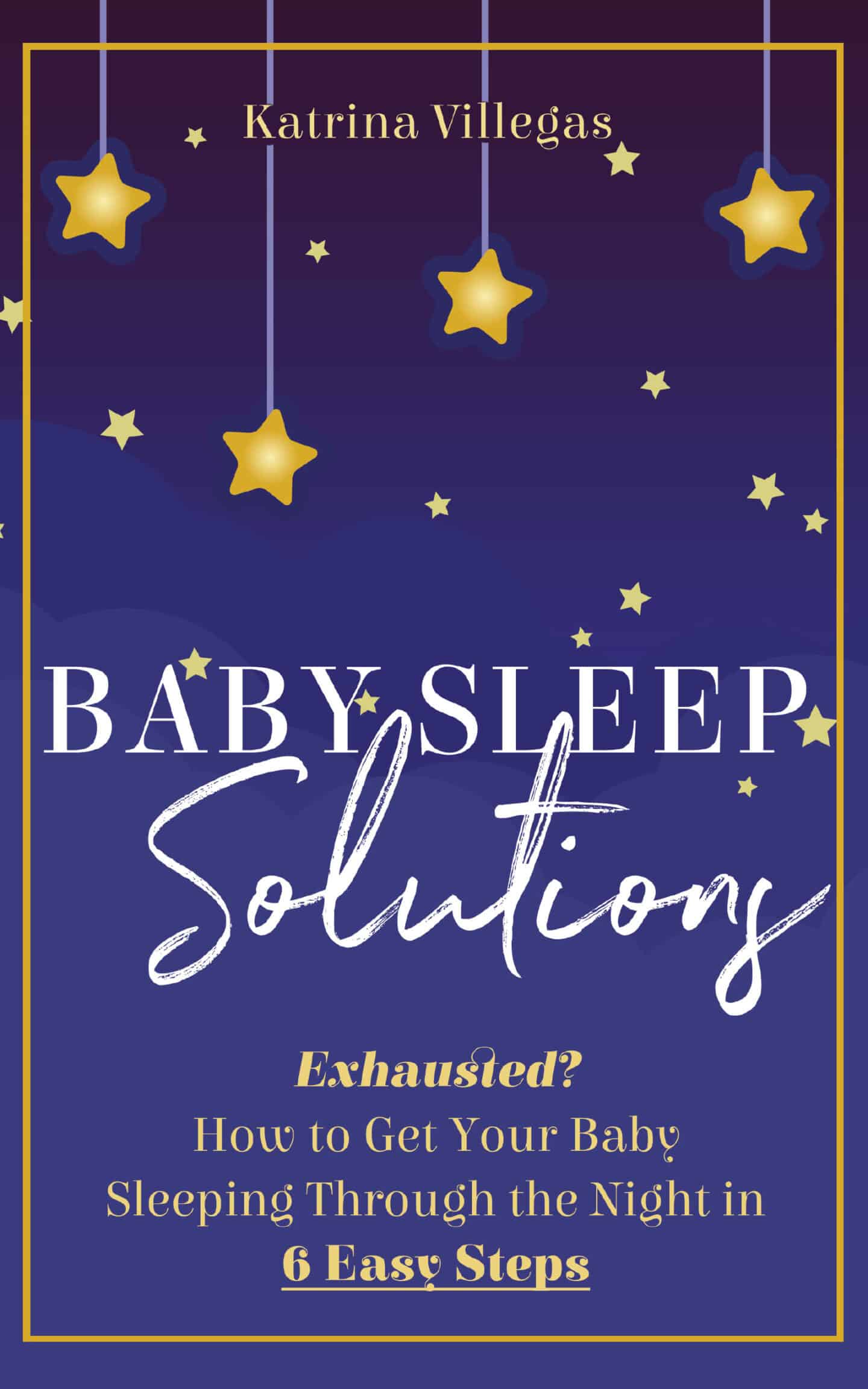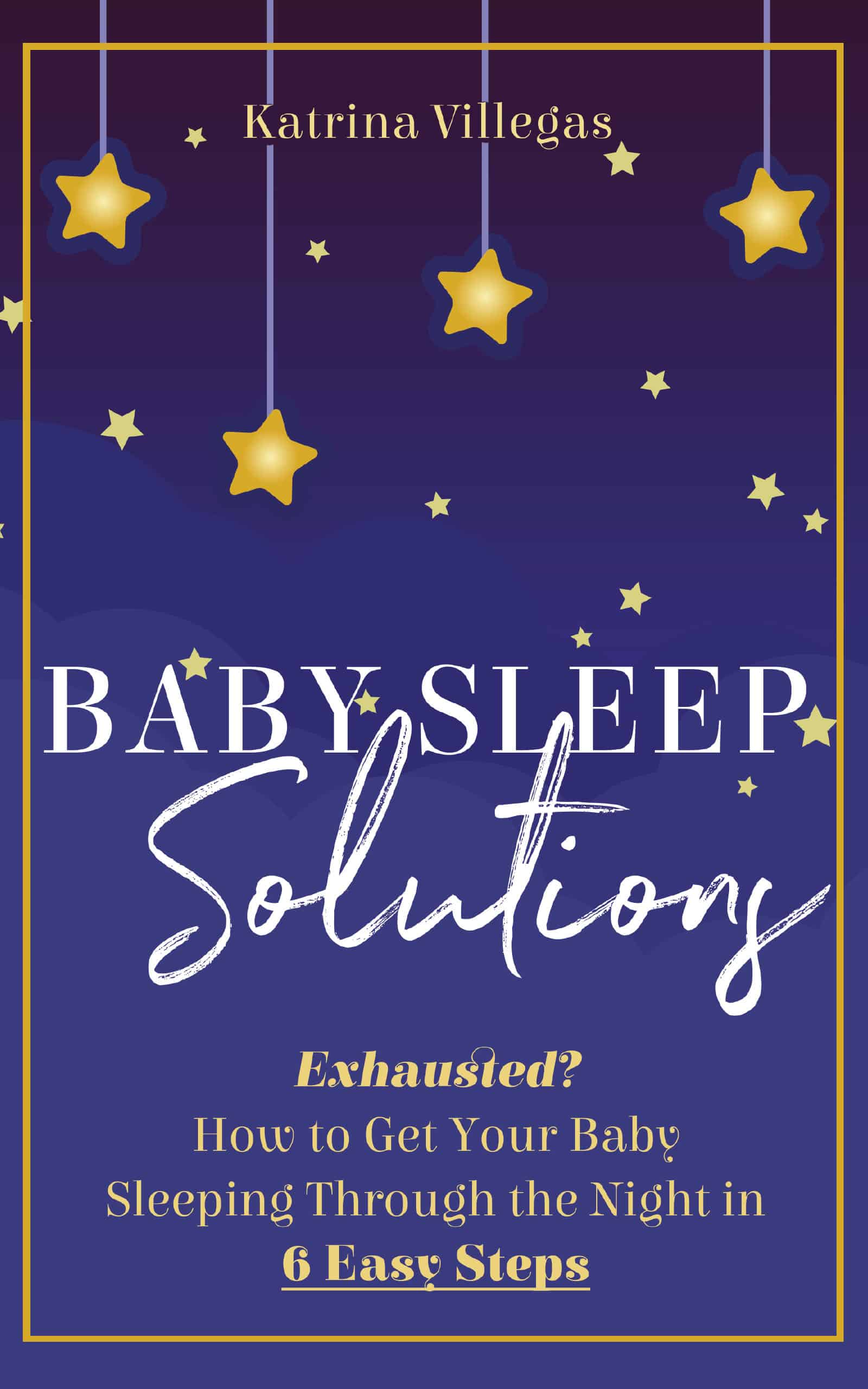 Baby's aren't born knowing when to sleep or how to put themselves to sleep. As parents, we can educate ourselves on how much sleep our babies need, and when those sleeping times should occur. We can educate ourselves on how to prioritize sleep for our babies and set them up for success during the day and the night.
Sleep is SO important. As humans, if we sleep well, we thrive. We can absorb information more readily and learn. Our bodies are healthier if we get the sleep we need. If we fail to meet our sleep needs, however, our bodies don't work as well. Our moods are affected and our ability to learn is greatly impacted.
As a result, during the first year of our baby's life, my husband and I focus most of our energy on prioritizing sleep needs.
As I read parenting books as a new mom, I found they didn't really tell you how to implement ideas. The books were great and gave me ideas, but at the end of the day, I was having to come up with my own methods of doing things. Over the last 5 years, I've tried to document those ideas on this blog.
So, every idea that is in this book is somewhere on this blog, but the book is a nice compilation of the tools that we need to be successful as parents in helping our babies sleep, using solutions that are practical and straightforward.
This book gives you insight as to how we actually did things, not just what we did and will hopefully empower you to be able to do the same with your babies.
The Chapters of Baby Sleep Solutions
The idea of this book is a 6 step method to getting your baby sleeping through the night (a full 12 hours).
Show Your Baby the Difference Between Day & Night
Get Your Baby Taking Full Feedings
Two Types of Routines to Set Up Immediately
The Eat, Wake, Sleep Cycle Explained
Get Your Baby on a Feeding and Sleeping Schedule
How to Tackle Nighttime Wakings in 6 Easy Steps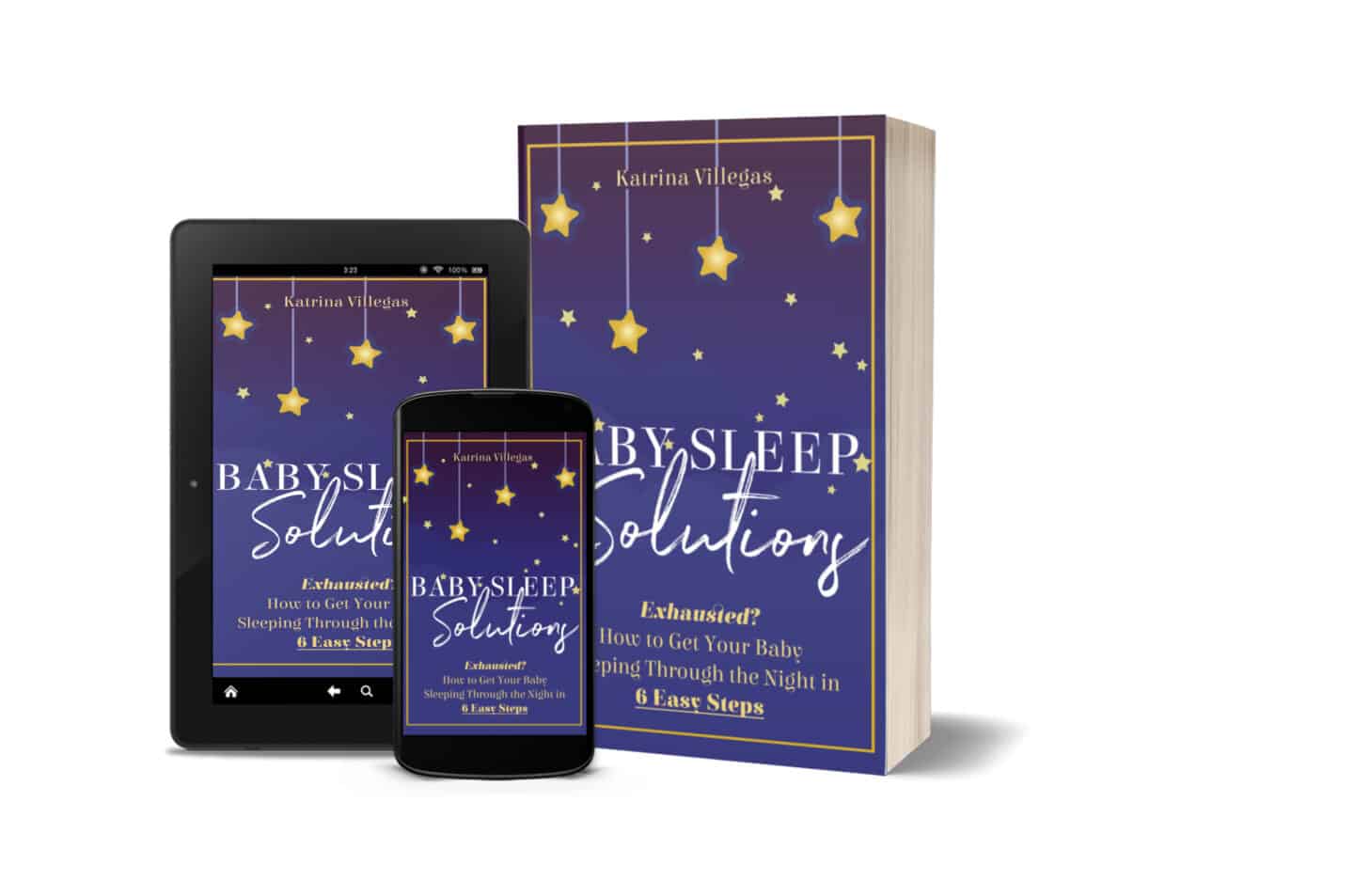 I tried to keep this book simple, because the concepts really are simple and I know that parents don't have a ton of time to be reading up on theories. I focused on 6 easy steps to get your baby sleeping through the night. Each is broken down into it's own chapter, and each chapter gives you tips and tricks, along with insight as to what we've done successfully to achieve each step along the way with our children.
In addition to the 6 steps outlined above, I've included extra information to help you be successful in your journey. The appendix has even more information…
The Appendix of Baby Sleep Solutions
Sleep Tools & Sleep Associations
How to Handle Short Naps
Nap Training
How to Know When Your Baby Needs a Schedule Change
How to Make a Schedule Change
8 Benefits of Keeping Your Baby on a Schedule
Useful Resources
About Me
In this book not only will you learn about the 6 steps to tackling nighttime success with your baby, you are provided with a bunch of extra information to help you be successful. Knowing what schedules to use is great, but if you don't know how to identify when your baby needs a schedule change, the information is useless. And if you know that you need a change, but don't know how to start making those changes, again you'd be at a standstill. All of those ideas are in this book as well.
Things like using pacifiers correctly to benefit sleep, and how to drop the pacifier by 4 months of age are in this book and even some of my favorite products! It's all of my favorite techniques rolled into one place.
My hope is that this book can be a quick reference guide and really help you through the first year with how to actually do things.
This has been such a fun year with these projects that I've taken on, and having an infant again has been just fascinating. I've really loved getting to implement all of the techniques I talk about so often, once more. This is our last child, so I really tried to take it all in and document everything we did.
Video Sneak Peak of Baby Sleep Solutions
Well I was WAY overdue for a video. It's literally been 6 months since I've done one. I wanted to say hi in person and tell you what I've been up to. AND- show you the book! You get to take a look inside the book. You also get to see William!
Oh and don't mind all of the dog noises in the background LOL Once I'd finished the video and played it back I heard all sorts of grunting noises as the dogs wrestled in the background. OH well! It's a true look at life in our house haha!
Grab your copy of Baby Sleep Solutions at Amazon by clicking here. It's in ALL formats- e-book, paperback and audio!
Reviews of Baby Sleep Solutions
This book has a 100% 5 star rating on amazon!
"I saw results with following the guidelines laid out in this book. I remember the first time I laid my daughter down in her crib for a nap and she did not cry in the moments before drifting off to sleep! It was a miracle, haha! This was an incredible feeling and to know that just following a few pointers got me there was a huge testimony to the book!" – Tisha @TishaSpeaks.com- read the full review here.
"When I first opened the package, I noticed that this isn't a large book, especially compared to many of the other parenting books I've read.

After I began reading I noticed that it's not full of photos or a lot of the unnecessary filler material that make up so many self-help and parenting books. Katrina's personality shines through and the book reads as if she's your friend and you're having a conversation about a parent-lead approach to establishing a schedule for you and your baby.

Villegas' book is full of great advice and simple solutions for helping your child sleep through the night, some I had tried and some I hadn't. She stays on point and encourages parents to keep their child's schedule routine, simple, consistent, and quick. The book is easy to read and understand….

I found that I whole-heartedly agree with just about everything in the book. I think that much of the advice in the book is great and would definitely be helpful for a parent hoping to help their child sleep through the night." -Sarah @MomminInTheRealWorld.com – read the full review here.
"I read it in an entire day, it was too good not to put down! It has provided me with so much good information, I would love to share it with you!

It is written by Katrina Villegas, a mother herself. She wrote this book with her background of using these sleep tools herself which each child. She has found that people who use these techniques and tools have their babies sleeping a full 12 hours each night!

It may not be an easy fix for you. These tools do take time, but they work. I have tried lots of them out and Abigail and I both sleep better because of it!" -Kate @Kateable.com – read the full review here.
"This book just makes sense. The early weeks with a baby are exhausting and overwhelming, but this book lays out exactly how to go about teaching your baby to sleep. I strongly believe healthy sleep habits are vital for babies and moms and found this resource to be the best to help the whole family sleep well. Moms, read this one!"
-Kim on Amazon
"Such a great book with realistic steps for sleep success. Thank you! I can't wait to implement these as needed with my son."
-Jenn on Amazon
"This book is super practical – the advice is easy to follow for sleep-deprived parents desperate for some help. I found the tips to be easy to grasp and to implement. Good option for parents in need of some support, and when a sleep coach feels out of reach."
– Amazon Verified Purchaser
"I'm about to be a mama for the second time, and absolutely LOVED the material I found on your website with my first. Your voice was one of reason and understanding, and your organization with schedules for feeding, waking and sleeping were so helpful. I wanted to follow a slightly more relaxed "Babywise" approach, and your blog was the place where I found what I needed. I stopped reading other books and blogs, except for a few keys ones like Dr. Ferber's "How to solve your child's sleep problems".

Sometimes I found it hard to navigate your website simply because of the advertisements and the format on my mobile device. Buying your book was a no brainer! It is short and concise and captures the wisdom and guidance I appreciated so much on your website, without some of the frustration of the website format. Plus, I get to show my support for your work by purchasing a really handy and informative handbook for baby sleep and eating.

Thank you, Katrina!! You've eased my mind as I prepare for baby number two!"
-Amazon Verified Purchaser
What is Baby Sleep Solutions?
This is a book written by Katrina Villegas. The book is a 6 step method on how to get your baby sleeping through the night (a full 12 hours). The method is practical and easy to implement. Included in this book are personal experiences along with basic steps to take.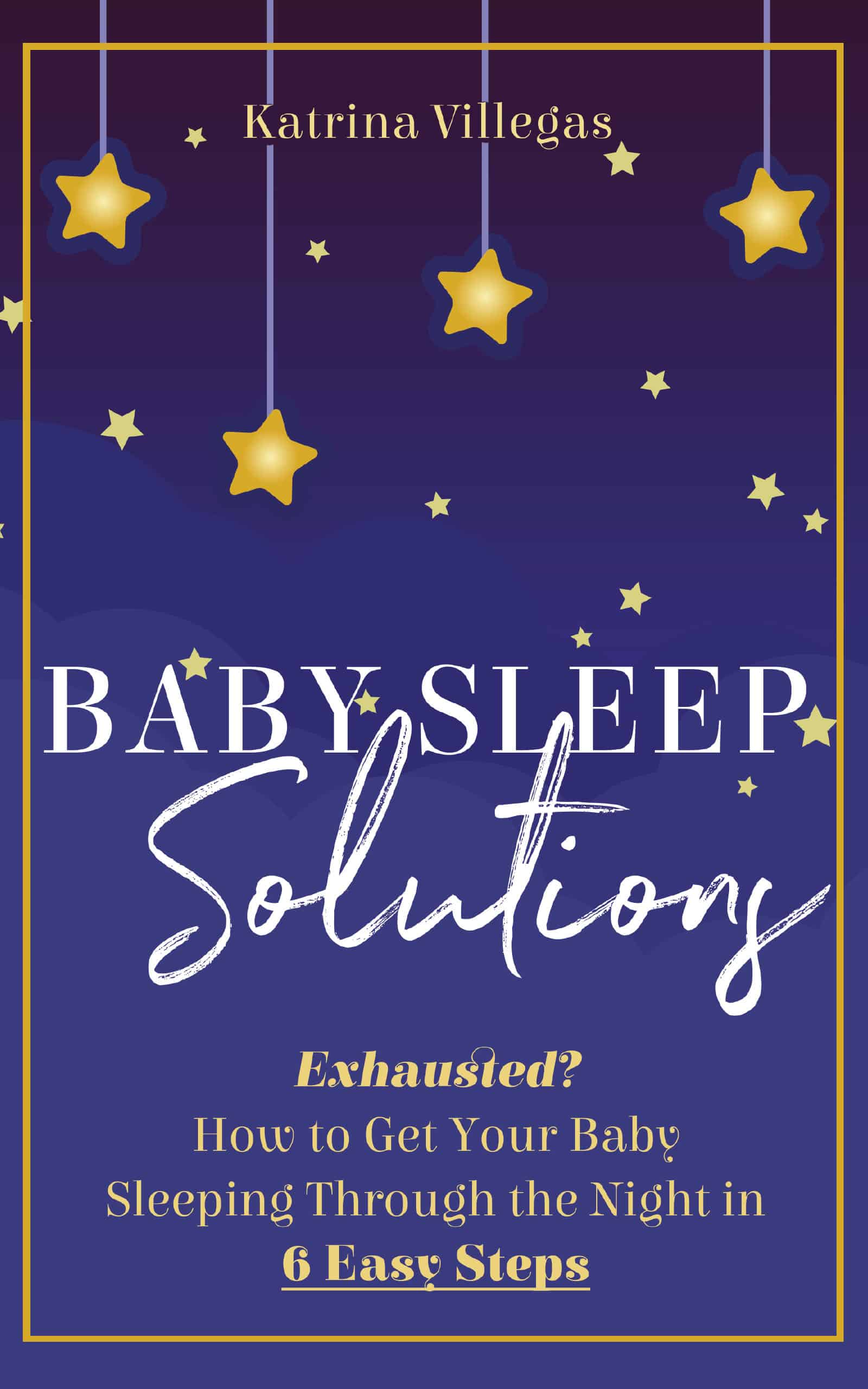 What are the 6 steps that I can expect to see in this book?
The author describes in detail HOW to do each of these 6 steps, and also includes many other useful sections in the appendix of the book:
1.Show Your Baby the Difference Between Day & Night
2.Get Your Baby Taking Full Feedings
3.Two Types of Routines to Set Up Immediately
4.The Eat, Wake, Sleep Cycle Explained
5.Get Your Baby on a Feeding and Sleeping Schedule
6.How to Tackle Nighttime Wakings in 6 Easy Steps
When will my baby be sleeping through the night using this method?
80.4% of babies are sleeping through the night by 6 months of age when parents use methods like the ones outlined in this book.