So many things have changed in month 10 for William! He is now crawling all over the place. He is saying "Mama," and he is pulling up.
Last month he desperately wanted to crawl. This month he desperately wants to walk! He was happy for a couple of weeks crawling, and now he really just wants to be up on his feet.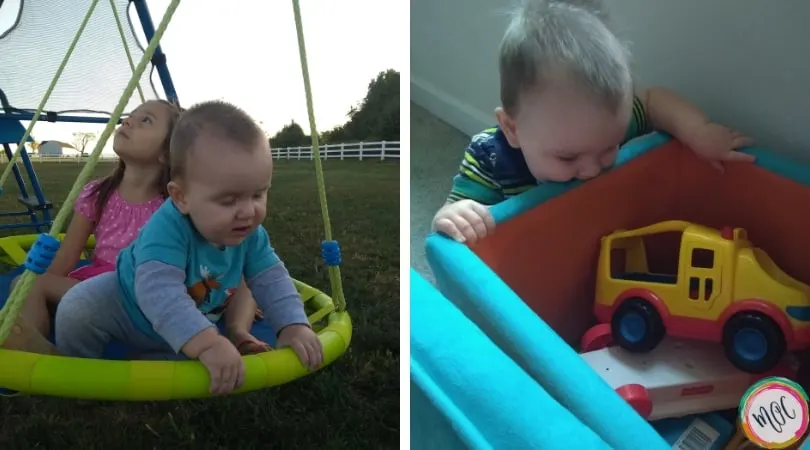 Often, we go to put him on the floor and he straightens his legs and refuses to sit! He loves walking around holding onto our hands. He's tried his walker a few times, but is a VERY cautious person and gets nervous that he's going to fall.
If he does fall he has HUGE tears even if he just fell to a sitting position and was totally fine!
William is also an eating machine! We can't cut food for him fast enough.
This month he is down to 3 bottles, and he's due for a schedule change. He's also started drinking whole milk in preparation for dropping his bottles and replacing the nighttime feed with whole milk come the one year mark (or close to).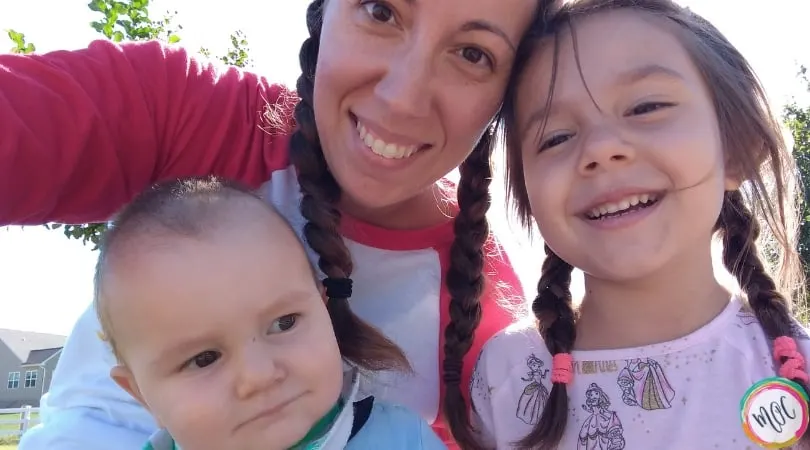 10 Month Old Baby Schedule
As I explained in the 9 month update, William is having to work with an odd schedule due to school drop off and pick up times for his big sister. Her school is in the late afternoon for 2.5 hours, and it is simply at such a bad time when it comes to William's schedule.
We've had to reduce wake time to squeeze in his two naps at times that will be uninterrupted. It's not ideal, but he's been working with it and adjusting fine.
This month, however, he's starting to show signs of needing to change it up. I honestly am not sure how I'm going to adjust it quite yet, but I know I'll have to soon.
The big change for him this month was simply dropping a bottle. He's eating enough solid food, and drinking enough water, that he was pretty uninterested in his lunchtime bottle.
We are also planning on weaning him off of bottles at or close to the one year mark. So, in the last three months we are making a push to start decreasing bottles and increasing regular food and water (although I'm not sure he can eat much more solid food)!
Month 10 we moved him down to 3 bottles. In month 11 I plan to move him down to 2, and then in month 12 down to 1. At that point, we'll just switch out the bedtime bottle with whole milk. He is getting used to the flavor now (in place of his lunchtime bottle), so I'm hoping the transition will go smoothly.
10 Month Feeding and Nap Schedule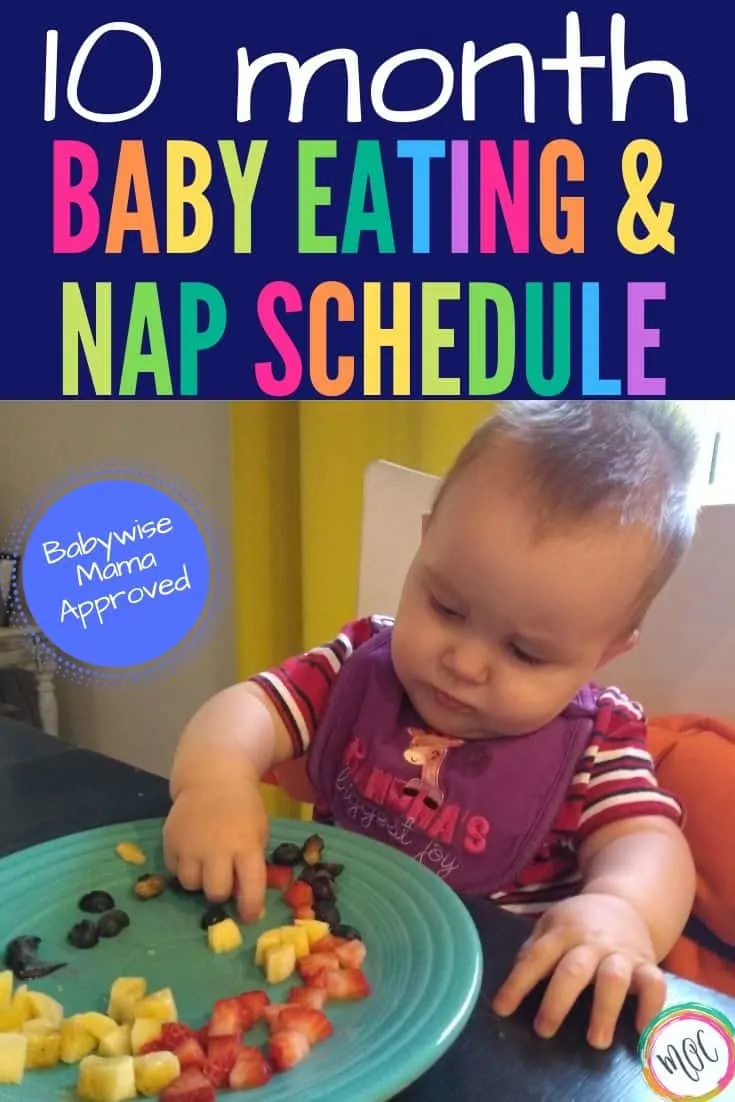 7 am wake and bottle, 9 – 11 am nap, 11 am wake and drink whole milk, 1:30 – 3 pm nap, 3:30 pm bottle, 6:30 pm bottle and bed
The wake time in the morning is SUPER short for a 10 month old. He's at 2 hours instead of 3-3.5 hours, which would be average wake time for his age. He's going with the flow and doing pretty well, but the morning nap is really starting to shorten up as a result.
Are you looking for help with baby schedules and sleep?
I've created two invaluable resources for you based on my personal experiences with my babies and in helping countless other parents.
1. I wrote a book about all of my tips and tricks when it comes to baby schedules, sleep and more. I wrote this book with new parents in mind, so it's an EASY read and it's realistic and something you can start implementing immediately.
2. I created schedule tracking sheets for your baby's first full year.
Where can you get your copy of these resources?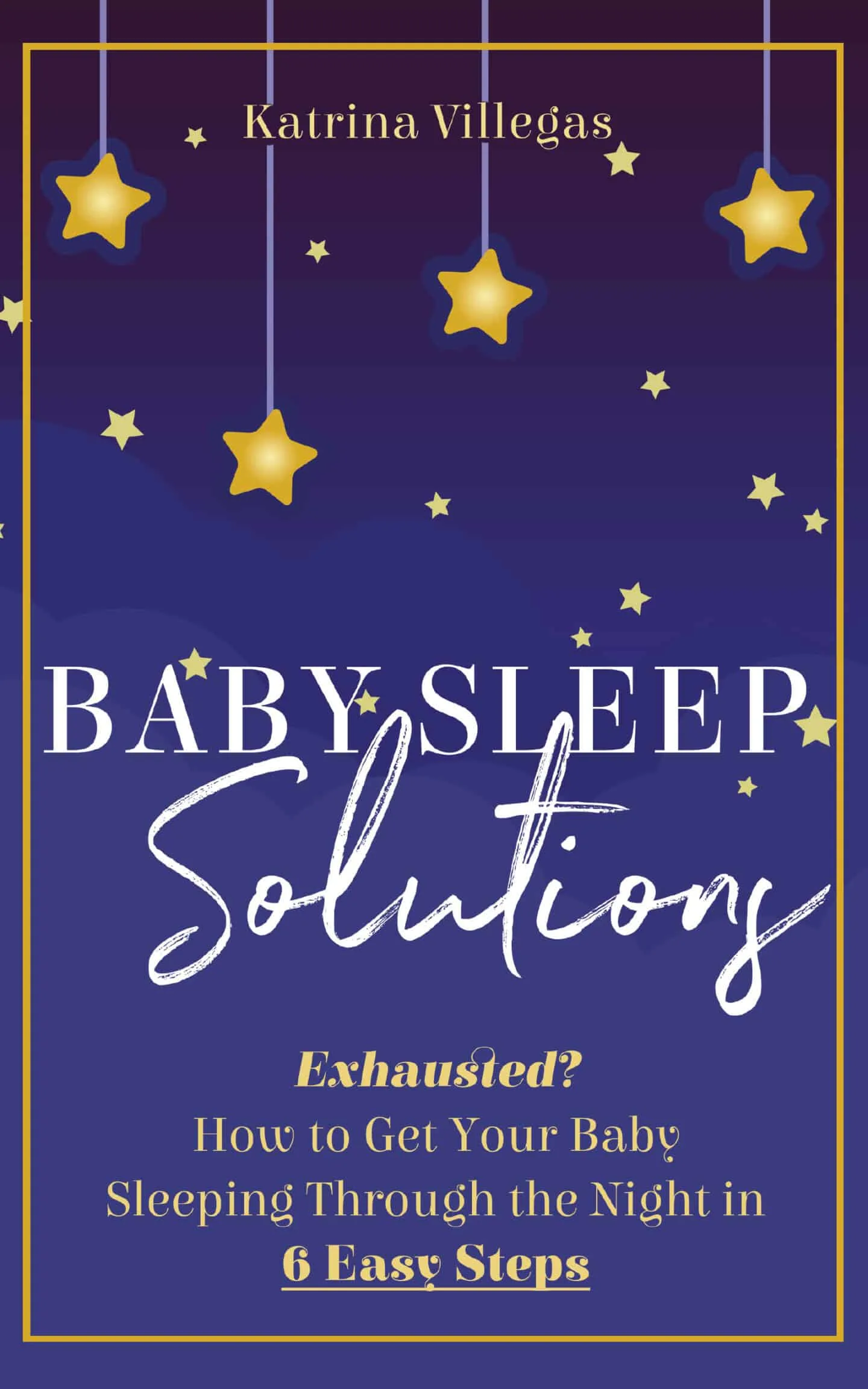 Baby Sleep Solutions Book
You guys I am so proud of this accomplishment because it turned out to be the perfect parenting book. It's exactly what I envisioned:
-Easy to read.
-No fluff.
-Realistic to implement.
-REAL- it's our real life situations that you can relate to.
-This book contains 6 easy and realistic steps to take with your baby to have them sleeping through the night and on a great schedule.
View the book on amazon by clicking here.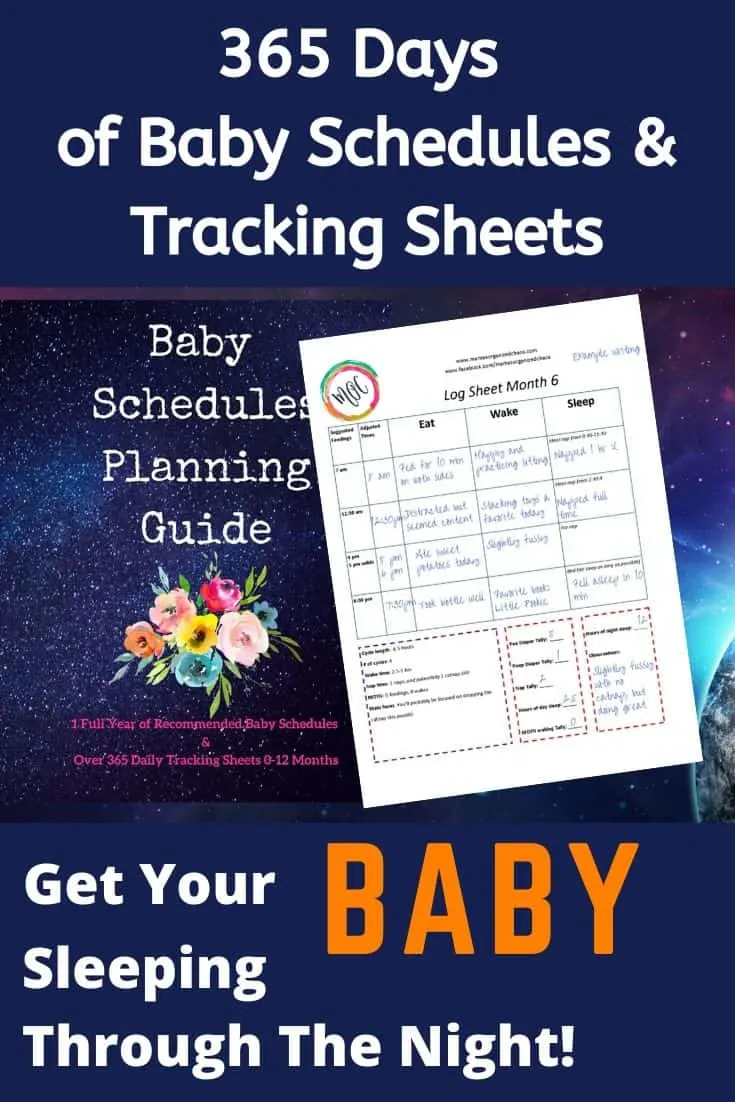 Schedule Tracking Sheets
These sheets are not only a great place to record YOUR baby's schedule and observations, they have the recommended schedule, wake times, nap times, etc. for each age listed out for your reference!
You can grab a paperback book on amazon by clicking here.
Or you can head to my Printable Parenting Tools shop and get the printable sheets delivered straight to your inbox by clicking here!
Since he's not ready for 1 nap, and since we don't even have the time to fit in one long nap without interruptions, we've moved his two naps to early enough times to fit them in. As a result, the wake times decreased as well.
Eventually, however, we really need to switch things up to help him out. I just don't have that figured out yet LOL! But a change is pretty imminent since both of his naps are starting to shorten.
I think my plan is to simply lengthen his wake time by 30 minutes in the morning and see how that impacts things. He would then go down for his nap at 9:30 am. The rest of the schedule will stay the same for now. If that doesn't work, we'll do a complete overhaul and get something new started with him!
Eat
When William turned 10 months, we decreased from 4 bottles to 3 bottles. The plan is to decrease to 2 bottles when he turns 11 months. We'll see how he's doing at that point.
I might wait until 12 months to decrease to 1 bottle, and then wait until 13 months to switch to whole milk. Or, I might decrease to 1 bottle at 11.5 months, and whole milk at 12 months. We'll see. Either way, the transition is soon to come and he's doing well with it.
Right now, we are letting him get used to the flavor. In place of the lunchtime bottle, he gets offered whole milk. He's drinking about 2 ounces of it, which is plenty fine.
He's never begging for his other bottles, so I doubt the transition is going to be difficult at all.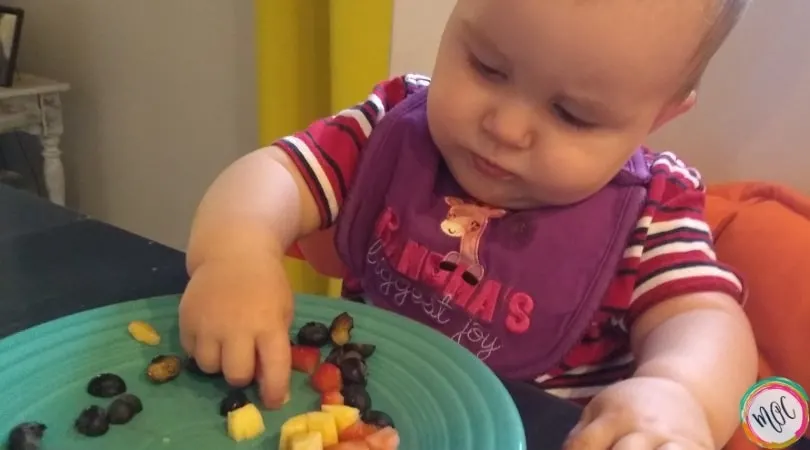 Solid Food and Water
Once William figured out the straw cup in month 9, he just took off with it. He loves drinking water. We give him water with meals only, and he drinks a fair amount. I'm so pleased that he's doing well with this now!
As for solid foods, we cannot keep up. He eats so much, so fast! He loves pasta. We are actually having to start cooking for 4 of us now! He eats a full serving just like everyone else!
He gets bite sized pieces, and even with no teeth he does great. Caroline didn't get teeth until she was 12 months old and William is following in her footsteps. The lack of teeth didn't stop either one of them from eating well!
Wake Time
Wake time was so frustrating for William before he could crawl. He wanted so badly to be going places. Then he started crawling, and still didn't realize he could just go wherever he wanted!
Now he does realize he can go wherever he wants, and he does! It's so wonderful. He loves it. But, now he just wants to walk. He is starting to get super fussy again as a result. He pulls up on something and then just wants to go, but can't.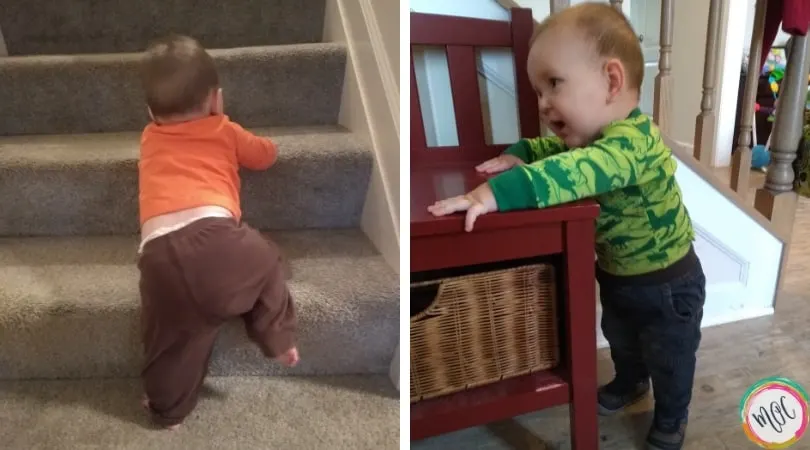 He's also hearing "No" a lot! He loves going over to the robot vacuum and the dog bowls. Both we say no to. He stops, looks at us and hesitates. Then does what he was doing. We repeat, etc. Eventually we move him far away, and he crawls back and we repeat this over and over haha!
The good news is that he's starting to understand the word, "No." Poor guy gets frustrated with us for saying it so often, though.
He's saying "Mama," all the time now. He says mom, ma, mama, and mommy. He also has some really good B sounds and Y sounds going on. He's showing me he understands words now. He looks at the books when I ask if he wants to read a book, etc. He's also started flipping the pages for me (board books only).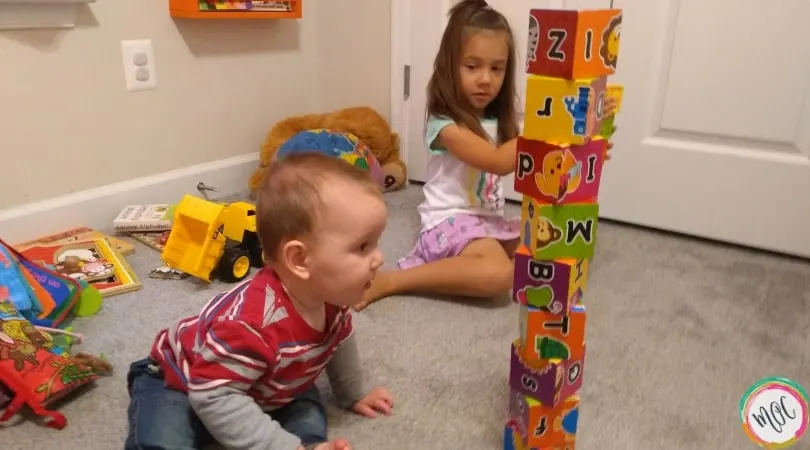 Sleep
Nighttime is fabulous as it has been for months now. He sleeps 12 hour stretches and puts himself to sleep. He goes to sleep pretty quickly and easily as well. We hardly ever hear him even stir after putting him to bed.
Naps are definitely being impacted right now. I think this is due to two things:
He's learning new skills.
He's not getting the wake time lengths he needs during the day.
Any time a baby learns new skills (the big ones), sleep can be impacted. He's just learned to crawl, and he's pulling up. Often, I put him down for a nap, and he sits up and pulls up to a standing position. He needs me to go in and give him a hug and lay him down again. Then he goes right to sleep.
These new skills can also cause babies to wake early from naps. He's doing that as well.
Then there's the wake time issue. He's simply not up for as long as he should be at this age. His naps for the remainder of the school year have to work around school drop off and pick up times. It is what it is.
We are going to have to be creative. He either gets too little wake time between naps, or too much, or the right amount but a very short nap. Right now, we've chosen to go with too little wake time, but keep the total daytime sleep where it should be. We may need to reevaluate soon and figure out another plan for him. Obviously we have limitations to work around, however.
Whatever we do, though, we have from now (October), through June to make something work and figure out our "workarounds" to the timing issues we face with school.
Favorite Products This Month
William is crawling and pulling up and just moving all around. He even did two stairs all on his own yesterday!
This means that he's less and less interested in toys, and more and more interested in the basic household items all around him.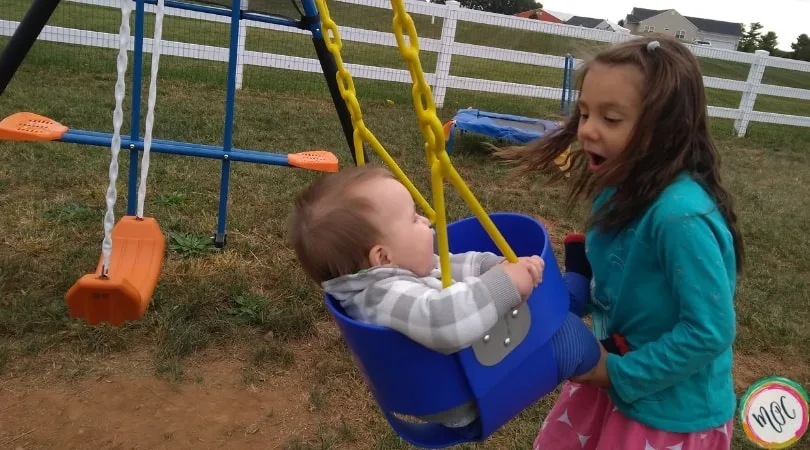 He loves playing with the dog bowls and the robot vacuum. This morning he decided it would be fun to go after the toilet cleaning brush, etc. You get the idea!
He also puts everything in his mouth. EVERY. THING. So we really have to watch out for him and we are working on getting him to understand "No mouth."
We are mostly just running around telling him no and relocating him. LOL
He is really liking his play table, and has started to use his walker, though it makes him nervous.
I also decided to give him one of his Christmas presents a bit early.
The present was a remote control car for babies. It is adorable. Our 4 year old really likes it. haha
Our 10 month old was intrigued by it for a little while, and it certainly got him crawling more, but he's kind of over it now. It is a neat toy, though and I have a feeling he'll really like it for awhile to come.
He also really just likes being outside. If I ever open the backdoor to let the dogs in, and fail to let William OUT, he starts crying. He just always wants to go out.
Since he's one to put everything in his mouth, he can't be trusted around rocks, which are everywhere. So, he either ends up in his little chair, supervised in a swing on our playset, or on a blanket with some toys.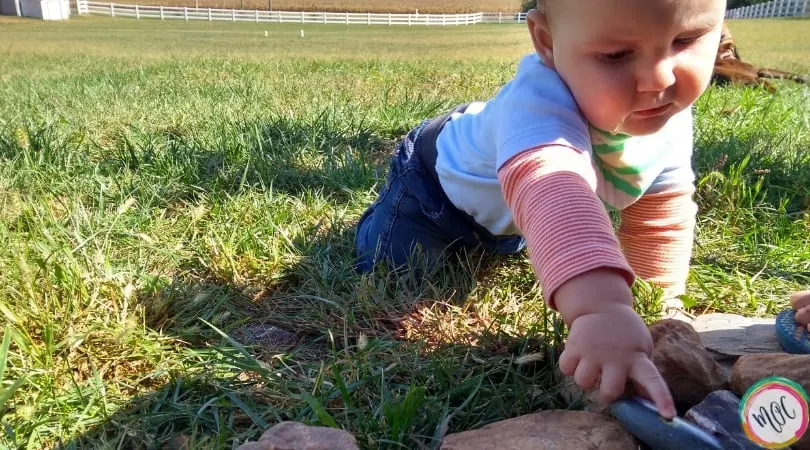 And again, he really wants to be walking, so he likes to just be up on his feet holding our hands.
This month has been a big one! I just love all of the milestones and watching him grow.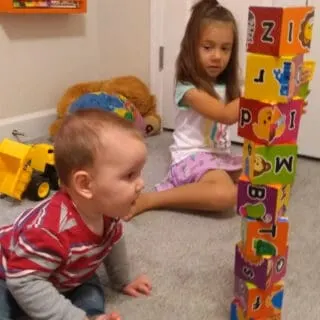 How to Get Your 10 Month Old on a Baby Feeding and Nap Schedule
A printable version of the 10 month old baby feeding and nap schedule that we use.
Instructions
Ideal Feeding & Nap Schedule
7 am bottle/nurse, solid food shortly after
10 am - 12 pm nap
Solid food lunch and offer whole milk
3:30-4:30 pm nap
4:30 pm bottle/nurse, solid food dinner shortly after
6:30 pm bottle/nurse and bed
Our Adjusted Schedule to Deal with School Drop off/Pick Up Times for an Older Sibling
7 am bottle, solid food shortly after
9 - 11 am nap
Solid food lunch and offer whole milk
1:30- 3 pm nap
3:30 pm bottle
6:30 pm bottle and bed



Notes
Total wake time at this age should be 3+ hours. Total daytime sleep should be 3-4 hours. We've had to alter our wake times and just focus on total daytime sleep to work around school times.
Recommended Products
As an Amazon Associate and member of other affiliate programs, I earn from qualifying purchases.