Yesterday we held a birthday party for our daughter, Caroline, at our house.
We aren't big into friend birthday parties, but our daughter requested one this year.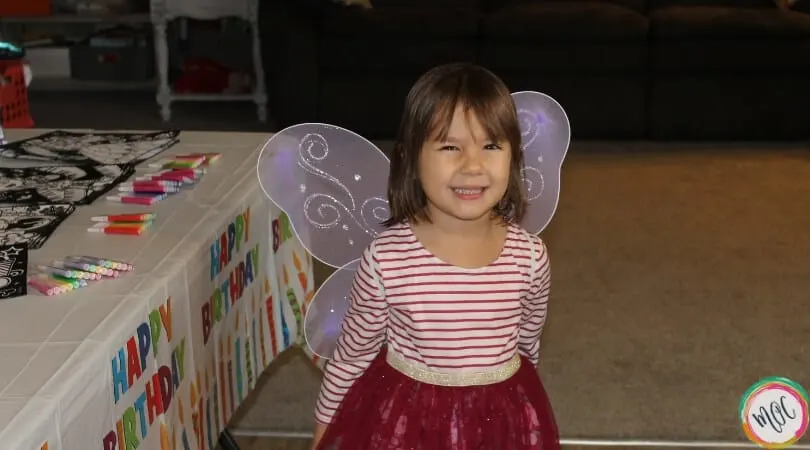 She's really taken a social interest this year and has been requesting playdates, and now wanted a friend birthday party.
So, we decided to give it a shot.
We also aren't big into themes. She wanted rainbow everything, so that was pretty easy for us to accomplish with just lots of color.
I took her to Party City and we picked out all sorts of different colored plates, cups, banners, etc.
I also just about had a heart attack with the prices. Ridiculous pricing.
I'd promised her decorations, and a fun day of picking things out, so I just went with it. I should have walked out of that store though.
I swear I was sweating and my heart was racing by the time we left. I couldn't believe I was spending $60 on things we'd be soon throwing away.
It bothered me ALL day. All day.
To the point, that later that day, we took everything back to the store and returned it. I was not about to spend that on paper plates and some other cheap accessories.
Instead, we went to the dollar store. We spent $30, and got WAY more things, including coloring sheets and marker sets to hand out as an activity option and a little party favor.
Much better.
Ok, so I was feeling much better about this.
We invited 8 friends. 4 from her school that she talks about a lot, and 4 from the Mom's club I used to be a part of (before our recent move).
7 of these friends were able to come. When it was all said and done… parents, friends, and siblings, we were hosting 27 people.
I was a bit out of my element, but we went with it! I knew people were also eager to see our new home and we'd have a great time.
I didn't plan games. I am not a party planner, and quite honestly, I thought it might be too chaotic with seven 3-4 year olds along with siblings to try and coordinate much.
Instead, we had the coloring page activity ready to go, and we set out a variety of toys. Also knowing full well that the toys on the shelves would get taken down and played with.
For snacks, we came up with rainbow fruit kabobs (raspberries, oranges, pineapple, kiwi, blueberries, and grapes), rainbow snack mix (trix, marshmallows, teddy grahams, and rainbow goldfish), and cheese and crackers.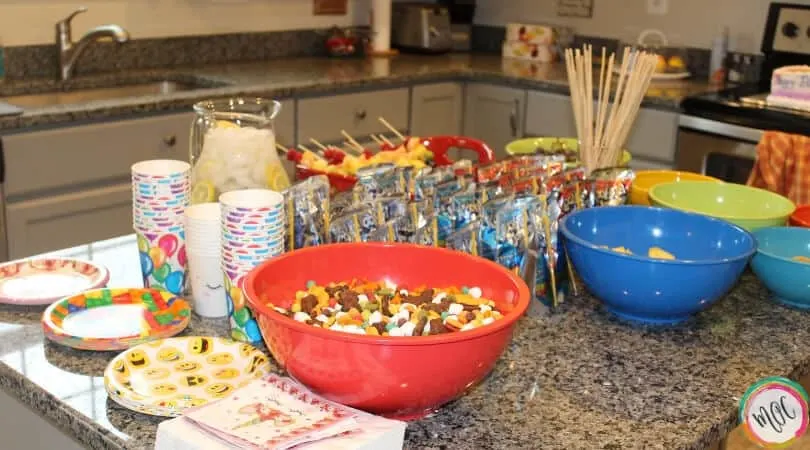 We also had a cake made- in rainbow colors, of course. Normally I'd just make a cake myself, but my husband was excited to have one made this year.
It was a rainy day, so we were all stuck inside.
The party was planned from 10-12.
All in all, things went pretty well, but I have to say- we are never hosting a kid party like that again! LOL!
By 10:30, I was stressed and wishing I'd planned some activities. There was a lull and the kids weren't doing much. They seemed bored.
Little did I know, that chaos and crazy would ensue.
There were toys everywhere, pieces to things everywhere, kids jumping off of our couch, and running all around.
I knew there wasn't much I could do- especially with all the parents right there not saying anything to their children. I think we'd all just given up on trying to control much. I just hosted and called it done.
I was also trying to figure out if we should open presents. I soon realized I wasn't going to tackle that.
Our daughter was getting upset at every little thing. She didn't want things lost or played with. She was frustrated and not sharing well.
I could see it now- opening her presents and complaining, or pouting about something.
I know she's 4 now and still learning that she shouldn't bluntly say everything that comes into her little mind. She's learning what it is to be grateful.
I was originally fully prepared to tackle all of that at her party. I knew that the other parents would understand if she wasn't completely polite about everything with regards to presents. They have children that age as well and know the challenges.
By the time we were to cake, however, I couldn't bare the thought of handling that. I was way too stressed already!
Caroline cried when her cake was brought out. She's scared of the lit candles, and she hates the noise of being sung to.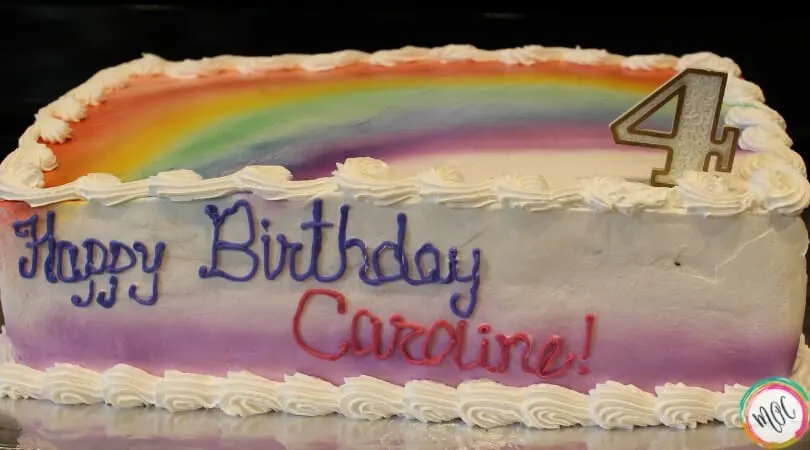 At that point we just cut the cake and handed it out. I knew we wouldn't be doing presents.
I was too stressed, and my husband was super disappointed in our daughter's behavior (as was I, but it seems to affect him more).
He doesn't always easily see what's normal developmental behavior… he's 100% focused on our expectations. It's hard to balance for sure but I see other kids and what's "normal development" more than he does.
As we were handing out the cake I realized that I had failed to purchase forks for the cake! I had planned for our finger foods (fruit, snack mix, and cheese and crackers), and forks for cake had escaped my mind.
I looked around the room and wasn't sure what we were going to do. We got out the normal silverware (kid sizes, regular, and even spoons). We made do.
I felt embarrassed though.
I also realized in that moment, that we never even put out the cheese and crackers. Can I blame pregnancy brain!? Ugh!
Everyone left around noon. Many helped clean up as well.
It had been so very nice to see everyone, but the chaos of it all had me way stressed out.
I knew we'd not be doing this again. Not until Caroline is older and more mature. Not until she and her friends were of an age to not be so chaotic!
And, if we do throw a friend party before then, we will be going out- bowling, ice skating, etc. Someone else can host! I'd rather suck it up and pay for something like that!
My husband and I also entertained the idea of a half birthday party instead.
One– with a late November party in Maryland… the weather just doesn't cooperate to have any outdoor time. If we had a half birthday, the weather would be much nicer and we could host at a playground for very inexpensive.
Two– People have asked what to give Caroline for her birthday and for Christmas. I have no idea at this point! She's gotten so much for her birthday that I can't even come up with anything else.
If we had a half birthday party instead, the presents would be spread out and we'd also have more ideas and not be on toy overload.
Both Caroline and William are going to run into this issue. So half birthday parties may be the way to go for us!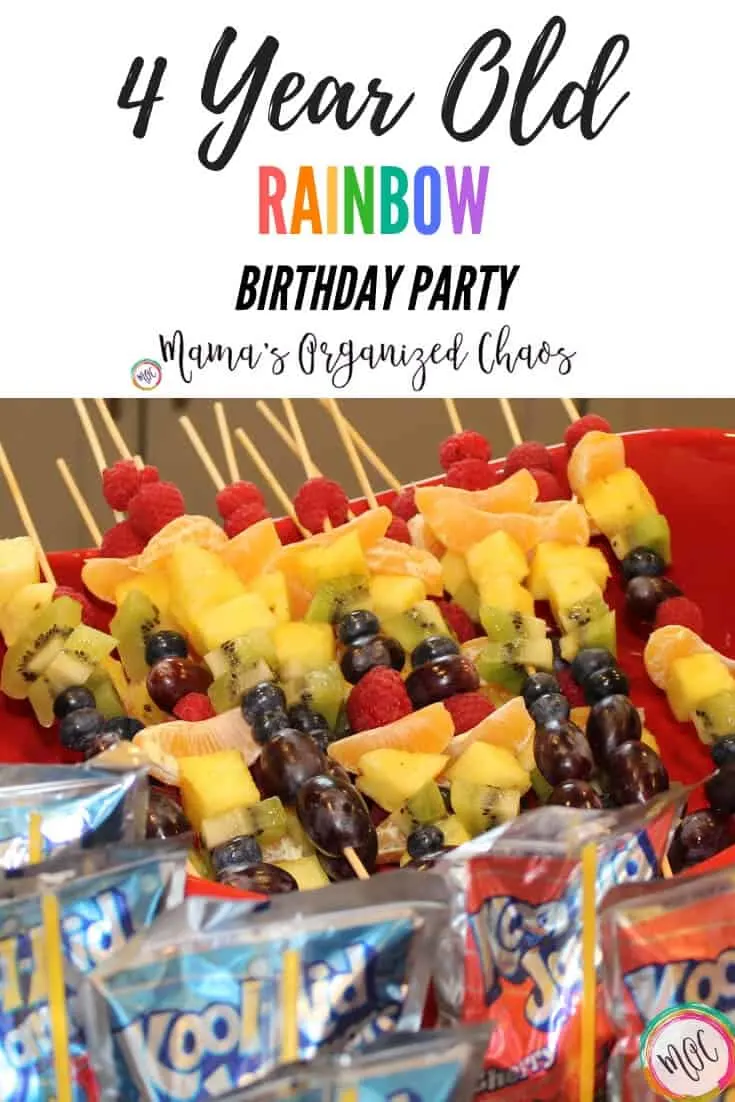 We opened presents later that evening. Caroline really enjoyed everything she got. I was impressed with the ideas these parents had come up with!
She also had a great idea- she made necklaces (out of one of her gifts), for all of her friends.
Unfortunately, after she made them, and we told her we'd include them in with the thank you cards, she decided she didn't want to give them anymore.
Apparently she was making them for her friends to borrow, not keep.
We're having her follow through on the original idea and send them out, since it was so thoughtful.
Oh the joys of dealing with the emotional 4 year old!
This party was quite the experience for all of us.
Caroline fully enjoyed it, so I'm glad we did it this year for her. I learned a lot about my party planning abilities, however, and I think we have a good plan in place for future years!