Baby milestone books are so much fun. I love the idea of recording weekly and monthly, the growth of our baby.
I will admit, it was much easier to keep up with something like this with my first child.
I still wanted to make sure that William had something like this to look back on one day as well, however.
When I made Caroline's book, I found a shop on Etsy that would do a customized baby book.
The quality of the book was much better than anything I'd seen in stores, and the customized feature was a great addition!
When I went to get a book for William, I went back to the same shop because I'd loved the book so much.
Turns out, that shop (Polka Dot Print Shop), has now expanded! They sell direct to customers on their own website now, and they have HARDCOVER books.
The quality is amazing!
Below, you'll find a special discount code for Mama's Organized Chaos readers!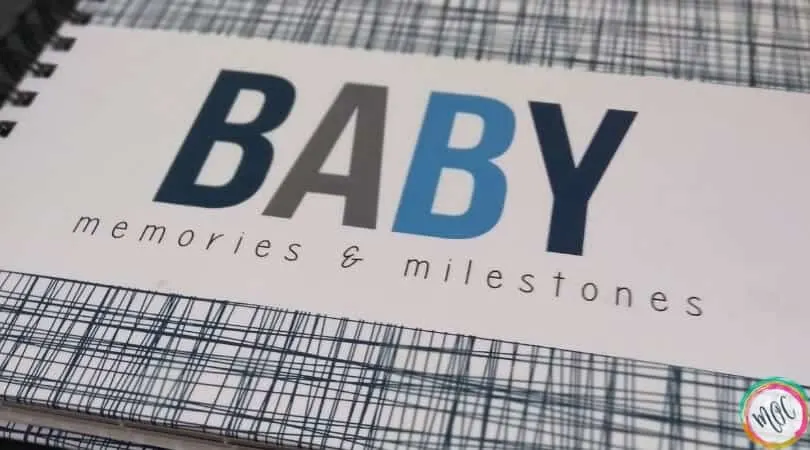 In exchange for an honest review, this book was provided to me free of charge.
The baby memories and milestones book comes in a variety of colors and patterns for the hardcover.
The first page of the book can be customized with your child's name: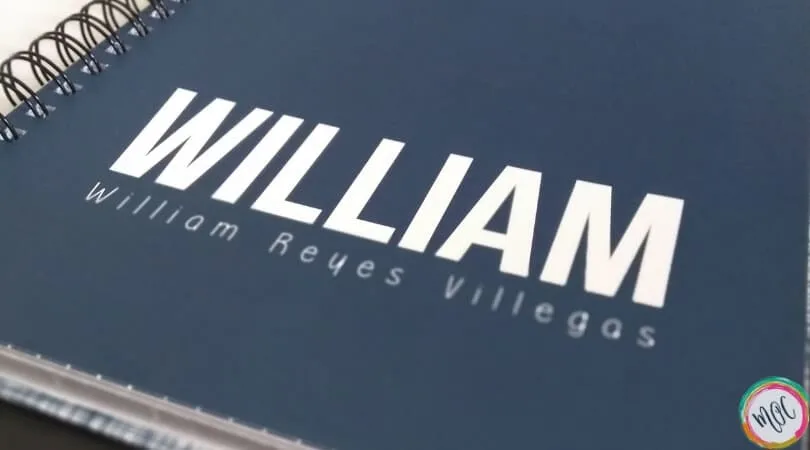 This book has so much information in it- more than I expected! Before you even get to the weekly and monthly updates for baby, there are pages and pages of fun information to detail for your child…
Part 1 of the Baby Milestone Book
This section has all of the pre-baby information. Here are the pages you can expect:
"Baby on the Way"– all about finding out when you were pregnant, first kicks and more!
"All about my Parents" – how you met, etc.
"Paternal Family Tree"
"Maternal Family Tree"
"All about Daddy"
"Dear Baby" (love Daddy)
"All about Mommy"
"Dear Baby" (love Mommy)
"All about our Home" – current address, nursery, etc.
"Baby Shower"- date, theme, food, advice received…
"Labor and Delivery"
"Tiny Hands and Tiny Feet" – a page to put prints on
"Birth Announcement" – a page to paste in a copy
"Birth Story" (mommy's version of how I was born)
"Dear Baby" (the moment I first met you)
"Birth Story" (daddy's version of how I was born)
"Dear Baby" (the moment I first met you)
"Current Events"- popular movies, music, fashion and books, along with a place to record current prices of specific items
I love the creative pages like current events, and all about our home. The standard baby book that you can purchase in stores just doesn't go into near as much detail.
I think these pages will be so much fun for William to read later!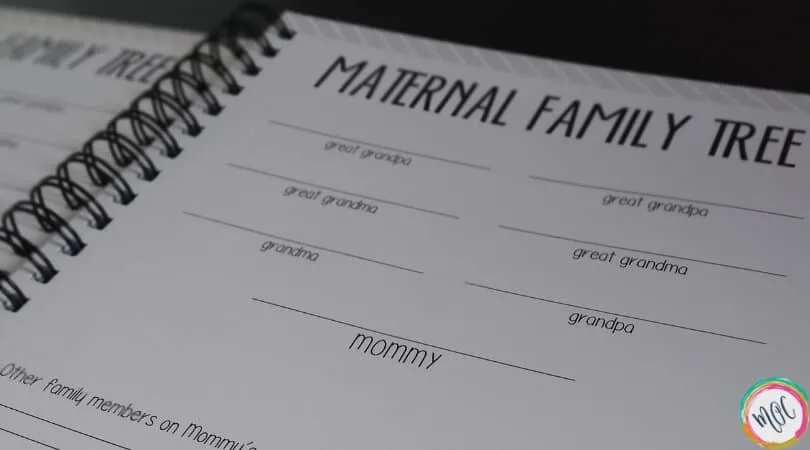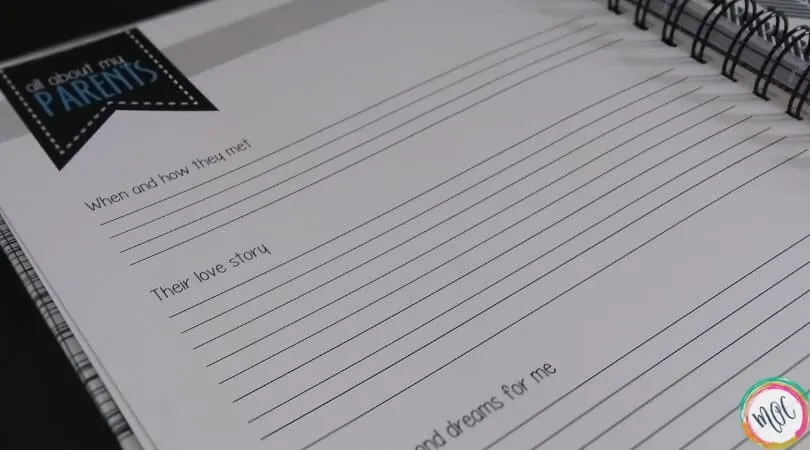 After the first part of the book detailing what was talked about above, the weekly and monthly summaries start!
You will find an information page for each of the following weeks and months:
Week 1, Week 2, Week 3, and Months 1 through 12
Since I have such detailed summaries for each of my children on my blog regarding their schedules and sleep each week and month, this will be a nice place to write a short summary.
Each of these summary pages has a blank page to the right to paste in photos.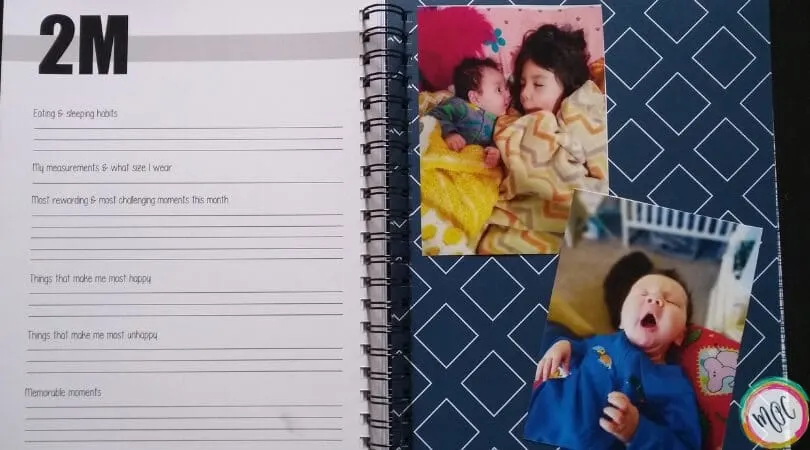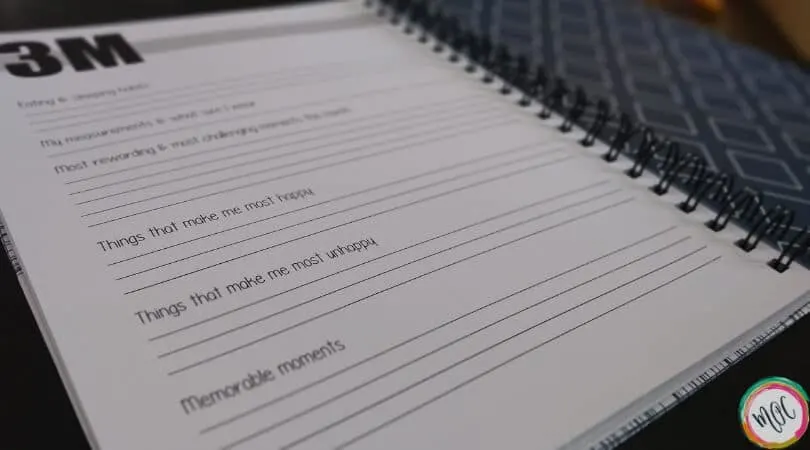 The third section of the book has pages on the following:
"Major Milestones" – things like first bath, first laugh, sitting unsupported, waving, first word and more are listed out
"Growth Chart" – a place to record age, weight and height
"First Outings"
"My first haircut"
"First Birthday"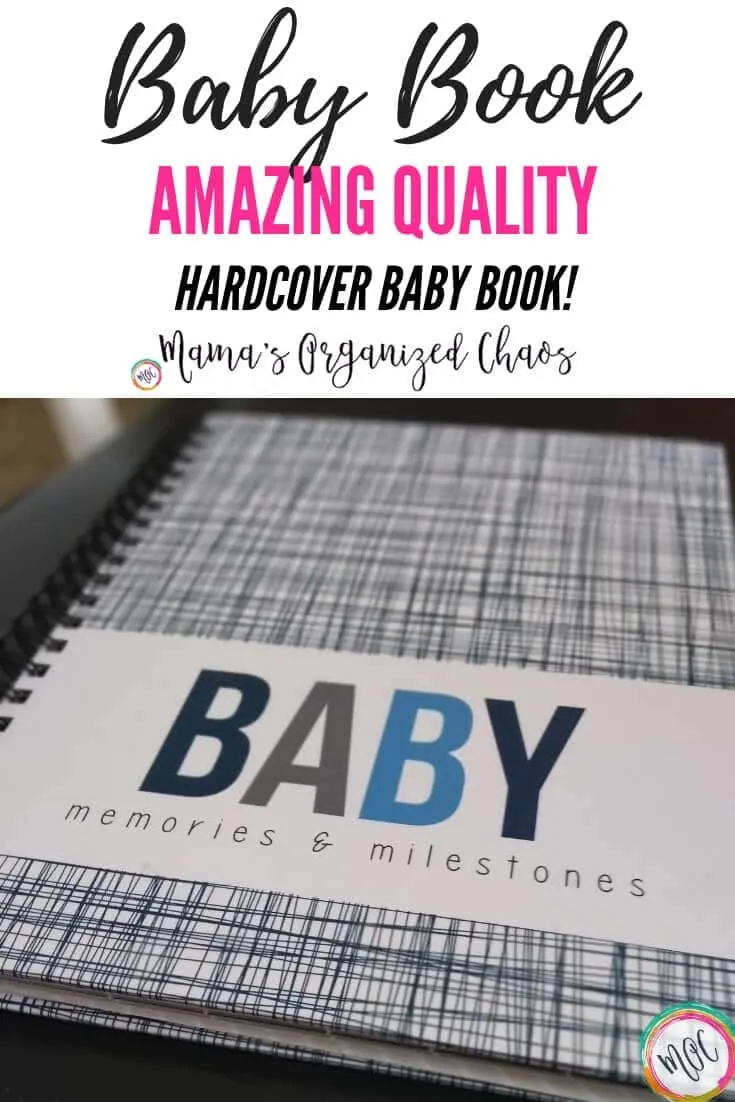 Throughout the book there are full pages left for the addition of photos. When complete, this book will be such a treasure for your child.
I'm thoroughly impressed with the amount of information that is put into this book, along with the quality and attention to detail on each of the pages.
The book is beautiful. I just hope I can get it all filled out!
I am playing catch up since I just ordered this book when William was already over a month old!
Once I get caught up, I plan to just stay on top of it and record monthly.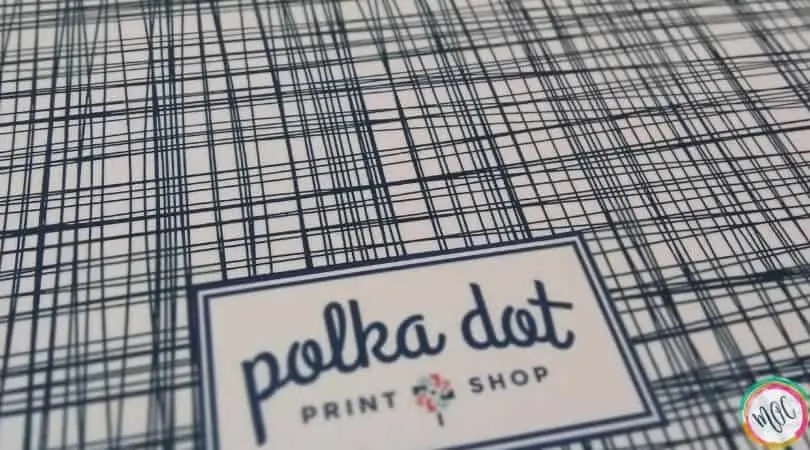 Polka Dot Print Shop has been SO kind as to set up a discount code for Mama's Organized Chaos readers!
I would highly recommend purchasing this book ahead of baby's arrival so you can start filling in some of the first section as things happen.
This would also make a fantastic baby shower gift!
To order, go to http://www.polkadotprintshop.com/ and enter code "MAMASORGANIZEDCHAOS" for a 15% discount on your order!