Starting a Christmas kindness countdown calendar has been on my list for awhile now and I finally got around to it! Below you can see how incredible it went for us this holiday season, and see the types of activities in the calendar, as well as download a copy for your family…
Caroline is 6 now, and for the last few years I've really wanted to find a way to involve her in gift giving more, and also to really focus the season of helping others in need.
My husband and I didn't used to get each other much in terms of gifts- especially in the first few years of Caroline's life, and I realized that I felt we needed to do more. I wanted Caroline to see us giving each other gifts. I wanted her to participate in the experience of picking out gifts for us. And so we started doing just a little bit more for each other and not solely focusing on gifts for Caroline.
We always donate. Around April's birthday we make monetary donations. Around the holidays we clean out and donate used items to places that accept them, and we've also done angel trees and toys for tots. We always do it, but we don't always involve Caroline like we should. I knew I wanted to do more.
So with all of that in mind, last year I decided that I wanted to be prepared for the 2020 Christmas season. We aren't religious, so I didn't want to do an advent calendar, but I really liked the idea of a Christmas countdown of sorts… I wanted to make it a kindness calendar.
Right after Christmas last year, I purchased a Christmas themed pocket calendar on etsy. It is PERFECT for what I wanted to do. It has 24 empty pockets labeled with 24 days counting down to Christmas, and it is the perfect "blank canvas" for my kindness idea. I stowed it away and got it out at the end of November this year. Then I got to creating the kindness activities!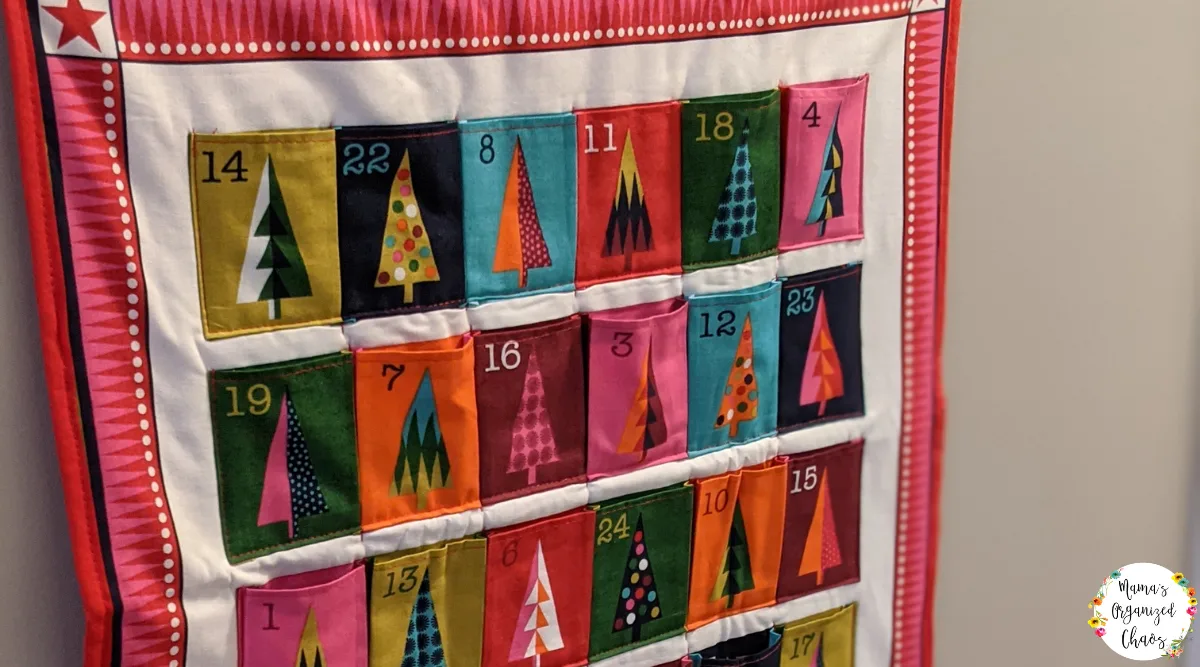 The wall hanging that I purchased on etsy is unfortunately no longer available, but I found a great alternative on amazon.

This Christmas calendar on amazon is really cute for kids… it has 24 pockets that you can put your kindness notes and candy into, and it also has a felt tree with felt ornaments that they can use to decorate their own tree! It's such a cute idea. Take a look at this calendar on amazon, by clicking here.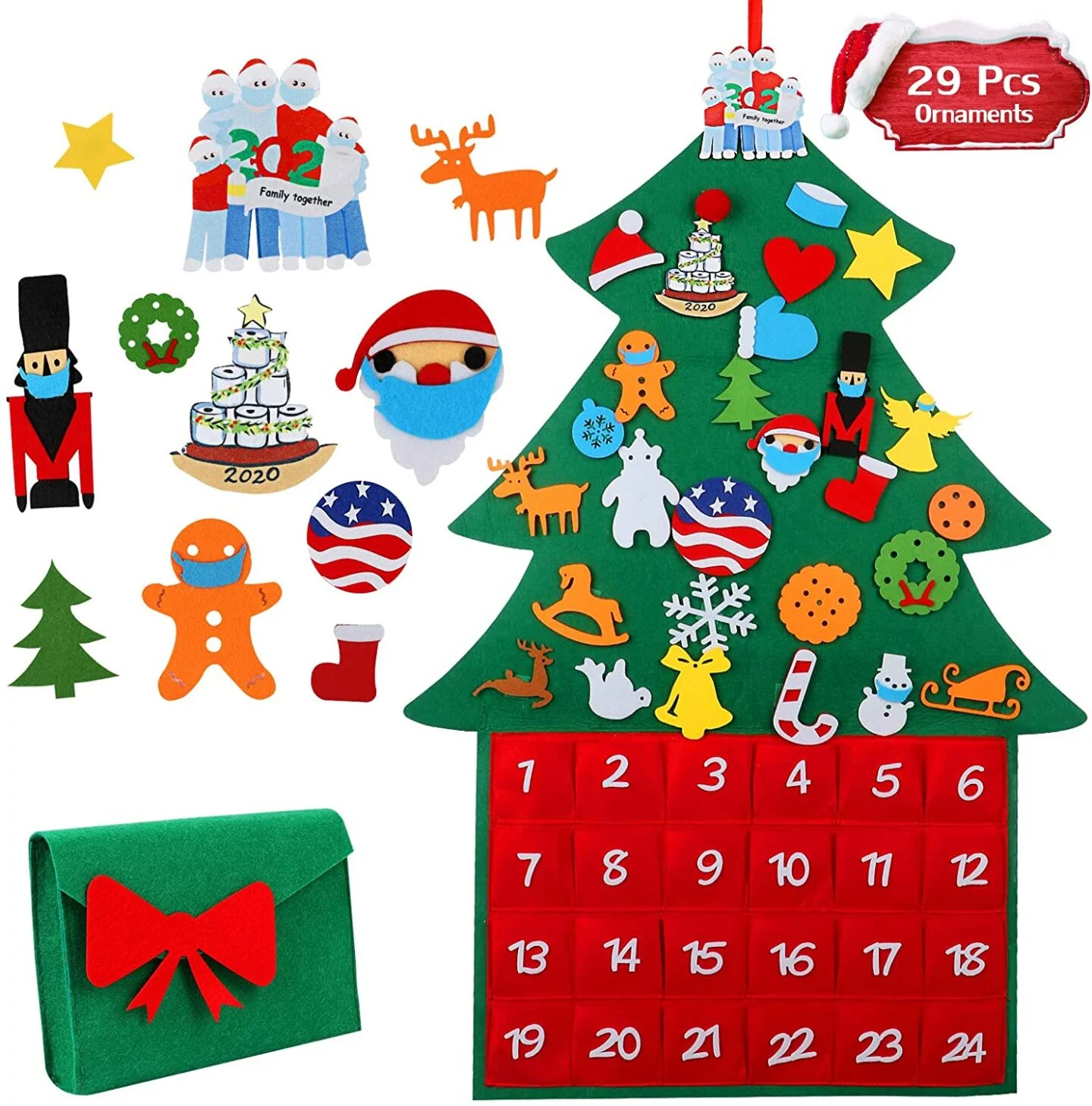 Christmas Countdown Calendar
When I started planning out my ideas for daily kindness activities I knew I wanted to incorporate a couple of different kinds of activities. I definitely wanted kindness activities, but I also wanted some motivation to do a few more family fun activities as well.
As it came together I ended up doing 12 kindness activities, and 12 family fun activities. I color coded them and made a printable Christmas countdown calendar with the ideas. The awesome thing is that you don't need a pocket calendar like the ones listed above, you can just print this calendar out, hang it on the fridge and mark things off as you complete them.
You can print it and put it in a clear protective sheet or laminate it so you can reuse it every year, or print it out each year and mark off the days as you complete them. Or, cut out the activities and put it in a pocket calendar like above.
You can do the whole calendar, or if you're feeling like you want to start smaller, you can play it BINGO style (like my friend Kim suggested over at Team-Cartwright blog) and just do a whole row or column. The possibilities are endless!
Christmas Countdown Kindness Activities
When I started this, I had no idea how amazing it would truly be…
I printed out the calendar, and cut out the 12 kindness activities. And then I cut out the 12 family fun activities. I placed the first one in the pocket calendar that was hanging on the wall. I added a piece of chocolate (using leftover Halloween candy and some mints from Olive Garden LOL).
Caroline (6 years old) and William (almost 2 years old) came downstairs on December 1st, and I reminded them of the calendar we'd talked about the night before. They grabbed out the first note and the first piece of candy. The note read "donate books to a library or children's hospital."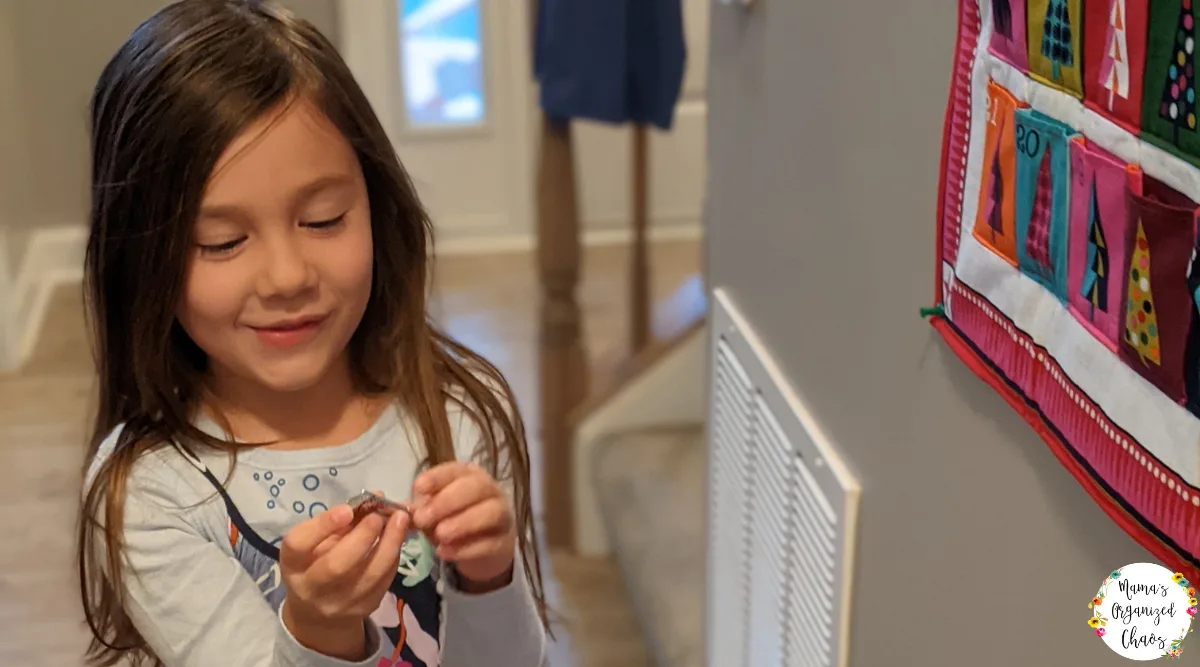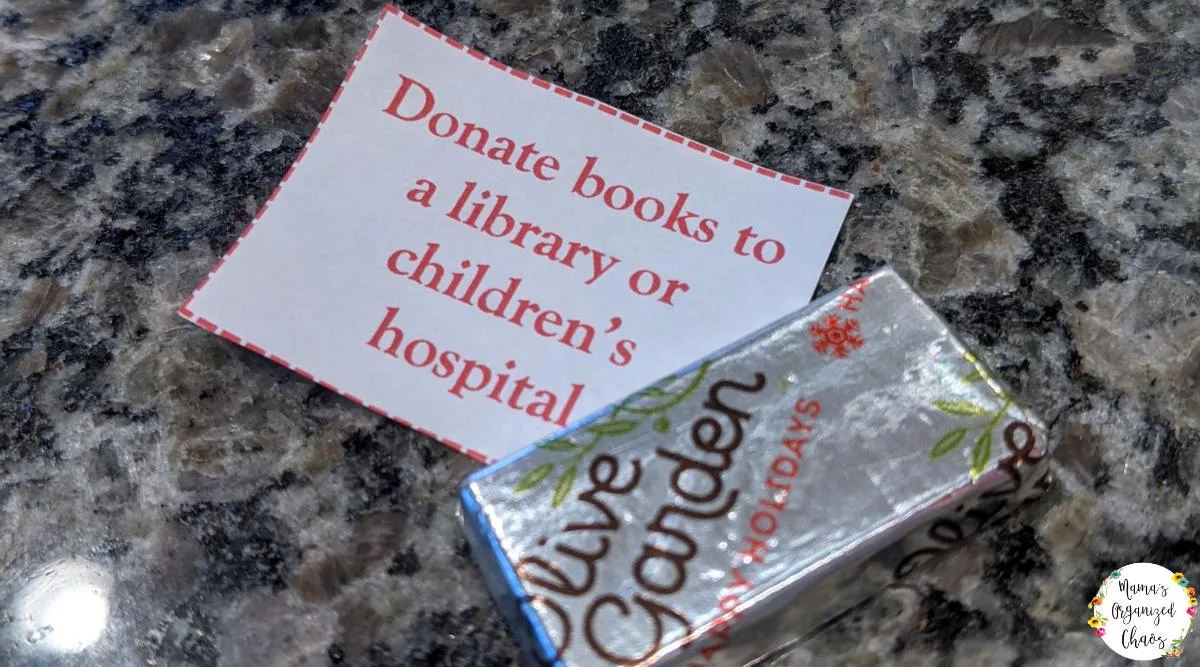 I tasked Caroline with finding 3 books to donate, and helping William to find 3 books to donate as well. We talked and Caroline asked questions. We talked about kids in hospitals. We talked about the benefits of libraries. We talked about families in need that are struggling to just put food on the table. We talked and talked and talked. She kept asking more questions. And then she wanted to do more than 3 books.
Before I knew it, she'd grabbed toys and books and stuffed animals. Our kitchen island was slowly collecting a huge pile of things. Every break that Caroline had during her virtual kindergarten class, she'd run down and add something else to the pile. She'd say "I want to help as many kids as I can. Everyone should have presents to open on Christmas."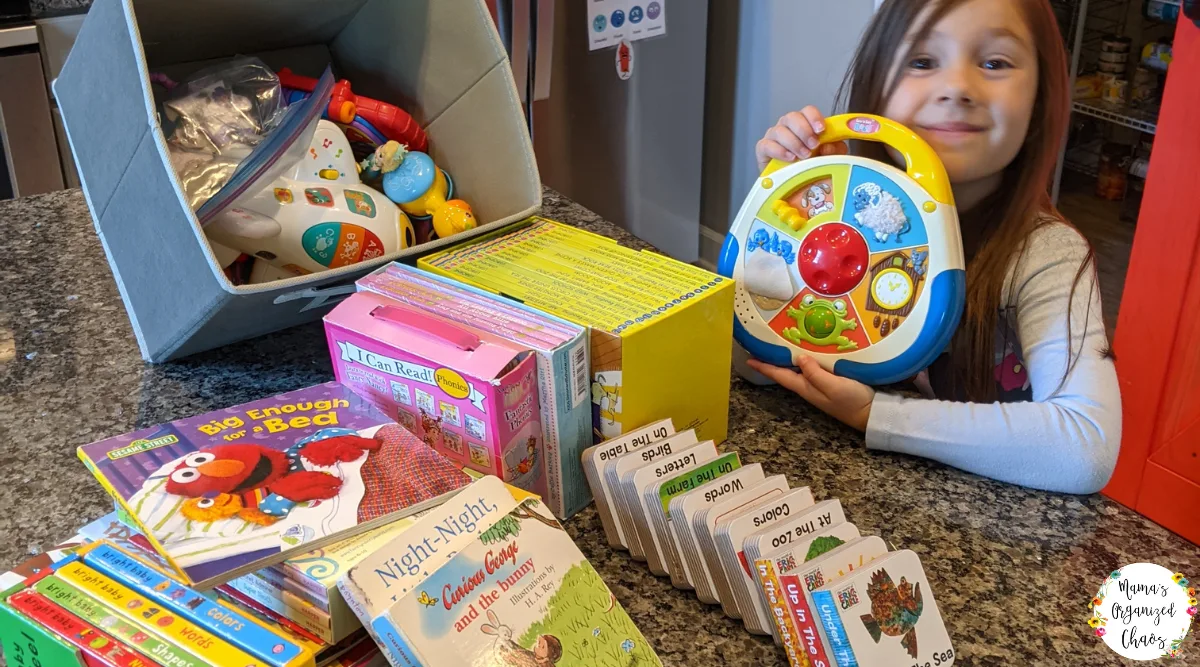 In the following days she was still collecting and adding to her pile. She kept telling me she wanted it bigger and bigger. And so I planted a seed. I asked her "How could we make this bigger? Is there anyone else we could ask to help?" And she came up with asking her friends in school. She took my seed and made it grow.
And with that, I started researching a place to take everything. I did not want this going to a place that was going to resell our items, and during this Covid pandemic, libraries and hospitals weren't accepting books or toys. I found a local rescue mission that was doing a toy drive and accepting gently used items.
I contacted her teacher and the principal at her school. I asked if we could involve the class, or perhaps make it even bigger. They agreed to send out the message and allow us to use the school grounds for donation drop offs.
Caroline had run with this and created a really amazing thing. We pushed out a message to all 4 of the kindergarten classes. We set up 3 drop off times and Caroline and I went and stood at the school ready to collect items.
Caroline set a goal. She wanted to make 18 bags- each with a toy, book and stuffed animal. She wanted to make bags so that each child receiving these gifts would get one of each item instead of just one item. She was clear in her vision.
We stood out in the cold at the first collection time at 8am. She got no donations and felt a bit down. She got on google meet with her virtual class and reminded them all to come for the next drop off. She reminded them that they all have toys they no longer play with. She sold it to them well!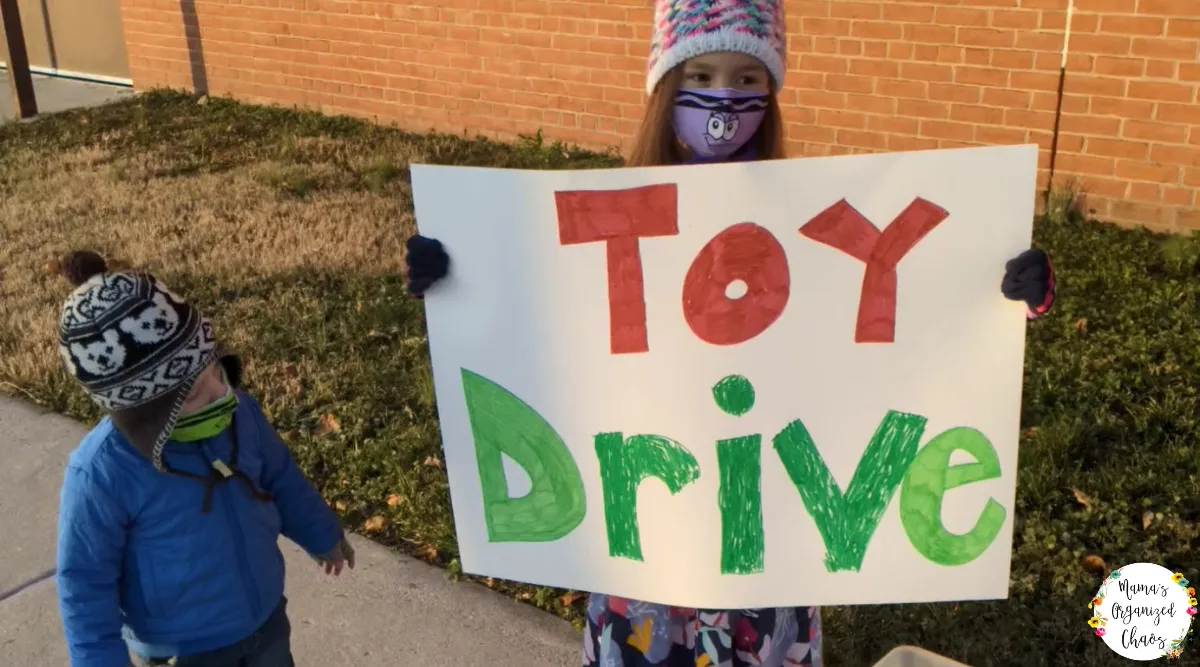 We stood out for 2 more collection times, and she collected enough toys, books and stuffed animals to make 90 bags. NINTEY bags. We bagged them all up and put ribbons on each bag. Caroline helped with every step of the process, and then she got to come for the drop off to the rescue mission.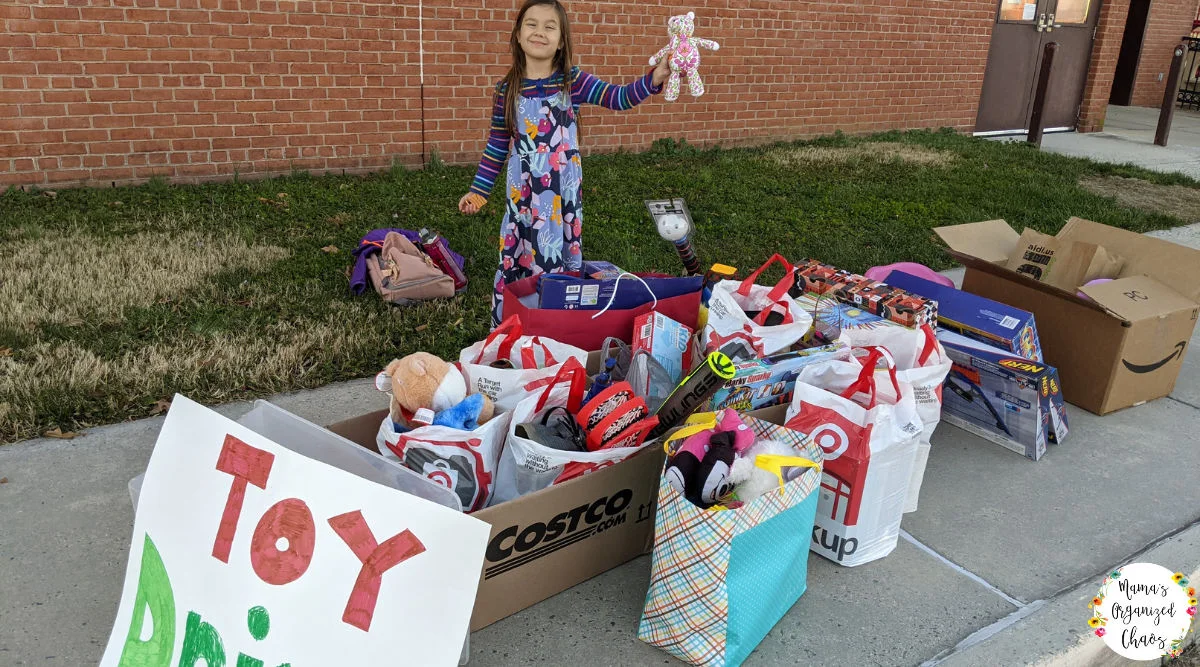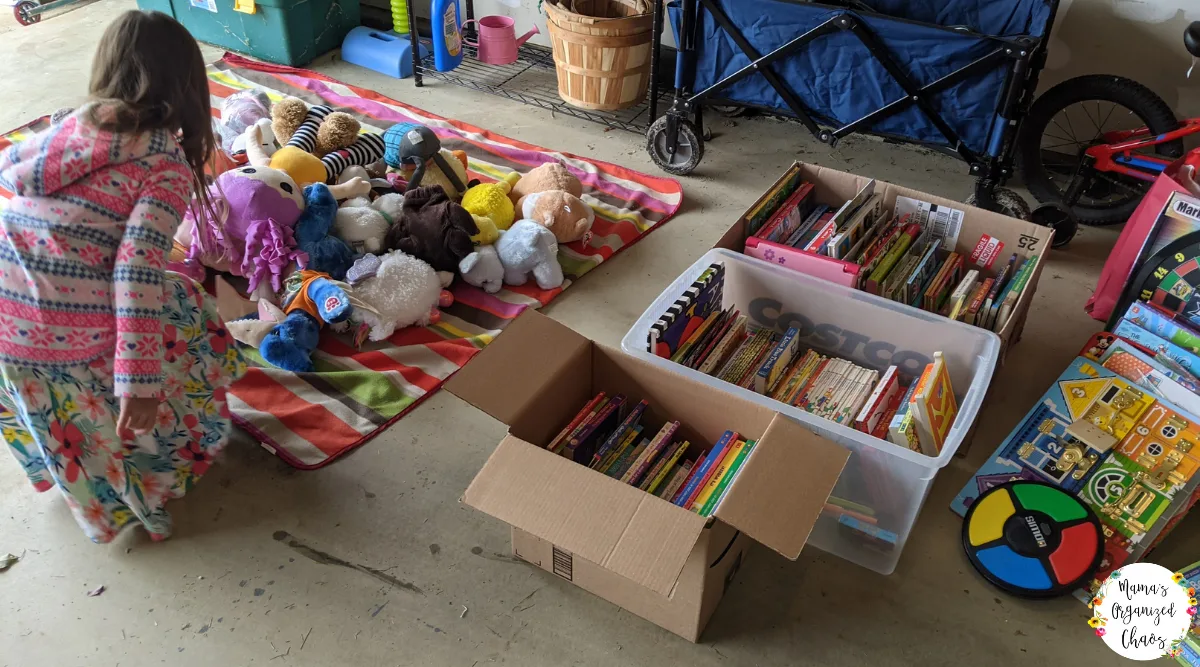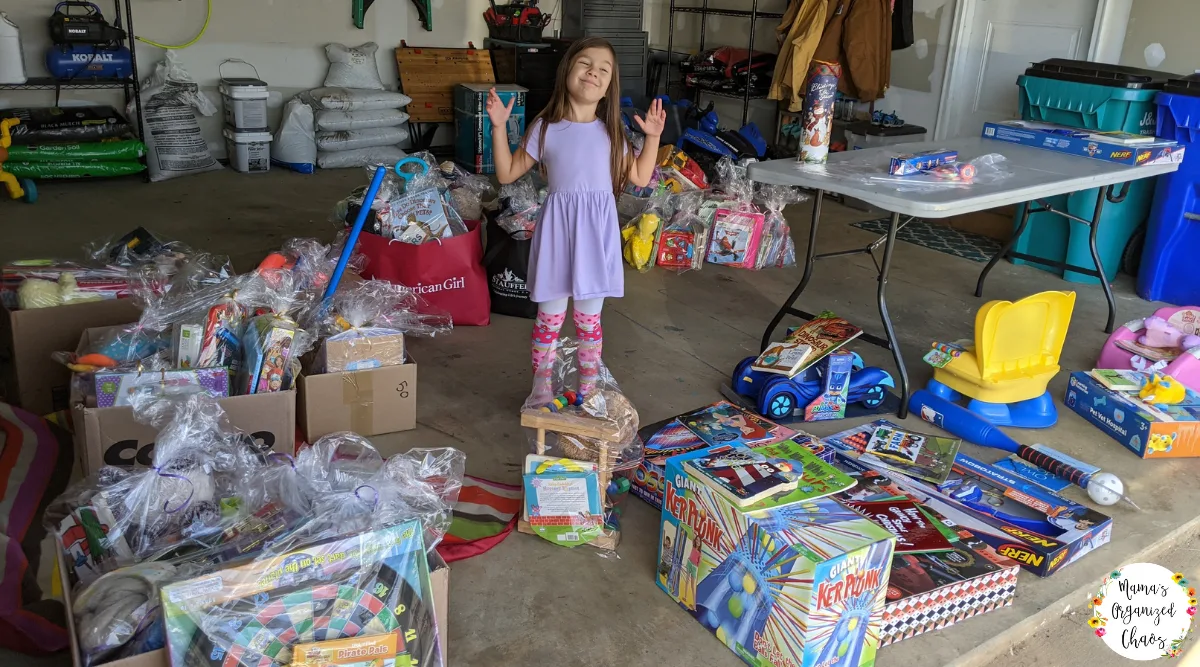 1 little note. 1 little seed planted. 1 little idea. 3 books, turned into 90 bags of toys and books and stuffed animals. This was the first kindness activity. I realized how amazing this calendar was in that moment. This calendar was more than just doing kind activities, it was teaching our children so much more, and even better… it was creating opportunities for them to really get involved.
And so here we are on day 21. My heart is so happy. This calendar will be a part of our Christmas traditions for the many years to come. Because of that first day, I've made sure to do every single activity and not skip a single one.
Each note, each idea was really incredible in its own way and it has been wonderful to watch Caroline run with each idea and make it her own.
There are 12 kindness activities on the calendar. Here are some of my favorites: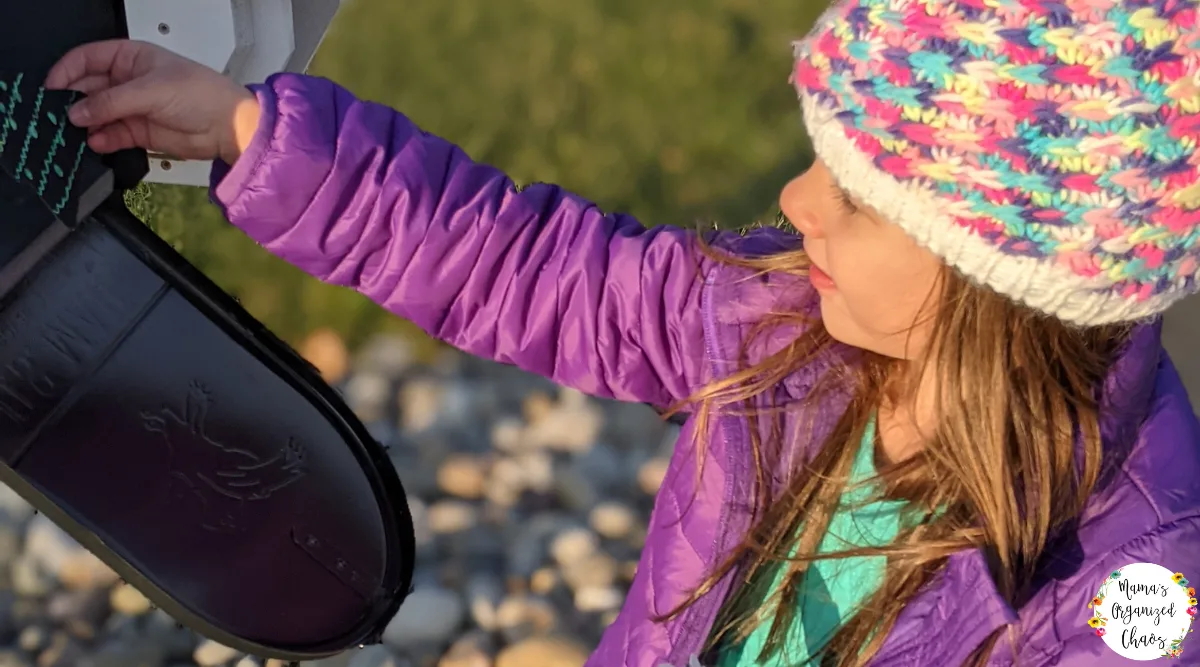 Donate books to a library or children's hospital
Write positive messages and leave them in mailboxes
Leave snacks and drinks out for delivery drivers
Write a thank you card for your postal worker
Give to a food bank
Share a favorite toy with a sibling/friend
Talk to someone that looks lonely
Send cards to nursing home/senior living residents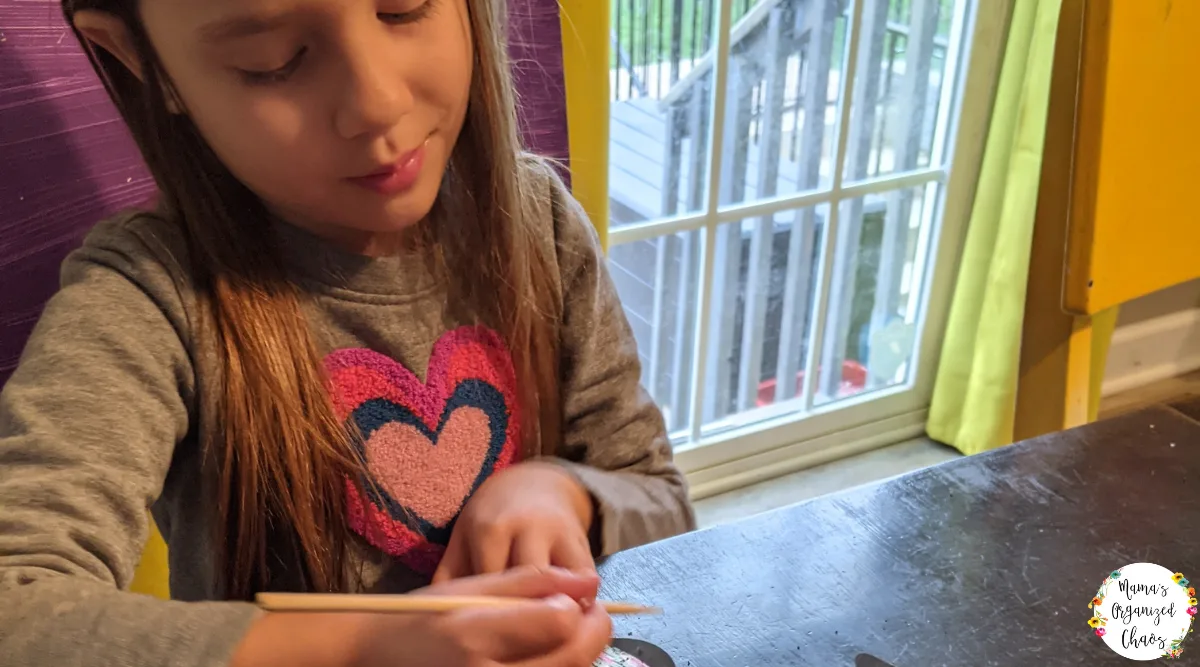 Each one of the 12 kindness activities brought out more ideas. We had to adapt some things to make them work in this 2020 year of Covid. Instead of making treats for delivery drivers, we used pre-packaged items. Instead of getting to sit with someone new at school, Caroline sent a video message through her virtual school and set up a video playdate. No matter what, we made things happen, and it was simply amazing to watch and be a part of.
Christmas Countdown Family Fun Activities
In addition to the kindness activities, I included 12 family fun activities. We don't always have the time to be hugely crafty around here, so I kept it pretty simple, but again these were so much fun! It also really helped to just keep the Christmas feel this whole month and make it extra special.
The 12 family activities are good for all ages. Here are some of my favorites: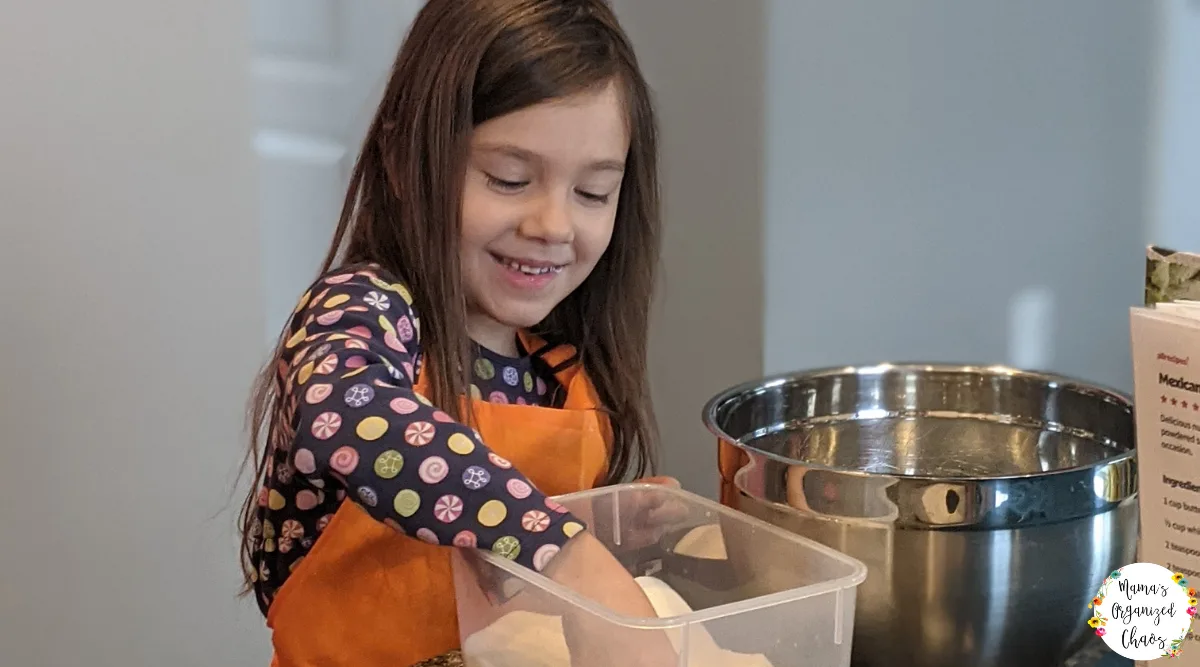 Take a drive to see Christmas lights
Watch a holiday movie
Make paper snowflakes (view this video for great directions)
Make a paper garland
Go on a winter walk
Drink hot chocolate
Have a family game night in your pajamas
Learn about Christmas traditions in other countries
These are just a few of the fun activities that we have on this calendar, and I just love how it really focused us and helped me to make this season special.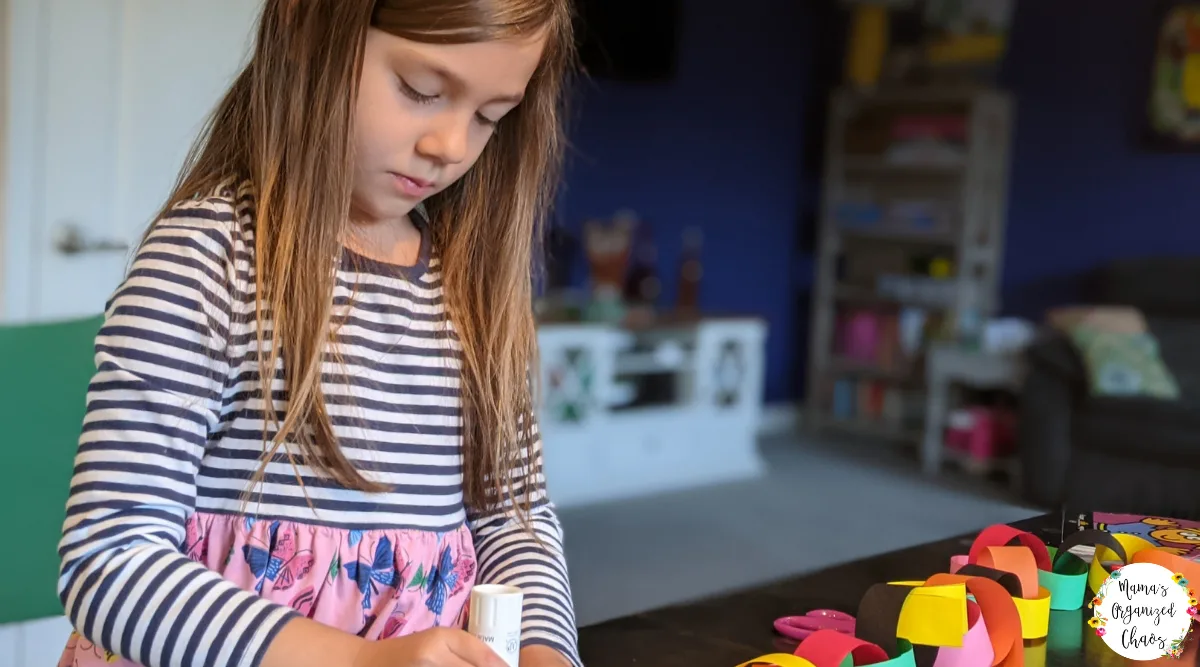 I also loved that this calendar was flexible. I didn't put dates on it. The order could be adapted for what made sense for us. As an example, we put the activity to watch a holiday movie on a Friday night that would be ok to stay up a bit later, and we planned a good night to do Christmas lights. We made the calendar work for us and tweaked things as needed.
If you'd like to grab a copy of the Christmas Kindness Countdown Calendar, you can download and print it here. Once you download it, it's yours to print as many times as you'd like and save for years to come. I hope this calendar brings you as much joy as it did for us this year. I think this is my new favorite holiday tradition. The kindness that we saw in our 6 year old was incredible. And it was always there… she just didn't have an outlet to run with. Now she does and it was fascinating to watch what she did with each activity.