William turned 4 months old a couple of days ago. Can you believe it!? These 4 months have flown by.
Since his last update at 12 weeks, a lot has happened.
Just a reminder on how I write these posts- William just turned 4 months old. This is a look back at the last month (or his 4th month of life).
William's 4 month old schedule changed about a week before he turned 4 months.
His naps have been interesting to say the least- we had the 45 minute intruder sneak up on us and hold on tight, making his naps short, disrupted, and making for a very frustrating day.
I am happy to report, however, that the BIG schedule change we made seems to be making a world of difference.
4 Month Old Schedule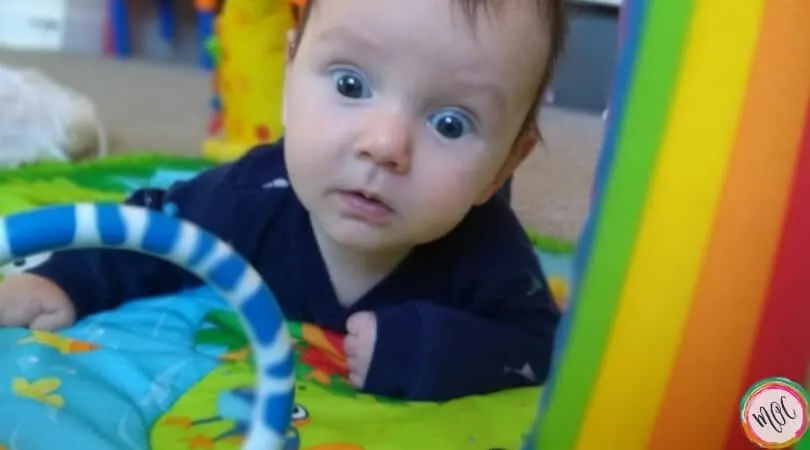 At the beginning of this month William's naps were incredibly frustrating. He was waking up after 45 minutes and suddenly our days were very disrupted.
I reported on the 45 minute intruder happening in his week 12 update. I was in and out of his room multiple times trying to get him to go back to sleep for EVERY SINGLE nap. It was exhausting.
Then, I took my own advice. I wrote this post back when Caroline was a baby, on how I handled early nap wakings. My best advice, was to wait 5 minutes before going in. 5 WHOLE minutes!
I'd fallen into the trap of responding too soon with William.
I refocused, started looking at the clock again, and he did it! He started putting himself back to sleep without my assistance.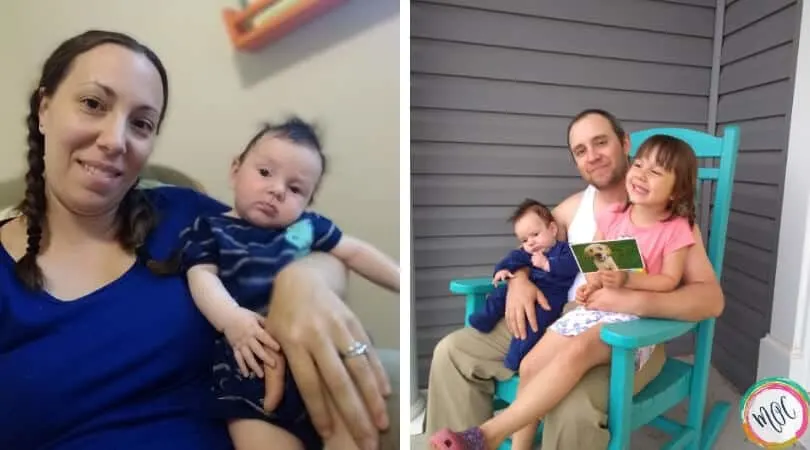 5 minutes of crying was hard to listen to, but honestly it was so much easier than the back and forth of going in and out to soothe and settle him for the remainder of the nap.
So, for awhile… all was good with his schedule.
Feeding Schedule (for the first part of month 4):
6:30 am wake and feed, 10 am feed, 1 pm feed, 4 pm feed, 6:30 pm wake, 7 pm feed and bed
Nap Schedule (for the first part of month 4):
He naps from 8 am to 10 am, 11:30 am to 1 pm, 2:30 pm to 4 pm, and 5:30 pm to 6:30 pm. He's then awake until his bedtime routine starts at 7 pm.
All was good, until suddenly he wasn't able to put himself to sleep after 5 minutes.
I was having to go in and settle and soothe. And it wasn't really getting him back to sleep, it was just stalling him until the next feeding.
After several days of this, I decided to take my own advice again and start troubleshooting the short naps.
The 45 minute intruder is tough to troubleshoot at times, because there are several things that can cause this issue.
After considering all of the "issues" that had popped up, I landed on two possible causes: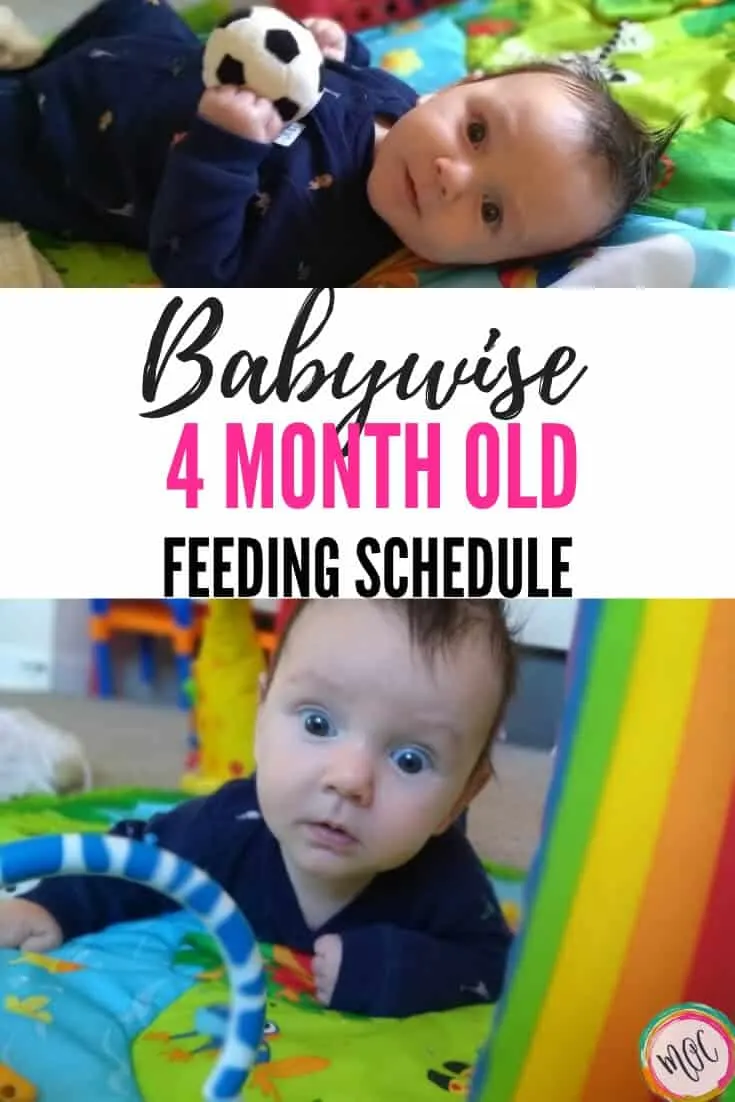 Teething
Needing more wake time
William's gums are SO swollen. I can also see a back, lower molar coming through! That is not supposed to be the first tooth by any means! LOL I went from being able to see one white dot, to 3. So it's definitely pushing up!
As for needing more wake time, well I had 3 reasons to think this might be an issue:
He was waking up from naps early and seemed to be wide awake
He was protesting naps. He'd still put himself to sleep at the start of the nap, but it was taking longer and longer, and he was making it clear that he was not wanting a nap.
He was suddenly wide awake for his middle of the night feeding. And, also not wanting to go back to sleep.
The combination of those three things, had me thinking he needed more wake time and that he was simply undertired for naps and bed.
And so, we made a big schedule change!
Feeding Schedule (last week of his 4th month):
7 am wake and feed, 11 am feed, 3 pm feed, 6 pm feed, 7:20 feed and bed
Nap Schedule (last week of his 4th month):
9 am to 11 am, 1 pm to 3 pm, 5 pm to 6 pm, no nap after the 6 pm feed
See below for a printable version of BOTH of the schedules listed in this post.
Are you looking for help with baby schedules and sleep?
I've created two invaluable resources for you based on my personal experiences with my babies and in helping countless other parents.
1. I wrote a book about all of my tips and tricks when it comes to baby schedules, sleep and more. I wrote this book with new parents in mind, so it's an EASY read and it's realistic and something you can start implementing immediately.
2. I created schedule tracking sheets for your baby's first full year.
Where can you get your copy of these resources?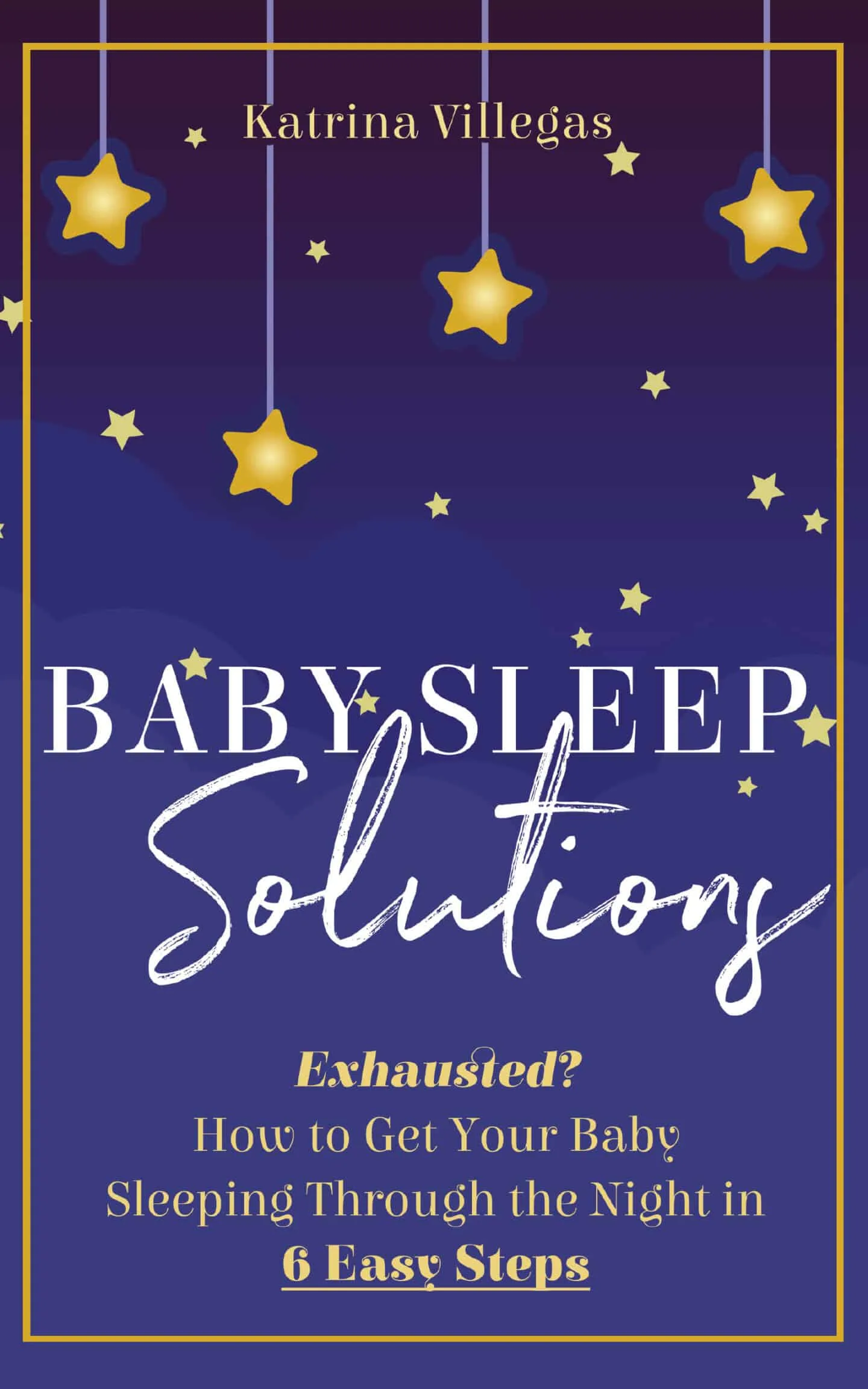 Baby Sleep Solutions Book
You guys I am so proud of this accomplishment because it turned out to be the perfect parenting book. It's exactly what I envisioned:
-Easy to read.
-No fluff.
-Realistic to implement.
-REAL- it's our real life situations that you can relate to.
-This book contains 6 easy and realistic steps to take with your baby to have them sleeping through the night and on a great schedule.
View the book on amazon by clicking here.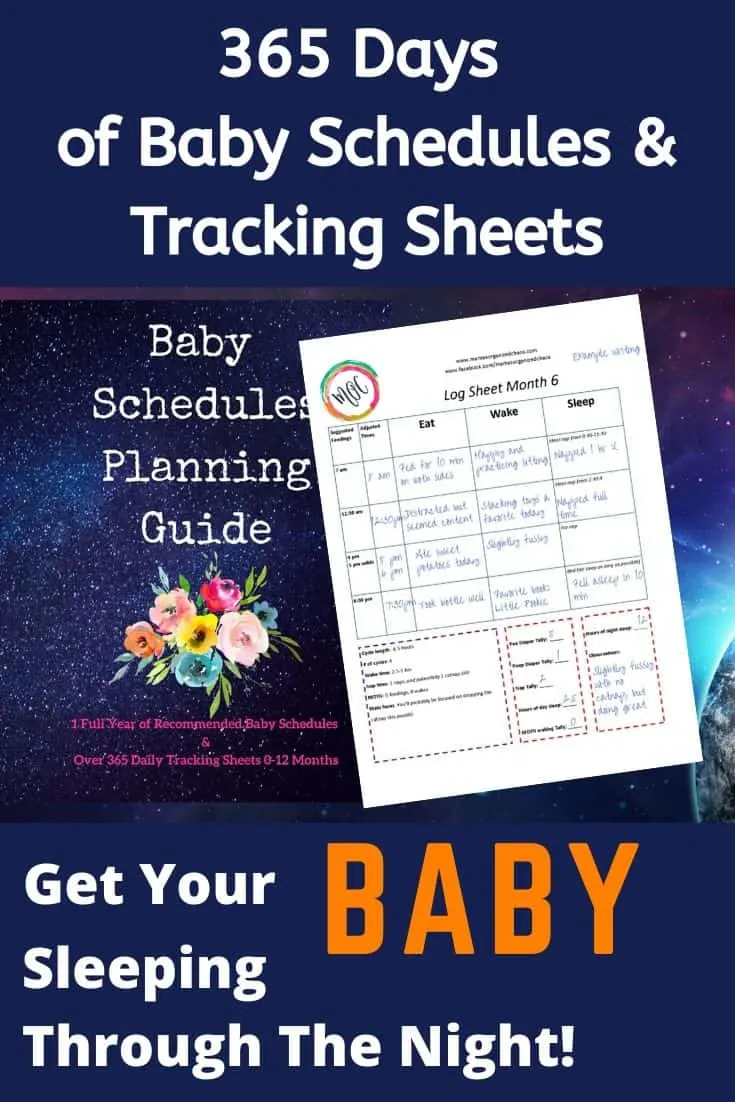 Schedule Tracking Sheets
These sheets are not only a great place to record YOUR baby's schedule and observations, they have the recommended schedule, wake times, nap times, etc. for each age listed out for your reference!
You can grab a paperback book on amazon by clicking here.
Or you can head to my Printable Parenting Tools shop and get the printable sheets delivered straight to your inbox by clicking here!
You'll notice a couple of things with this schedule:
William's wake time is now 2 hours for each cycle
His morning wake time is later
His bedtime is a bit later
He is on a very nice 4 hour schedule
He still has the same number of feedings throughout the day as his previous schedule
Once he starts solid foods, we'll drop one of those feedings and replace it with solid food. For now, however, we are going strong with 5 feedings and it's working VERY well!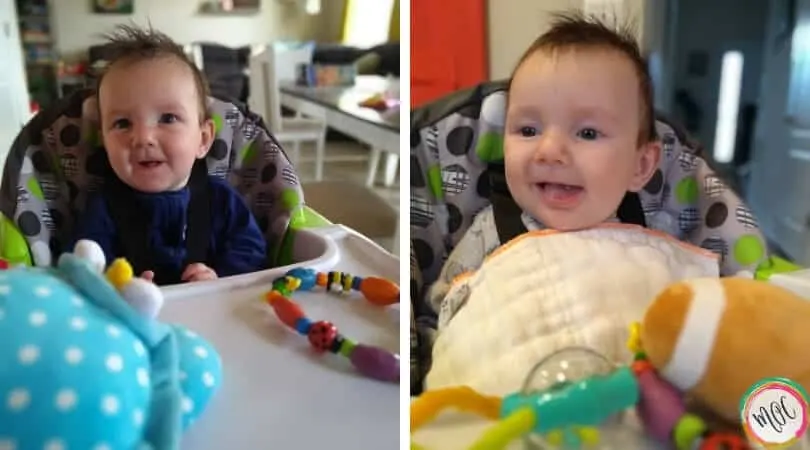 Eating
Now that we are on a 4 hour schedule, William is a lot more focused when eating. He's getting done faster and being more efficient again.
Prior to the schedule change this month, his feedings were dragging on and on!
His naps were not the only thing that benefited from the schedule change!
He's eating 5 times per day.
He is also becoming very interested in our food. He has gotten to taste the juice of a mango, an apple and even pineapple. He loves it!
We're super excited to start solid foods, but he's not quite ready with his head control yet. So, we are doing lots of sitting practice!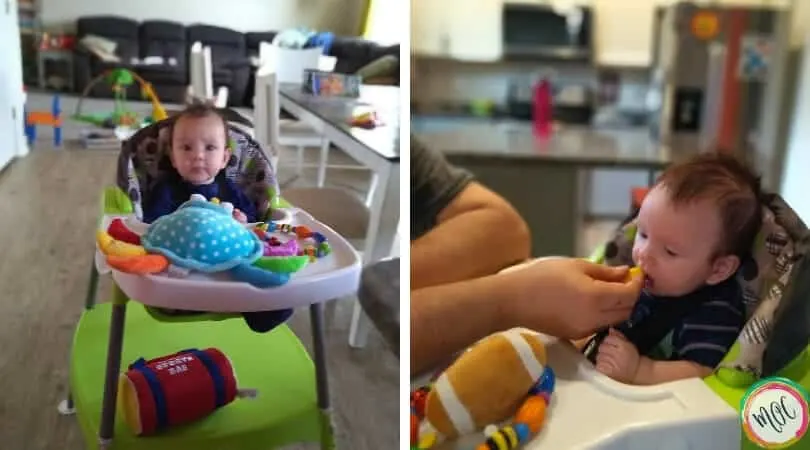 Wake Time
His wake time is now 2 hours long for each cycle.
He's very alert and handled the change from 1.5 hours to 2 hours like a champ! It wasn't challenging at all for him. In other words, I probably should have made the change at the beginning of the month LOL!
He's starting to grab at toys now.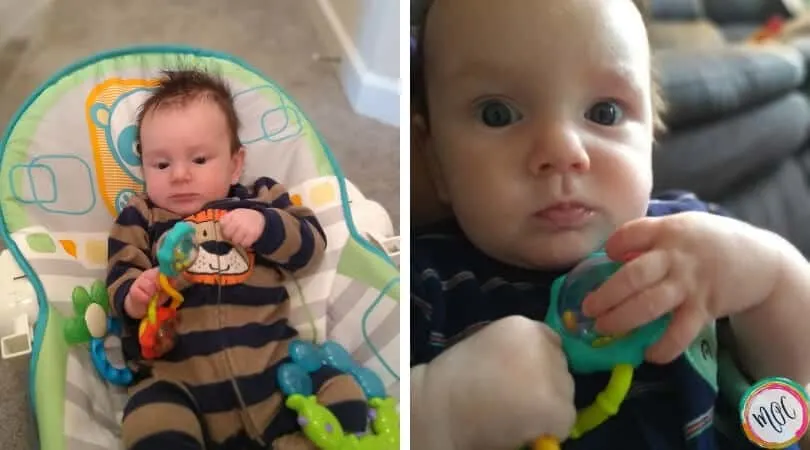 He's completely stopped rolling over, although we know he can roll from belly to back easily.
He's talking a lot more and really experimenting with his voice.
His favorite things are chatting and giving kisses. When we can stop and really look at him, give him eye contact, etc. he just lights up. He smiles and laughs and chats with us.
He licks our faces for sweet baby kisses.
He loves his face being touched. I rub his cheeks, and touch is nose, and he just smiles so much.
William is still all eyes on Caroline if she's around.
I am trying to do lots of sitting practice with him, tummy time, and independent play each day. He's doing great with all of it. His head control while sitting has really improved
in the last week. If he continues at this rate, he'll be ready to start solid foods next month.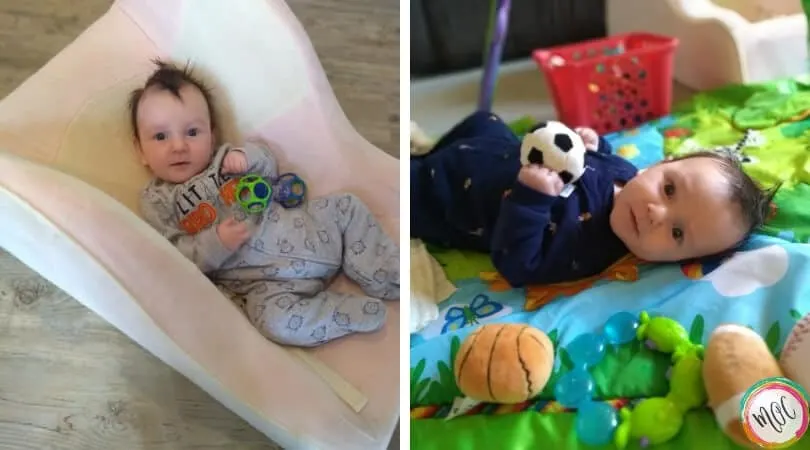 Also- he found his thumb! He had a good solid week of just sucking his thumb constantly. I tried to encourage it during sleep, but discourage it during wake time. He finally was able to get his thumb out and away from his hand to be successful at it.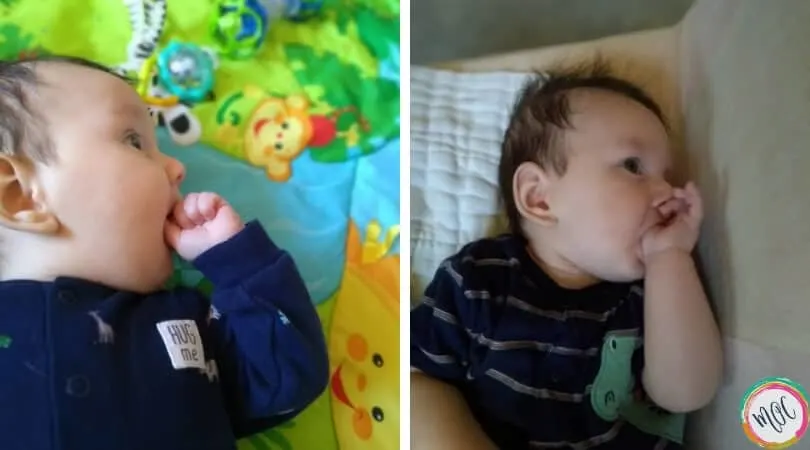 I was thrilled, because that means he can really start soothing himself if he wakes up.
He's also really liking outside time. He is happy as can be if I have him out for a walk or even just sitting on the front porch.
Nap Time
Naps at the beginning of the month were short and frustrating. He'd wake after 45 minutes, and I'd have to go in every few minutes until nap time was over trying to help him soothe.
Then I started letting him cry for 5 minutes. He put himself back to sleep easily and slept the rest of the nap. It was wonderful.
That lasted for awhile, and then letting him cry for 5 minutes suddenly stopped working about a week before turning 4 months old.
At that point, we made the schedule change that is listed above. His naps are now back to being nice and long, and if he does wake, he goes back to sleep with 5 minutes or less of crying most of the time.
Posts of interest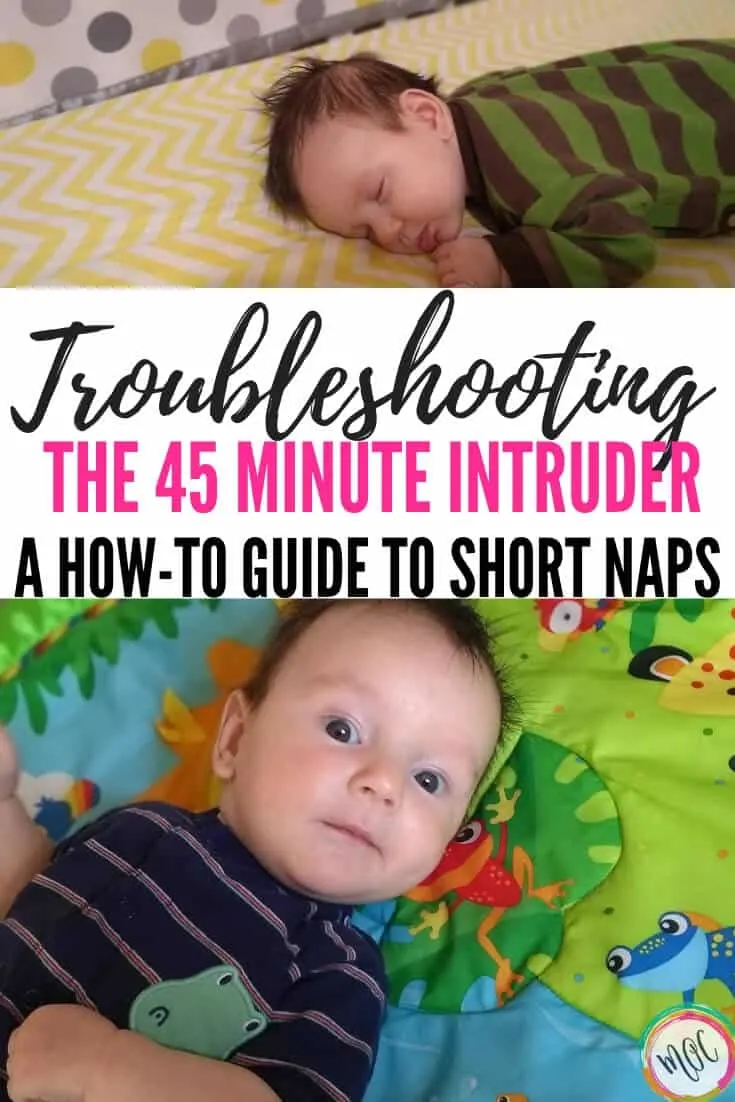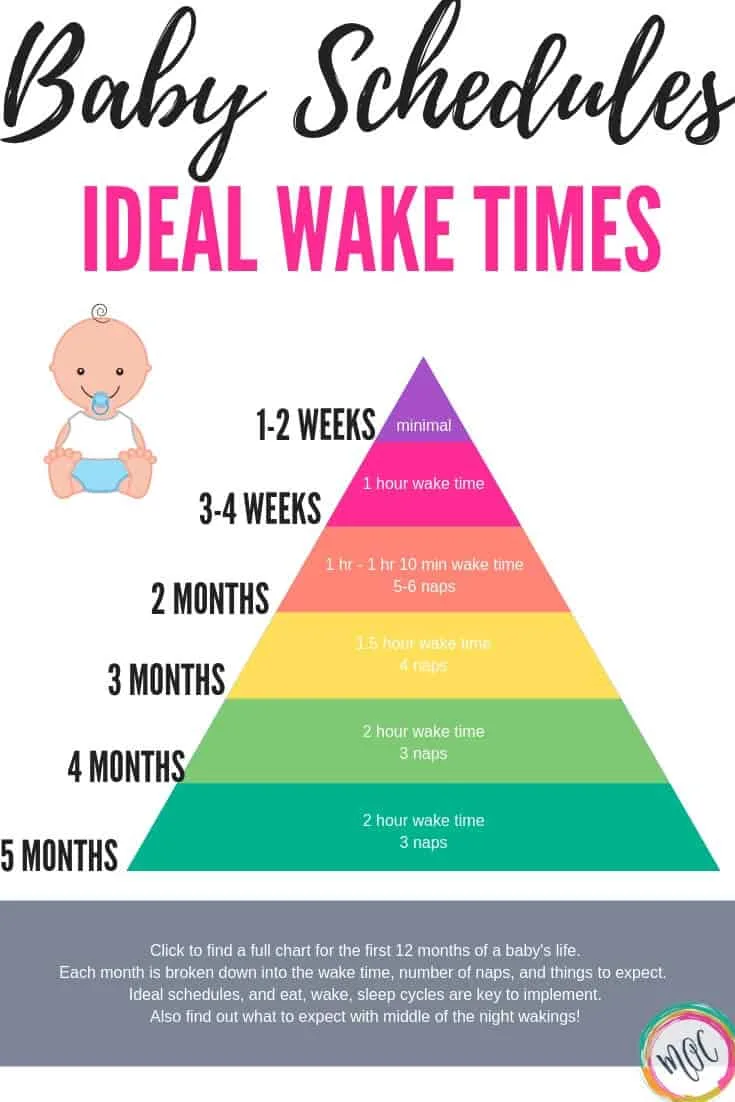 We also put him on his belly for naps ONLY.
I should also mention that his sleep training is going SO well. We've done minimal cry it out (only 5 minutes). He puts himself to sleep for naps and bed in that amount of time easily.
Once we made the schedule change, he hardly made a noise for the start of naps or bedtime. That has continued nicely, and he's doing a great job putting himself to sleep.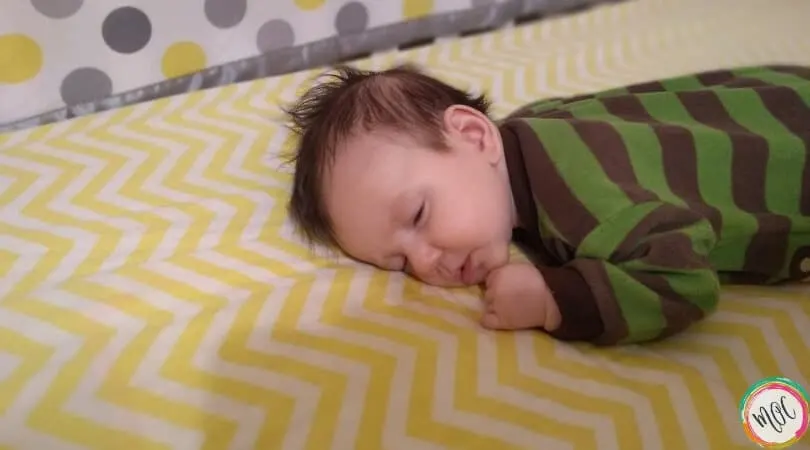 Nighttime
Nighttime is also going very well. As I mentioned, he's putting himself to sleep with no assisstance.
At around 7:20 pm, I change him into his nighttime diaper, feed him, and read him two books.
We read the same two books every night to keep things nice and consistent for him.
I then put him in his swaddle up, close the curtains, turn his sound machine on, and say good night. I lay him down in his crib and walk away. He's asleep shortly after all on his own!
William's Bedtime Items:
He is still waking once a night for a nighttime feeding. He wakes sometime in the 3 am hour.
He fusses a tiny bit, and I just go feed him. That way he and I both stay sleepy.
I feed for 5 minutes on each side, and then lay him down. He puts himself back to sleep.
Occasionally he's waking a bit before 7 am. When that happens, I just unswaddle him, and flip him to his belly. He sleeps until I wake him.
I don't feel like he's quite ready for the push to drop the middle of the night feeding. Perhaps it's because he was a preemie. I don't know, I just know that I don't feel like he's quite ready.
I am also not ready to just let him cry it out in the middle of the night.
It's a fine balance, however, between letting him eat if he's hungry, and it turning into a habit that will only get harder an harder to break. For now, I'm following his lead on this and trusting my mama gut.
Life With Two
This part doesn't change week after week. I seem to always say the same two things:
1- It is INCREDIBLE to watch the love that Caroline and William have for each other.
William looks at Caroline with such intensity. If she walks in a room, nothing else keeps his attention. He is so in love.
Caroline takes care of him, snuggles him, plays with him, and her heart is so full. She's an amazing big sister.
She's had a lot of love that had nowhere to go- and it's now got a place.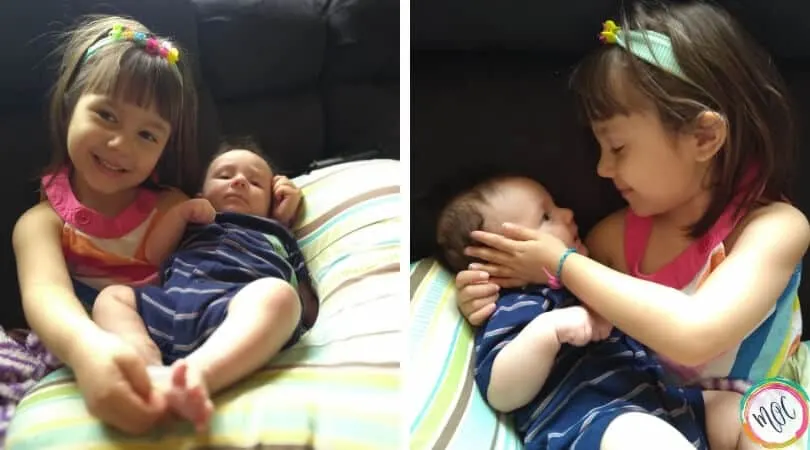 2- It is incredibly frustrating to me that I can't prioritize William as I'd like to.
His schedule takes a back seat. He has to be flexible and on the go in order to make preschool drop offs and pick ups. He has to just come along for ice skating practice, grocery shopping, etc.
I can't do these things at the ideal time for him as I once did for Caroline. For Caroline everything revolved around her. Her naps. Her feeding times.
That just can't be the case with William. He has to be the one to bend. I hate that. I want to be home for his naps. I want to feed him on time. That just isn't the reality for younger siblings, though.
It's something I'm working on NOT stressing over. I am so Type A and want to do things perfectly for him. The stress is unneeded and I can't fix the issues…so I need to just let it be.
New This Week
We've moved William to the upright position on his stroller, instead of using the stroller with his infant car seat.
I still love our stroller choice since it is compact, and super flexible to handle both the car seat and an upright sitting position.
We've started reading a second book for our bedtime routine. He seems to really love the colors of Goodnight Moon.
Our Favorite Products for Month 4
And yes, I am super silly probably for reading the same two books every night, but I swear it helps him recognize his bedtime routine at this young age.
William is finally starting to grab at toys! He's been able to successfully grab this teething stick and maneuver it to his mouth! We love these teethers!
He's also really liking rattles. He's able to hold them and shake them when he's interested to do so.
Schedules Page
See all of our schedules and scheduling resources!
Photo Credit: www.mamasorganizedchaos.com
See all of our schedules on this page, from newborn to preschool age!
Photo Credit: www.etsy.com
Download our printable baby schedules from newborn to 6 months and perfect the eat, wake, sleep cycle for your baby!
Includes recommended schedules.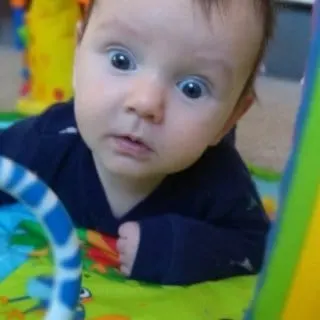 William's 4 Month Old Schedule
A printable babywise 4 month old schedule. This guide in particular is the schedule we used with our son, William. He was a preemie, born at just 34 weeks. There are two schedules that we used during his 4th month. Both are listed on this printable schedule sheet.
Instructions
Schedule 1 (used for the first 3 weeks of this month):
6:30 am wake and feed
Nap from 8 am to 10 am
10 am feed
Nap from 11:30 am to 1 pm
1 pm feed
Nap from 2:30 pm to 4 pm
4 pm feed
Nap from 5:30 pm to 6:30 pm
NO FEEDING at 6:30 pm wake
7 pm bedtime routine starting with feeding
Schedule 2 (used for the last week of this month):
7 am wake and feed
Nap from 9 am to 11 am
11 am feed
Nap from 1 pm to 3 pm
3 pm feed
Nap from 5 pm to 6 pm
6 pm feed
NO NAP this cycle
7:20 pm bedtime routine starting with feeding
Notes
When William turned 4 months old, I took a look back at the last month. So, he was 3 months old when using these schedules, but in his 4th month of life. Hope that makes sense! Keep in mind, that each baby is unique, and could be slightly ahead or behind on wake time, number of feedings, naps, etc.
I also want to mention that William was still waking once per night while on both of the above schedules (in the 3 am hour) for a feeding. He'd sleep from roughly 7 pm to 3 am, and then again to 6:30/7 am.
Recommended Products
As an Amazon Associate and member of other affiliate programs, I earn from qualifying purchases.