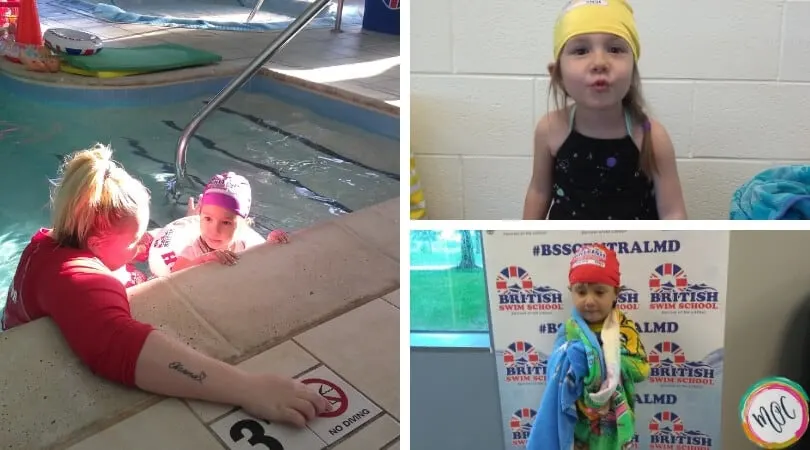 In exchange for an honest review on this blog, British Swim School of Central MD has provided my family with free swim lessons. All opinions and thoughts are my own. See below for an enrollment special!
2018 was Caroline's first full year of swim class with British Swim School.
Caroline turned 3 in November of 2017. She was at the Seahorse level starting in January 2018, moved to the Minnow level by April, and was at the Turtle 1 level by September.
It's been fascinating to watch her move through fears, master techniques, and really push herself to try her best.
She's had multiple instructors, and even swam at multiple locations. She's done great with all of her instructors.
I've always been impressed with how the instructors are all so great with Caroline, yet all so different.
Caroline has really thrived in different ways with each of the instructors.
Honestly, even when there is a substitute, she does well (once she is in the water and doing the lesson).
She's always a bit hesitant with a new instructor, so I often dislike when there is a substitute instructor, but then by the end of the lesson I feel like it's the best lesson she's had in awhile!
It's almost like the change of pace with a new face changes things up just enough to get her a new focus in class.
British Swim School of Montgomery County has placed a lot of value in hiring quality instructors and deck ambassadors. It is always evident from each lesson, and I so appreciate that as a parent!
In 2018, Caroline learned invaluable skills at British Swim School:
The Starfish

She can float on her back for SO long. It just clicked one day. I worked with her over the summer as much as I could. She finally did it and it was amazing to watch.
I find so much comfort in her knowing this skill. If something were to happen, if she were to fall in a pool, she could float. She could have the confidence to float until help came.

Underwater

She doesn't like it. Boy does she hate it, honestly. But- she can go underwater. She learned how to put her face in, and roll over to safety.

Independence

She jumps in independently. No more hand holding. She's confident. She has fun, but she has a respect for the water as well. She's grown so much over the last year!

Dedication, Hard work, Focus

There have been times that she doesn't want to do specific skills (face in the water was a big one).
There have been fears (of the lines at the bottom of the pool).
Caroline has learned to focus, try her best, and really dedicate herself. She's powered through her fears. The emotional growth has been one of the best things about swim class.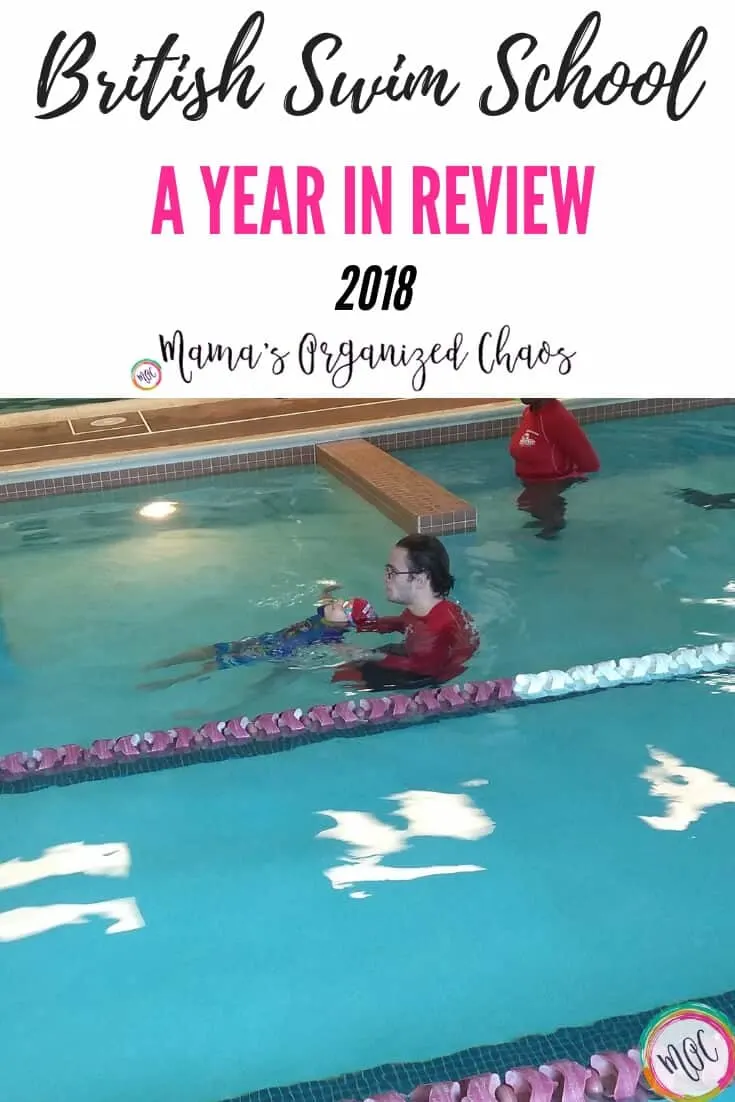 Over the past year, Caroline has been requesting to do different activities. She's been in Swim since the summer of 2017, and was progressing and doing so well. I really love the program.
She's been in gymnastics since she was 1.5 years old. I also really love gymnastics for a variety of reasons.
The plan, however, was always to let her try different activities and find what she liked. That never really happened because she's always enjoyed swim and gymnastics.
She's always done so well with these activities that, even if she expressed at times that she wasn't enjoying something, we could tell she was really still enjoying it overall and was excelling. And so, we kept her in the activities.
Now that she's 4, however, we reevaluated. She took the time to come to us and express to us that she is no longer enjoying swim or gymnastics, and that she'd like to try something different.
She was very honest about it. There was no underlying reason causing her to tell us this. It isn't just a moment in time. Unfortunately, she's actually not fully enjoying either class right now.
She's still doing her best at class. She's still doing well and excelling. And so, since she's doing all of those things, all while expressing to us that she'd like to try something different, we are honoring her request.
Caroline will be taking a break from swim and gymnastics starting in 2019. She'll be taking ice skating lessons instead!
While it breaks my mama heart to let these activities go, since she's been doing them for so long, and doing so well- I am excited to see what this next phase brings.
I just love that she was able to express herself to us in such an adult way.
And so, it is with a bit of sadness and a bit of excitement that we start this new chapter, with new activities, and new skills to be learned!
Happy 2019!
Caroline also had a sibling enter the world on 12/9/18. Perhaps he will follow in her footsteps with swim class and eventually gymnastics for a bit… British Swim School does start them early (at 3 months of age)!
Enrollment Special 20% off
If you live in Montgomery County or Frederick County, Maryland, and are interested in signing up with BSS, I am really excited to announce that you can receive 20% off your first 4 lessons when you call to enroll and use the code #MAMAS18. The information for our central Maryland British Swim Schools can all be found at this link.