I opened the washing machine, and I think my heart skipped a few beats when I realized what had happened. I knew immediately that I'd somehow managed to put a disposable diaper in our washing machine. Holy moly! Now what!?
There were little gel beads all over our washing machine, our daughter's clothes, and her cloth diapers. We use 1 disposable diaper at night instead of trying to bother with using cloth diapers, and, of course, I'd mess up and throw it in the laundry hamper instead of the trash can.
Now I was on a mission to figure out what on earth to do. Well, if you are like me and freaking out- don't. The solution was rather simple and this is an easy peasy fix!! Seriously, take a breath now, and I'll walk you through how to fix this and have your washing machine and your clothes free of this disposable diaper disaster in no time!
The worst case scenario ran through my mind to begin with… Beads that don't dissolve and form a gel like mess all over my washing machine, dryer, our daughter's clothes and diapers– it all must be ruined, right!? If I run the dryer, would the gel melt onto everything? Would the dryer be ok? How am I supposed to rinse gel beads out of the washer when they feel like glue?
Luckily, the answer to cleaning up this disposable diaper disaster is really easy, and none of the above worst case thoughts that were in my head were at all true. Whew!
So, while you contemplate potty training as soon as is humanly possible so this never happens again LOL, I'll get to the step by step directions on cleaning up this mess.
Which by the way, in our house we start introducing the potty around 5 months. It is one of the most helpful and best things we've done with our babies!

I think everyone should try it because your child will never have the fear of peeing or pooping on the potty that some kids do, and you'll have your kids potty trained by no later than 2.5 years of age. If you're curious, check out our potty training method here. Anyways, I digress…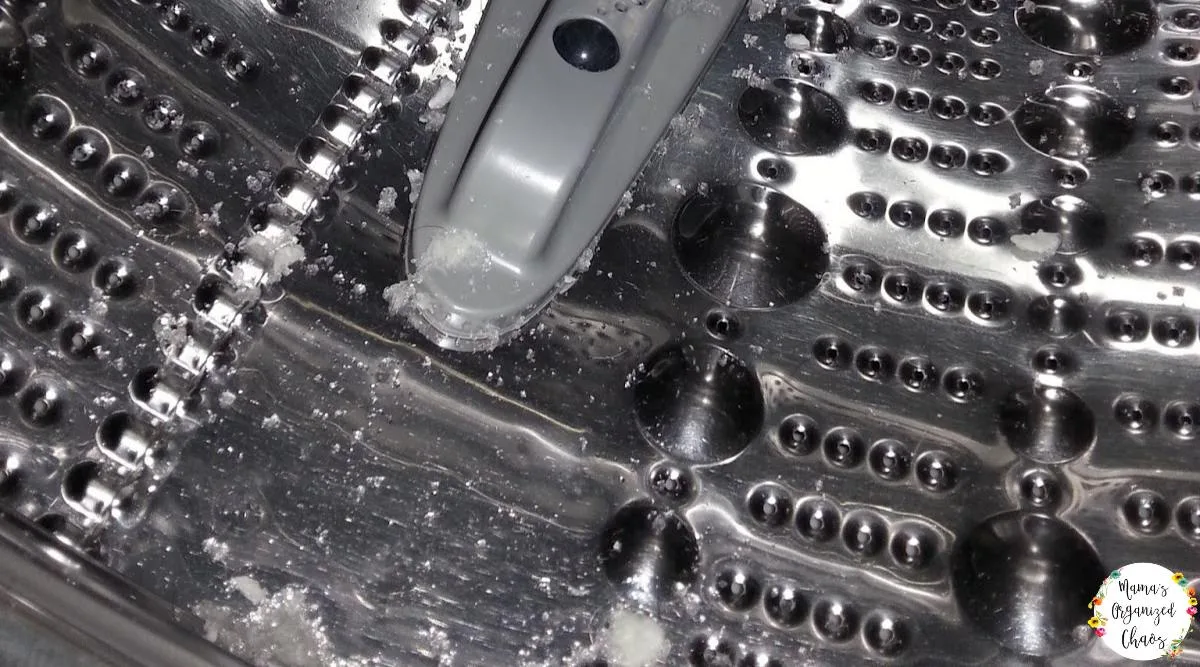 Ok so first things first (Mama I'm talking to you) – don't worry and also don't judge yourself… this has happened to so many of us in our sleep deprived states- you are not alone. Heck, it might happen to you twice, who knows! But, the solution to getting the diaper mess cleaned up is so simple you will remember what to do next time.
And, if you are ready to tackle the challenge of getting your baby to sleep full nights, or take better naps, you've come to the right place. Here, you'll find all of your baby sleep questions answered and you'll have your baby sleeping through the night in no time. Head to the homepage for a roadmap of how to get around, or if you are more of a book person, check out my book – Baby Sleep Solutions.
The Easy Peasy Disposable Diaper in your Washing Machine Solution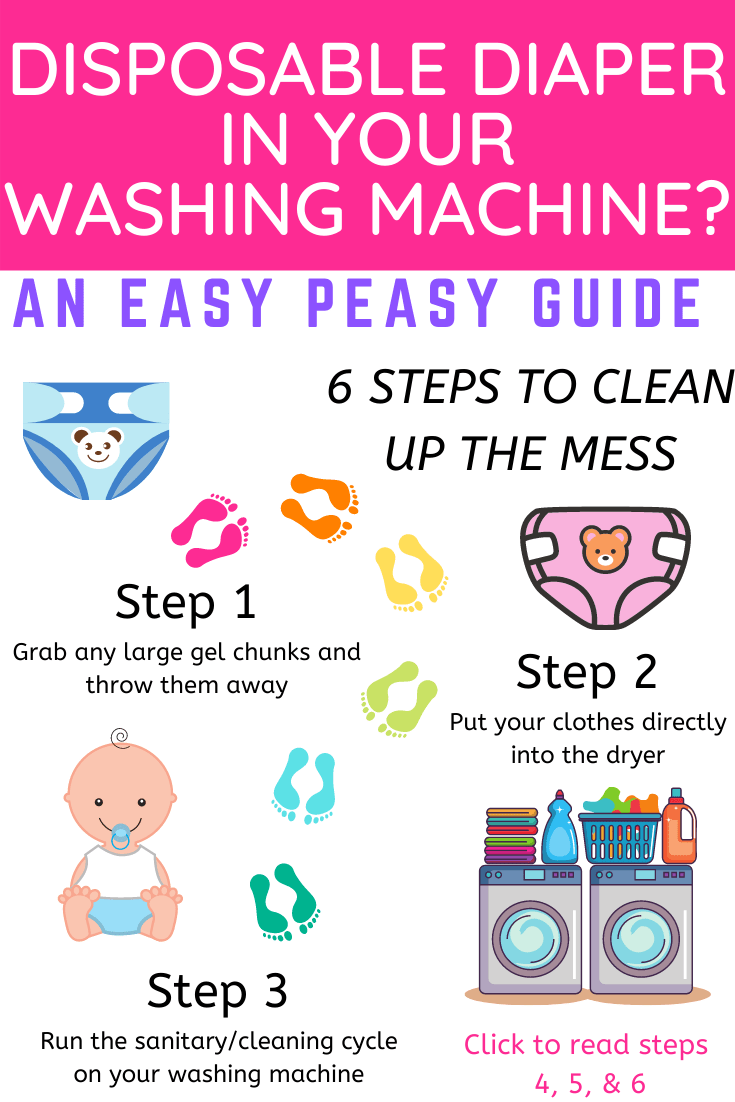 Time needed: 20 minutes
How to clean up the mess in your washing machine and on your clothes, after you've accidentally put a disposable diaper in with your laundry.
Get a trash bag or trash can handy and throw away the large gel chunks

In step 2 you are going to start removing the clothes from your washing machine. As you do that, you are going to find large chunks of disposable diaper gel, and eventually you'll find the remnants of the actual disposable diaper. Throw away as much as you can, but don't worry about the little chunks.

Move your clothes from the washing machine to the dryer

Shake off the clothes as you remove them from the washing machine. Move any large gel chunks to the trash can, and move your clothes to the dryer. They will still be messy, but don't worry. The dryer is going to take care of the mess!

Run the dryer

I know this is going to feel so weird to do with messy clothes like this. Trust me though and do this step! The dryer sucks all of the wetness out of the gel beads, and turns the gel into a white paper like substance in the lint trap. It works magic!!

Clean out the washing machine and run the sanitary/cleaning cycle

Scoop out any remaining large chunks of gel by hand. Don't worry about the little stuff. Keep it simple and just grab the easy stuff. Then run the sanitary/cleaning cycle (add a little bleach if you have it). When it's done running, your washing machine will be sparkling clean!

Rewash your clothes

When the clothes are done in the dryer, I like to rewash them just to get any last remnants off, but honestly you can probably skip this step as you'll see when they come out of the dryer cycle they are nice and clean. If you are like me, though, and worried about any skin sensitivities, you'll want to be safe and rewash and dry your clothes.

Vacuum your floor

I was completely unsuccessful in getting my clothes to the dryer, and the gel mess out of the washing machine without making a huge mess on my floor. Another simple fix though…it just vacuums right up!
Running a disposable diaper through the washing machine is not the end of the world. It looks pretty scary like a disaster that is going to cost you a new machine, but in the end it's a pretty simple fix and easy to clean up. You can rest assured you know how to fix it if this ever happens to you again LOL!
As a parent of an infant, I know you have a few things on your mind. Sleep is high up there. Don't forget to check out all of the resources on this blog that will help your baby sleep through the night, and take predictable, long naps. And seriously, consider potty training early. It will save your sanity and your washing machine! LOL
Are you looking for help with baby schedules and sleep?
I've created two invaluable resources for you based on my personal experiences with my babies and in helping countless other parents.
1. I wrote a book about all of my tips and tricks when it comes to baby schedules, sleep and more. I wrote this book with new parents in mind, so it's an EASY read and it's realistic and something you can start implementing immediately.
2. I created schedule tracking sheets for your baby's first full year.
Where can you get your copy of these resources?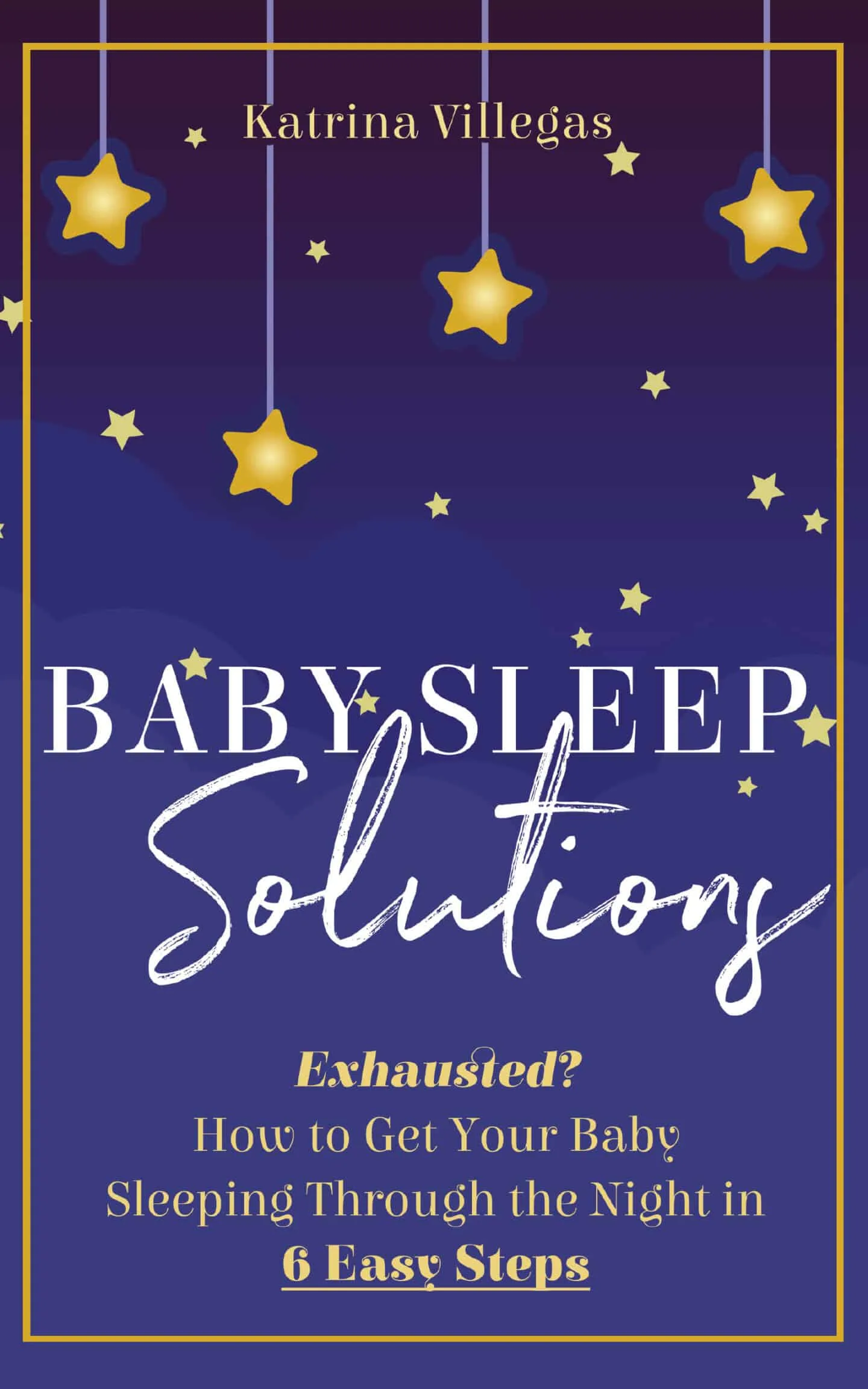 Baby Sleep Solutions Book
You guys I am so proud of this accomplishment because it turned out to be the perfect parenting book. It's exactly what I envisioned:
-Easy to read.
-No fluff.
-Realistic to implement.
-REAL- it's our real life situations that you can relate to.
-This book contains 6 easy and realistic steps to take with your baby to have them sleeping through the night and on a great schedule.
View the book on amazon by clicking here.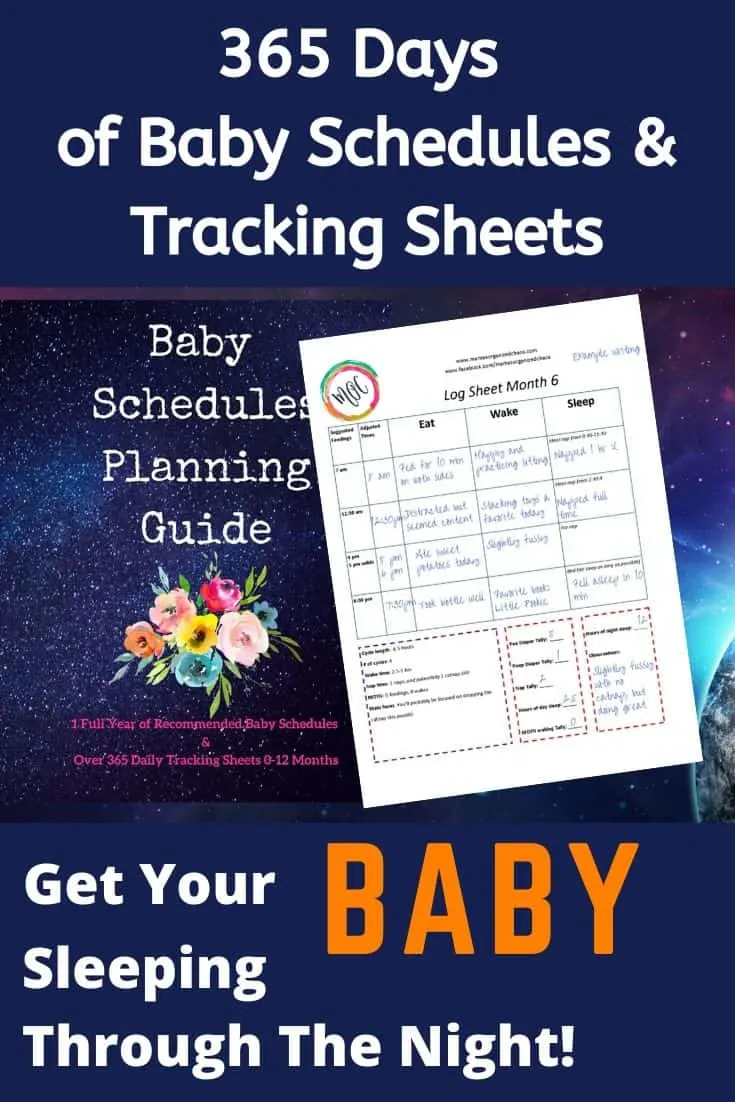 Schedule Tracking Sheets
These sheets are not only a great place to record YOUR baby's schedule and observations, they have the recommended schedule, wake times, nap times, etc. for each age listed out for your reference!
You can grab a paperback book on amazon by clicking here.
Or you can head to my Printable Parenting Tools shop and get the printable sheets delivered straight to your inbox by clicking here!