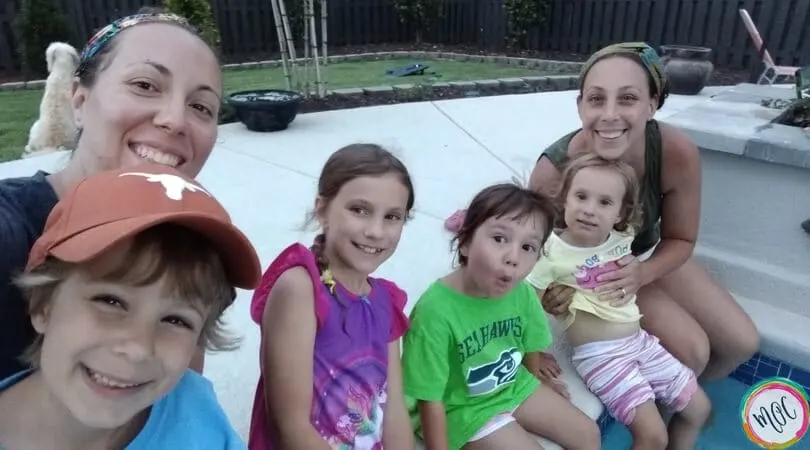 My immediate family does not have family reunions. There has never been a need. We used to all live in the same state, and in the same city. It's just my parents, my sister and I, so that was relatively easy to all live close. And my grandparents on my moms side, have always lived super close by as well. We made it a point to stick together.
The furthest we were apart, was when I went to college and was an hour and 45 minutes away. Even that for many is super close. I'd come home for a weekend here and there, and during summers. It was easy, easy, easy to see each other often.
As of 2009, that all changed. Over the last roughly 10 years, we've been spread out in different states. We've all attempted to make an effort to stay close, but work pulled us in different directions. My sister and I also have families of our own now. It's not just as simple as where OUR job takes us. We have our husband and children to think about as well. We've both purchased homes in that time, and things just got more complicated.
So, as of right now, my immediate family is in 3 states: Georgia (my sister's family), North Carolina (my parents and grandma on my mom's side), and Maryland (my family). It's almost a 7 hour drive for me to get to North Carolina, and even more to get to Georgia. Joe is super busy in the summer season when my sister and her kids are available to travel.
My sister has 3 children, and her husband works two jobs. It's hard for him to get holidays off.
There's a million reasons, but the reality is that we just haven't been able to get together much. We try so hard, but often it's not all of us at the same time.
When Caroline was 6 months old, I took her down to see my family. At the time, my parents and my sister were both in Georgia. So it was a one stop visit to see everyone. After my parents moved to North Carolina, we'd visited them, and they'd come to us as well, but I hadn't had a chance to see my sister and her family.
Caroline is 3.5 years old now, and I hadn't seen my sister or my Grandma since she was 6 months old!
This summer, we finally made it happen. My sister and I were able to work out our schedules to be free at the same time. Everyone except for my husband (Joe) was able to get together. I made the almost 7 hour drive down to my parents house, and my sister and her family came up from Georgia.
It was incredible to have everyone together.
Caroline hadn't seen her cousins since she was 6 months old, either. So, now that she was older, I knew she'd really enjoy it. I had no idea just how much she'd enjoy it, though.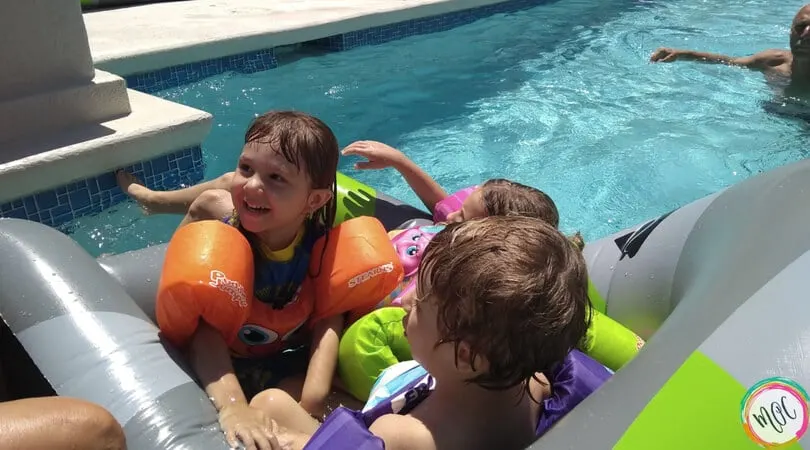 First of all, the drive down to North Caroline was easy. It's a straight shot from Maryland and was all easy highway. We stopped once! Caroline is a master at car rides I feel like. She did the same thing when we drove to Georgia. I was a bit nervous, since my husband was not coming for this trip, but it went as smoothly as it could. We left before the sun came up, and stopped once. That stop was to get food, go to the bathroom, and fuel up. We were back on the road in 15 minutes and headed to NC. I was thrilled that it went so smoothly.
Caroline hardly even touched the toys, books, and iPad that I'd brought to keep her entertained. She looked out of the window, we talked, we listened to music, and that was it! She was happy and content. She talked about seeing her cousins the entire time pretty much because she was THAT pumped!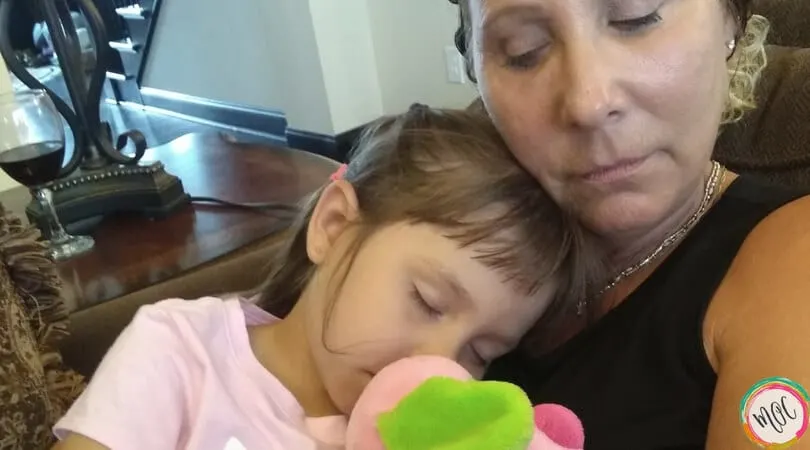 The visit itself was fabulous. I hadn't even seen my sister since April died, so it was just really nice to see her. It was a very emotional visit for me in that regard. Things were not as they should have been. April should have been there and I was acutely aware of that the entire time. All that aside, however, it was incredibly nice to see my family.
Caroline hit it off with her cousins immediately. Her cousin, Nora, is just 6 months younger than her, so we were expecting them to really enjoy playing with one another and do some good bonding, which they did. Night #1, we ended up going and purchasing a sleeping bag for Caroline so she could join her cousins and have a sleep over.
Nora made it a point to ask where her sleeping bag was, and I realized Caroline might really want to sleep with her cousins instead of me. What fun that would be! When I asked her, she was thrilled at the idea!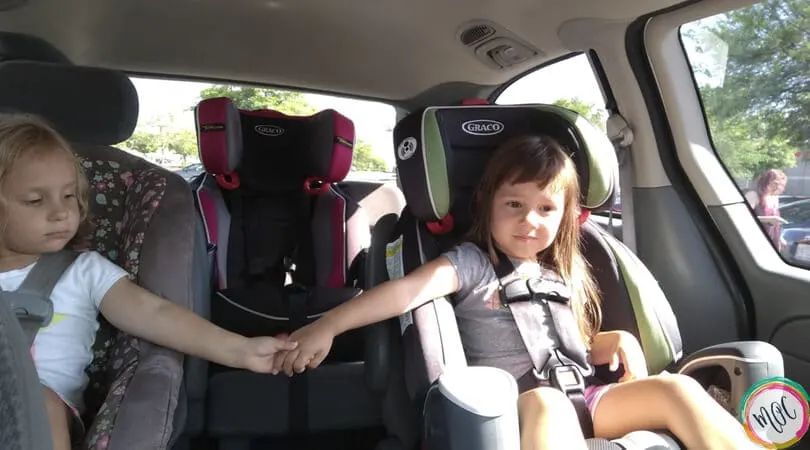 We knew it wasn't going to go over well with regards to actually sleeping, but oh well- it's vacation! Exactly what we thought would happen, did. Lots of talking. Except not between Nora and Caroline, it was with Sienna (her oldest cousin).
They were up forever chatting and having a ball. Eventually we had to take Caroline out and she slept with me the rest of the nights there. LOL At least we gave it a good shot. I'm sure they'll have fond memories of it.
The trip was full of pool time. The kids couldn't be in it enough. We laughed at one point, because this picture taken looked like it could be a puddle jumper commercial! 4 kids all sporting their puddle jumpers. We had s'mores, and fun evenings. We were in the pool as much as physically possible, and we'd take the kids upstairs to watch a show midday for a bit of downtime.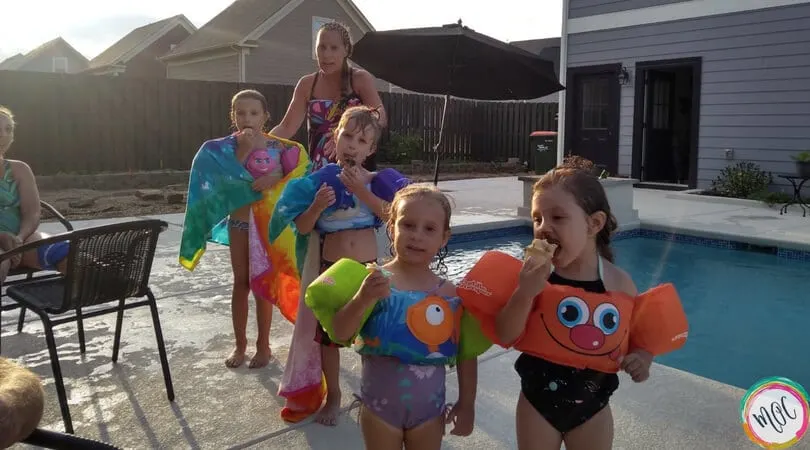 Caroline is still napping, but none of her cousins do at this point. Caroline is also capable of getting through the day in a great mood without her nap. I decided to just let her skip her naps, since I knew she'd be bummed about missing out with her cousin time. As long as she could still behave well, I was going to let this happen.
I knew, however, that if she couldn't handle skipping naps, it would be obvious in her behavior. In that case, we'd add them back in. All of the children enjoyed getting some TV time together and snuggling in on Nana's bed. This proved to be enough of a rest for Caroline to make it through. She did amazing.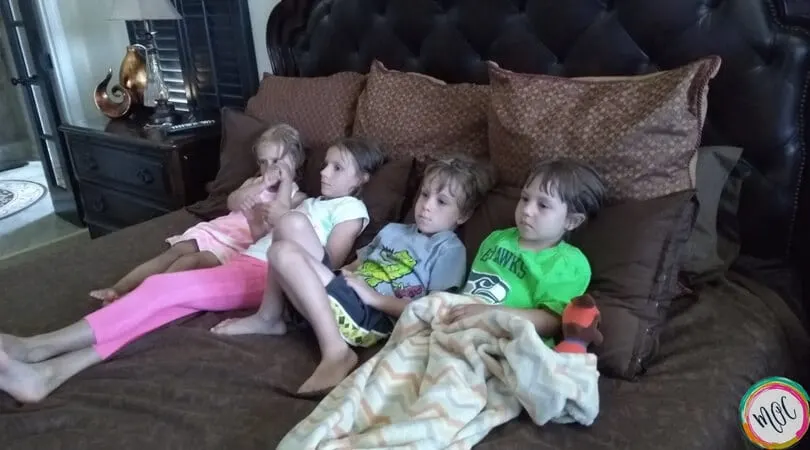 Sienna and Caroline really ended up being the two that I watched together the most. They both love to talk, and they found that commonality pretty quickly. They'd sit by the pool together just chatting up a storm. It was adorable.
This was the hard part for me, though. It made me tear up as I saw it, because I knew in that moment that Caroline was missing her sister in her life. April and Caroline should be sitting together chatting one day, and that won't happen.
Oliver, Sienna, and Caroline all got to attempting an adult logic puzzle together at one point. It was priceless to watch. They were each extremely patient with one another. They'd let someone try something, build on it, and then make changes, etc.
They worked together for what seemed like a good hour. I rarely stepped in to help. They helped each other and eventually solved the puzzle! I was pretty impressed at the team building skills that I had just witnessed!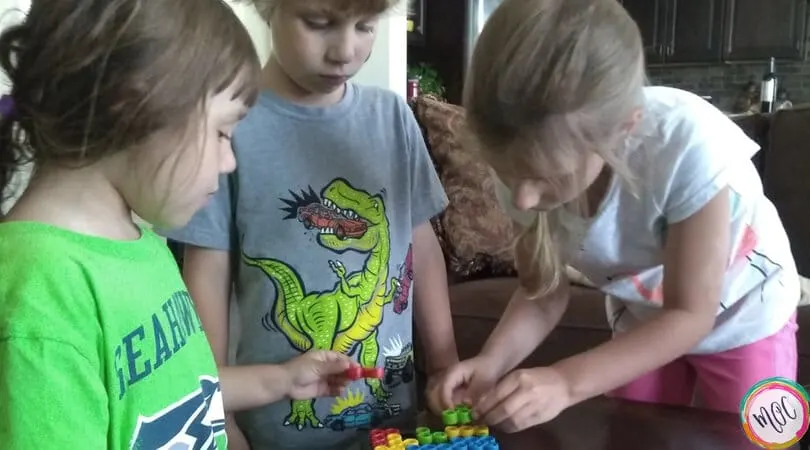 We also took everyone to a park near by. Sienna, Oliver, Nora and Caroline all enjoyed every part of it: the swings, the play structures, the races, and feeding ducks! Yes there were races!
There was a section of this park that had some little obstacle course type things, and a straightaway to race on! I think we were all out there at some point racing! Somehow my dad beat me (just barely)…we are going to have to have a rematch when I'm not pregnant LOL!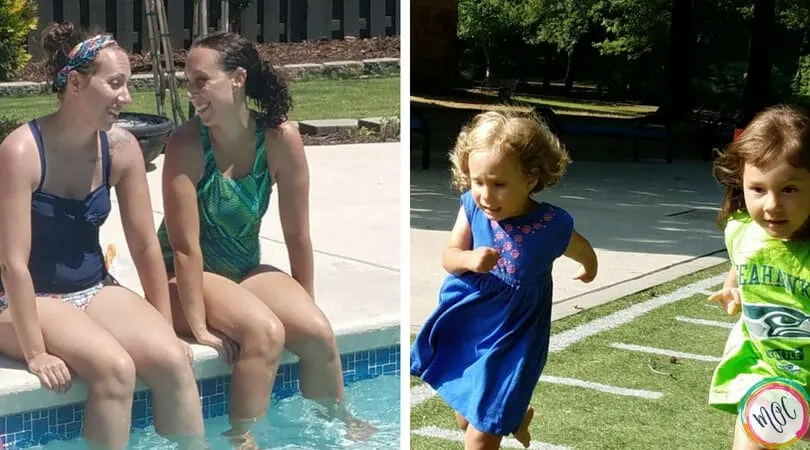 My parents and my Grandma couldn't be more thrilled to have everyone in the same place at the same time. It was such a great trip that I know we will always cherish. And can you believe it? This trip happened at the end of June 2018, and we are already having another get together in early September 2018! Joe still won't be able to come, which is so hard, but the cousins will again be together. I also can't believe that it is the end of August and I am just now getting around to writing this post! LOL!
Other Posts of Interest
Family Vacations and Posts are all on this page
Enjoying the Moments and Letting the Schedule Go (at times)