In less than 1 week, our daughter starts kindergarten. I am such a flood of emotions, honestly. It's such a huge milestone, and at the same time- right now, it's such a weird time. Kindergarten during a pandemic is going to be interesting to say the least!
I won't walk Caroline to her kindergarten classroom this year and walk out of the building with the inevitable Mama tears. I won't hug her and reassure her that Mama is only a few minutes away- that she can do this on her own. I won't pack her a lunch every night.
In so many ways I am beyond happy about this. I am so thankful I get to have her home with me. I am so excited to help her learn and feel like we've been gifted time. And gosh, isn't this crazy what we parents think of today — I am so thankful I don't have to worry about a school shooting happening and not being there to protect my daughter. Yep, those are the things we think of today.
But gosh you guys, I'm also sad. Caroline is ready. She's excited. She's bursting with energy to meet friends, learn and grow. She loves school. And she's sad. And when she's sad, you bet I feel that too.
She had the opportunity to attend Pre-K at her elementary school last year. As a result, I feel like we've already had some of the above mentioned "kindergarten moments." I feel the tiniest bit seasoned with the school and like we at least have our bearings and some contacts. Thank goodness, otherwise we'd be lost starting out with virtual learning.
This afternoon we'll attend a drive through open house- pandemic style. We'll meet her teacher from a distance in the safety of our car. We'll be given her virtual learning pack, intro documents, maybe a school calendar and be sent on our way. And next week, she'll start a full day of virtual learning (9:30-2:30).
While I know virtual learning is not going to be ideal for the kindergarten age, I also know that kids feed off of our attitude about things. I know that this year is supposed to be crazy exciting. And I know that virtual learning is going to be what we make it. I know that teachers are incredible. I know that excitement is contagious.
And so, we're excited you guys. We are pumped. And Caroline is too, as a result.
Caroline happened to have a desk in her room already, although it was a clutter of toys. We cleaned it up and rearranged. We added some organization for her and we made it a comfortable, inviting space. We made it a place she wants to be. We made it an important, special, big girl space.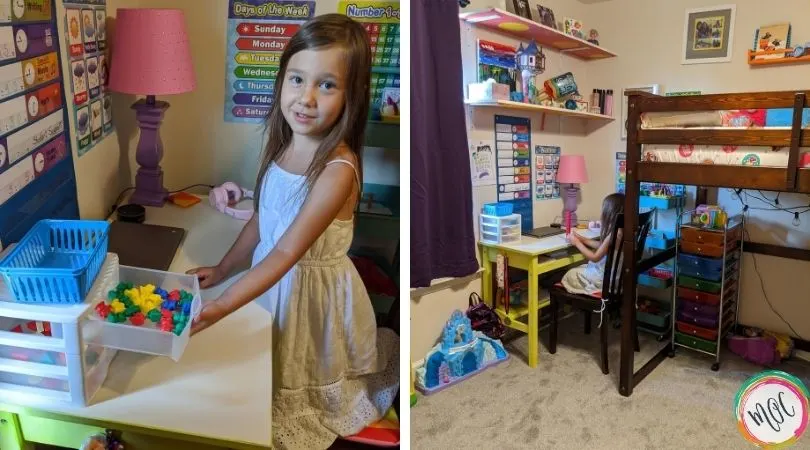 And then I was searching for more. I was searching for tools. Kids learn in tangible ways. They learn by having their hands on things and being active. I imagine her teacher is probably going to send a few things home with her this afternoon, but I wanted to stock her up with as many hands on learning tools as I could.
I happened to stumble upon something genius!
Just down the road from me in Potomac, Maryland, there is a first grade teacher that had an amazing vision.
She put together math and literacy tool kits for the preschool and elementary ages! She pulled all of the wonderful items that teachers use in the classroom with their students, and put them into kits for parents to use at home. These kits can be shipped nationwide. Isn't it just a genius idea? It's called Back to Basics Curriculum. I was BEYOND thrilled when I found these kits.
When we were quite suddenly thrown into distance learning back in March, I did not have what I wanted here in our house. Caroline was learning about 3D shapes in her Pre-K class. We did our best to find shapes that were representative in our home, but I wanted just some basic shapes to be able to show her vertices, faces and edges that she was expected to learn. It was hard on the computer and lacking some of the perfect shapes to physically hold and touch.
And guess what's in my kindergarten tool kit from Back to Basics Curriculum?! Yup- 3D shapes is one of the MANY items in the K-2 Math toolkit.
Back to Basics Curriculum Toolkits
So about a week ago, we received the K-2 Math Toolkit, and the K-2 Literacy Toolkit. Caroline was so excited to get these kits. She recognized a bunch of items from Pre-K, which made me so happy. "Mama, we used this in school last year!" was music to my ears. These kits have a plethora of tools and they are the RIGHT tools that teachers know and love.
After we went through each of the items together, we got Caroline organized and put all of these items into bins and containers at her desk. The following few days I could hardly keep her away from her desk. She was playing and engaging with the items and just loving it. I love to see how excited she is.
Her excitement for school is just growing and growing. She's bummed about virtual school, but she can't help but feel the excitement regardless. Her inviting space and her school tools are getting her pumped up, and I'm so glad to see it.
So with all of that being said, let me introduce you to these amazing toolkits. Oh and by the way, as a valued reader, you can get $5 off by using the code "MAMA5" at checkout.
I couldn't believe just how much was packed into these kits. The value is incredible, and I am so happy we have these kits to use at home. Simply put, they are going to make learning easier, exciting, and fun.
K-2 Literacy Toolkit
The literacy kit is packed full of really great things. I love that the tools make learning fun.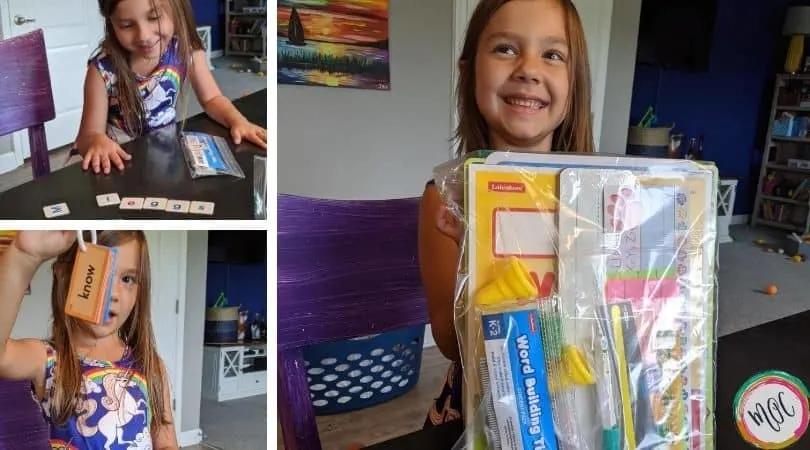 There is a plastic phone that is so fun talk into. The words come out of your mouth, up the phone and into your ear for sound surprise! Caroline was SHOCKED to hear herself like that LOL!
There is a reading highlight strip. This right here is the perfect example of something so simple that as a first time parent of a 5 year old, I had no idea existed- but it's such a great idea. It blocks out all of the commotion of other words on the page, and calms your child to focus on 1 line at a time. Brilliant.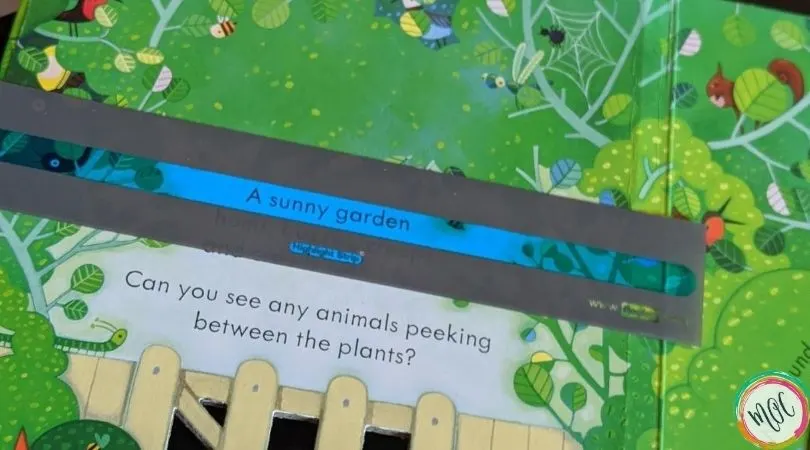 There are folders and dry erase boards and sight word flash cards, and just tons of tools.
Here's the full list of everything in the K-2 Literacy Toolkit:
– Dry erase pocket
– Reading highlight strip
– "Stuck on a Word?" bookmark
– Word building tiles
– Writing process folder
– Desk name plate
– Single line handwriting dry erase board
– Individual desk size pocket chart
– Say It, Build It, Write It board
– Read to Self phone
– Five Finger retelling mat
– Question dice
– Spaceman Word Spacer
– Sight Word Mini Flash Cards (100 words)
– Word Wall folder
– Following Finger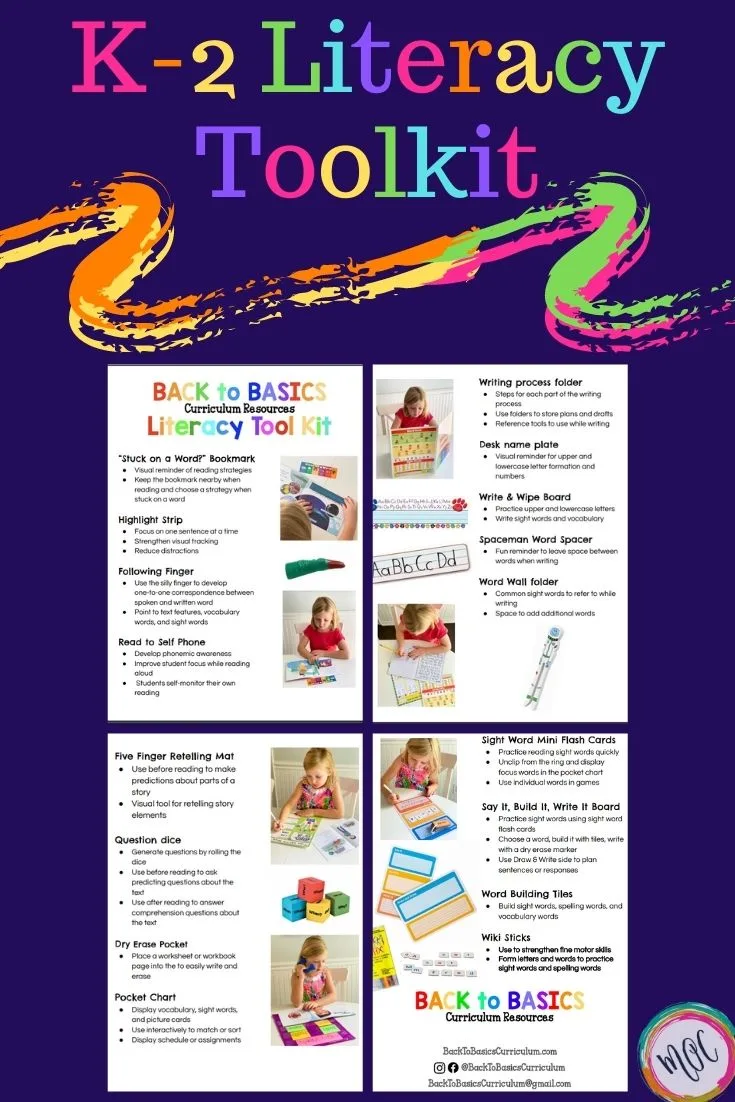 K-2 Math Toolkit
My favorite is probably the math toolkit, although honestly it's really hard to choose a favorite. The math kit has counting tools, shapes, addition and subtraction tools, a number line, tools for measuring, learning patterns, decimal places, telling time and on and on.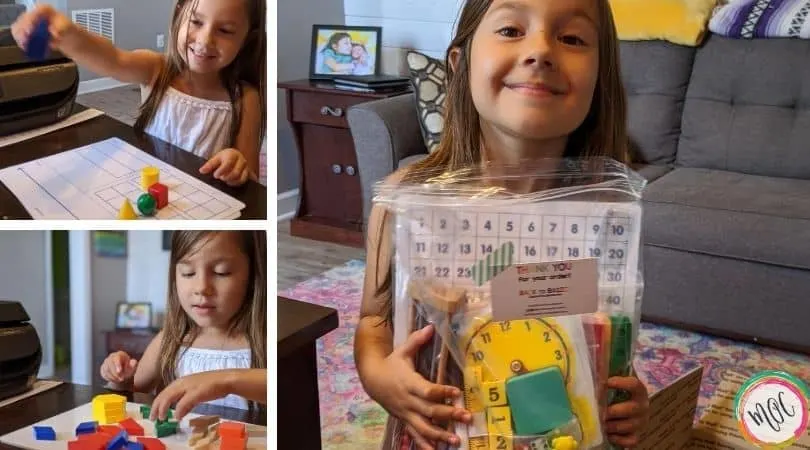 And it is packed full of things that Caroline used last year in Pre-K (from a tens-frame to counting bears and linking cubes). It's a great standard set that is super hands-on.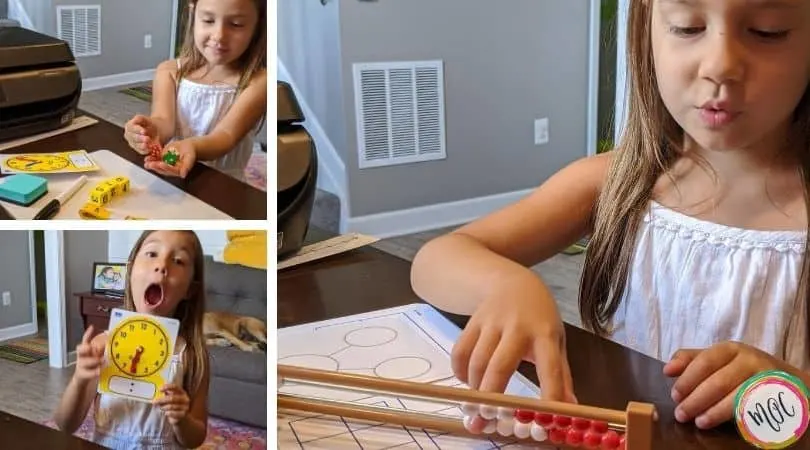 Here's the full list of everything in the K-2 Literacy Toolkit:
– Two-bar rekenerek
– Numerical fluency and 120 chart (wipeable)
– Dot dice
– Numeral dice
– Geometric solids
– 100 linking cubes
– 2-color counters
– Geared clock (wipeable)
– Pattern blocks
– Bear counters
– Dry erase board, eraser, and marker
– Wipeable number line
– Tangram set
– Place value disks
– Geoboard and rubberbands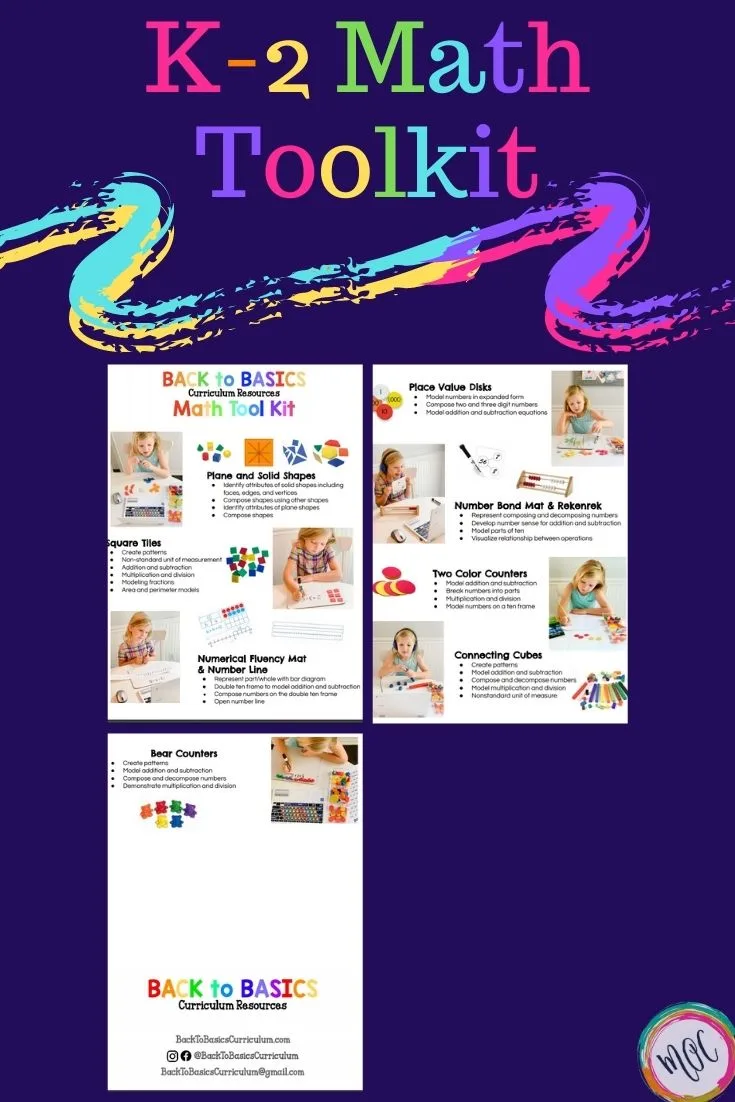 I am so pleased that we got these sets. I think it's going to be a great addition to our tool set at home for virtual learning.
If you are looking for a toolkit for preschool up through 5th grade, head over to Back to Basics Curriculum and take a look at the kits. You won't be disappointed! These kits all ship priority mail, so you'll have them in no time. Don't forget to use code MAMA5 for $5 off!
Happy virtual learning!
Don't forget- our kids are flexible and resilient. If we choose to be excited, they will too. Let's give this year a great start!
Other Items We Purchased to Set up a Virtual Learning Space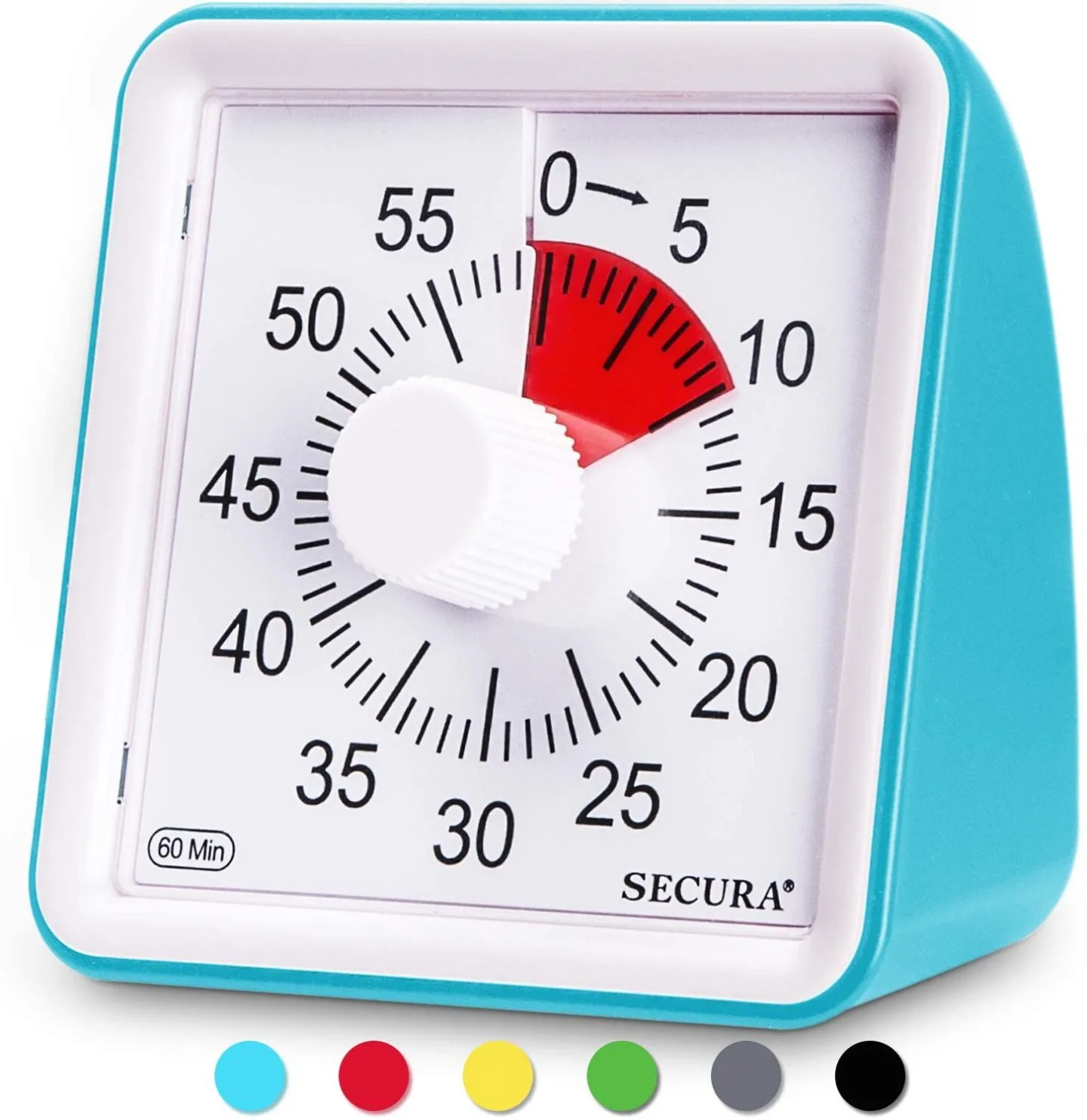 These kids are going to have breaks and need to know when to come back to the computer. For a kindergartner that doesn't yet know how to tell time, this timer is going to help so much!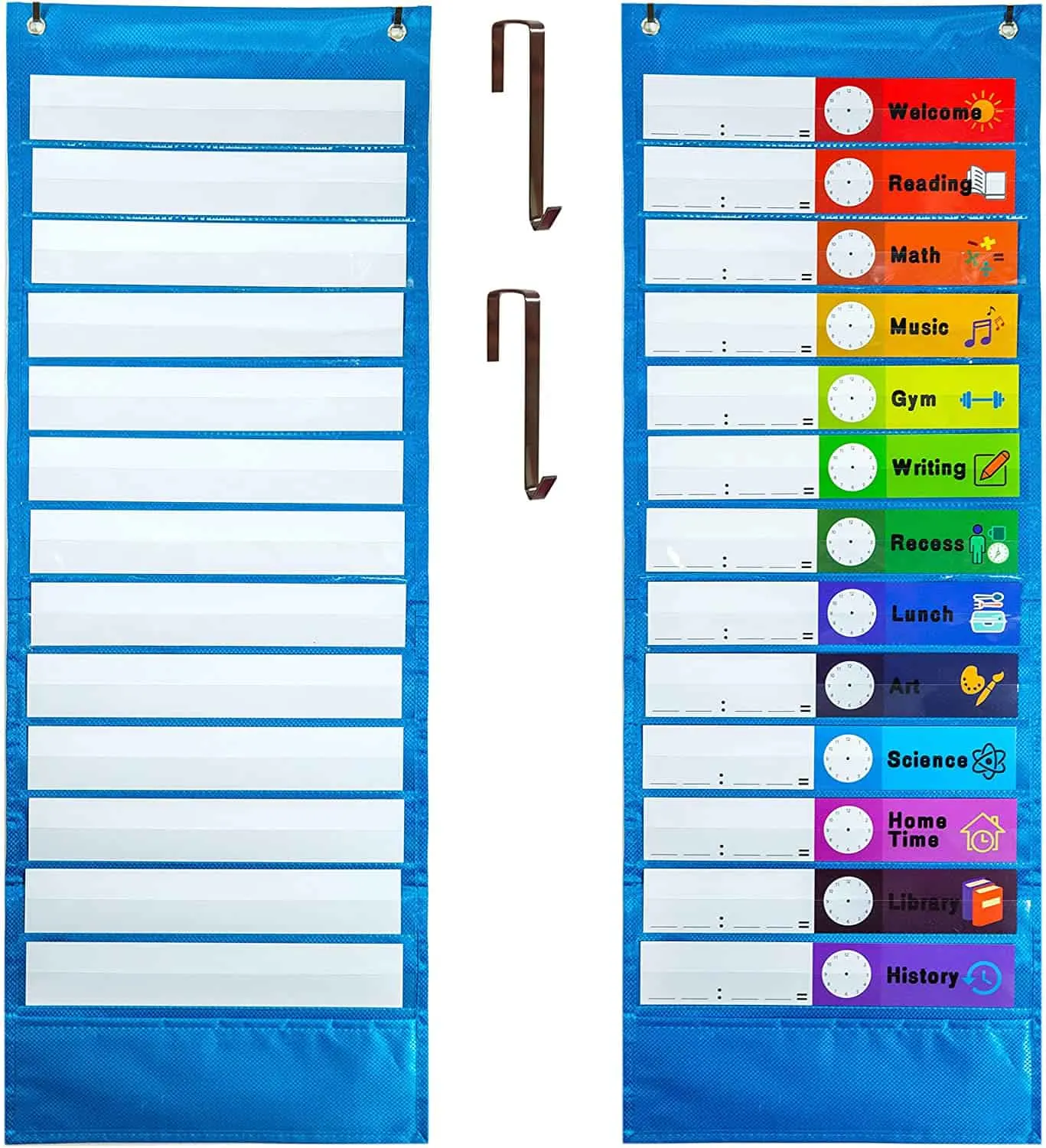 The schedules are a lot for virtual learning, and it's a lot to keep track of. With this schedule pocket chart we'll be able to have a nice visual for our daughter of what is coming next and when, etc. Super affordable!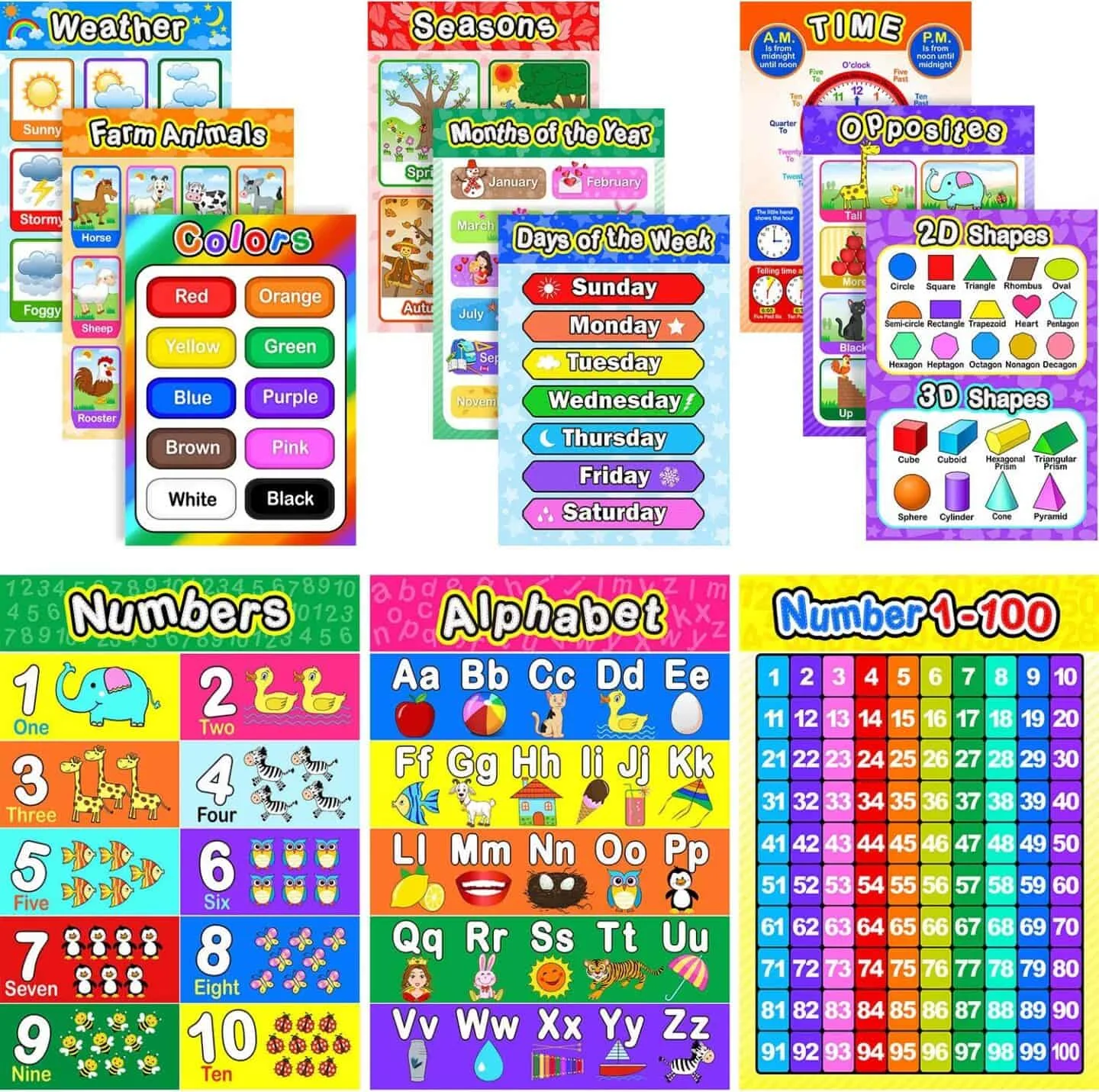 This pack is great. The posters are the perfect size to put several up around a desk area. Some are just basic colors, alphabet, farm animals etc. (so those are going to our 1 year old's room)… but the others are the perfect level for kindergarten. I thought it was a great pack to have and Caroline loves how her space is coming together now.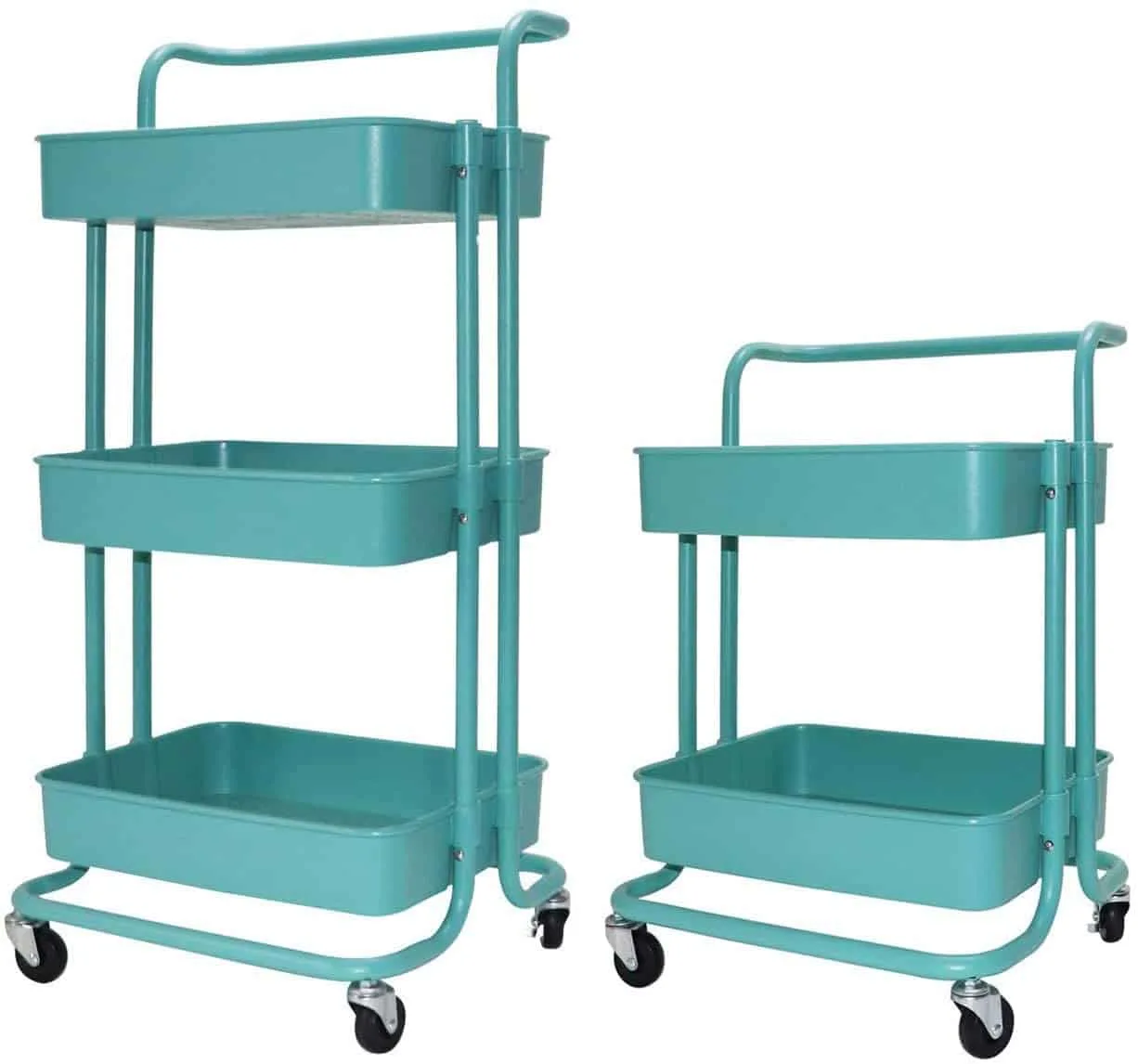 This is a rolling cart and has 3 shelves. It is perfect for holding some school supplies, folders with work, crayons, markers, pens, you name it! We have two on order… one for her room and desk area, and one for downstairs since they were so affordable and I have a feeling she'll work downstairs sometimes as well.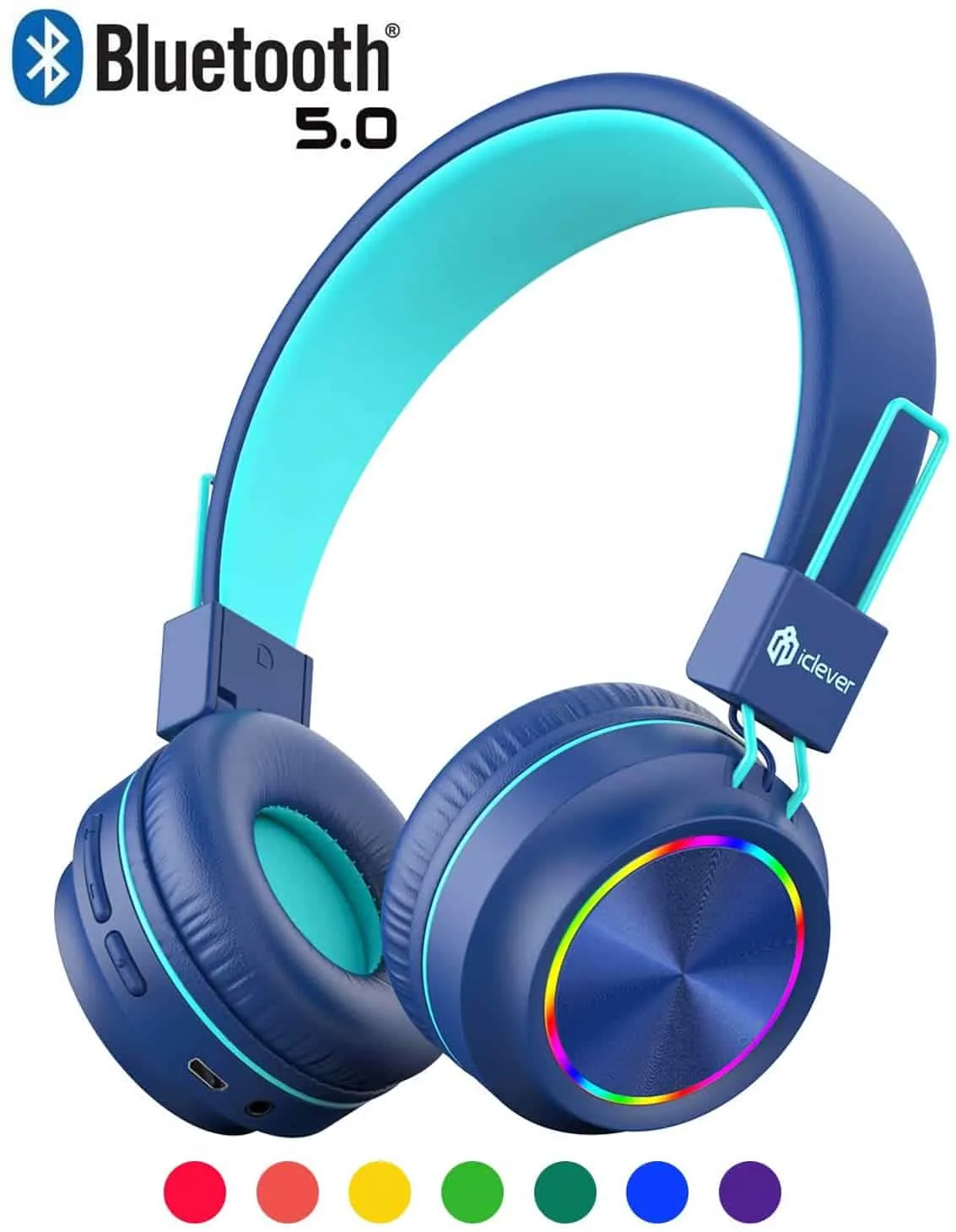 We ended up getting a nice pair of wireless headphones for Caroline. They cancel out noise pretty well and are very comfortable!
If you end up getting one of the Back to Basics Curriculum toolkits, I'd love to hear your thoughts!