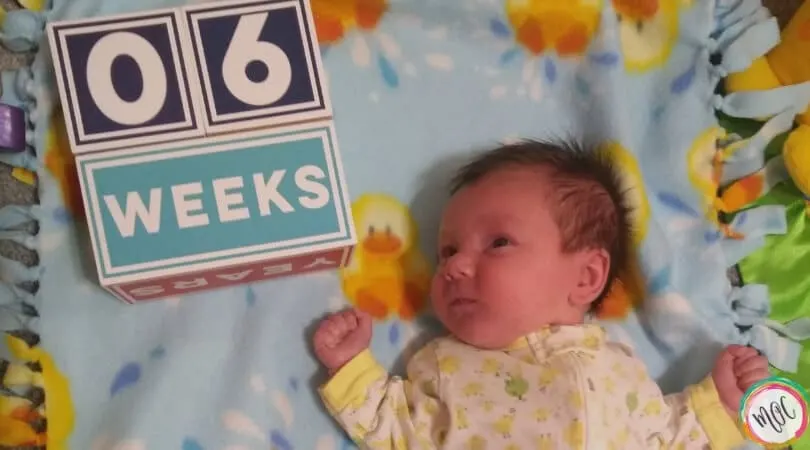 Week 6 Babywise Schedule
Not much change to William's schedule this week.
Feedings occur every 3 hours at 6 am, 9 am, 12 pm, 3 pm, 6 pm, 9 pm
He is starting to be more alert and have consistently longer wake times (45-60 minutes).
His alertness was very noticeable after finishing his first leap (wonder week 5). Read about his experience through wonder week 5 here.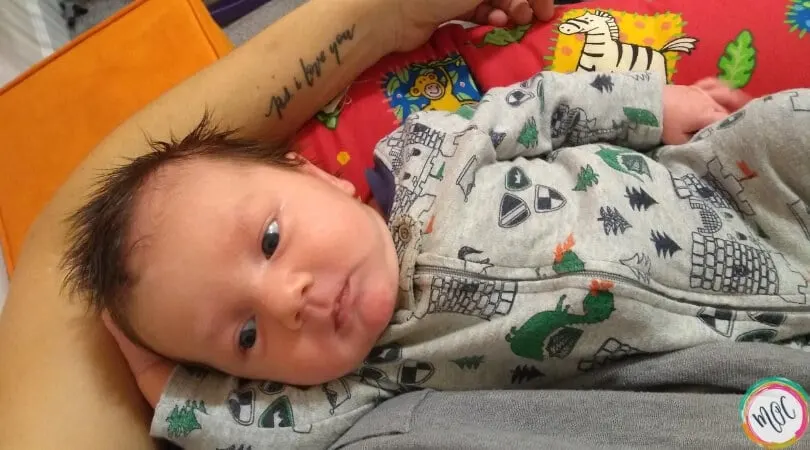 Eating
William went through his second growth spurt this week!
His feedings were noticeably longer (30 plus minutes) and really took up a lot of his wake time.
During feedings now, he's very distracted at times as well. He loves looking around, touching me, and just having lots of interaction.
I've been working with him to stop pulling off, and making sure he gets a good latch so I am not in any pain.
This week went great for that, as I was more aware that it was going to happen, and kept him focused with getting a good latch.
I have a strong let down this time around, and my body knows when it is time to feed.
With Caroline, my body had no physical response to her crying, or it just being time to feed her.
With William, I've noticed that my breasts start leaking when he cries, and when it's time for feeding according to our schedule.
When he's eating on the first side, the other breast starts dripping milk out for the first few minutes!
So interesting watching my body's response during this week. It seemed to really heighten this week.
His reflux seems to be getting worse again (most likely due to the growth spurt).
He actually doesn't spit up a lot, and really it's probably less than most babies.
His reflux issues are "silent" in that the spit up does not come out. You can hear it surface, and he gulps it back down. Poor thing!
I took him to the doctor the day after he finished his 6th week (so I'll have more of an update on this in the week 7 update).
He was prescribed Zantac and we started it immediately. I'll report how he's doing with that in our next weekly update.
At this appointment he was up to 9 lbs 11 ounces! He's eating and growing well!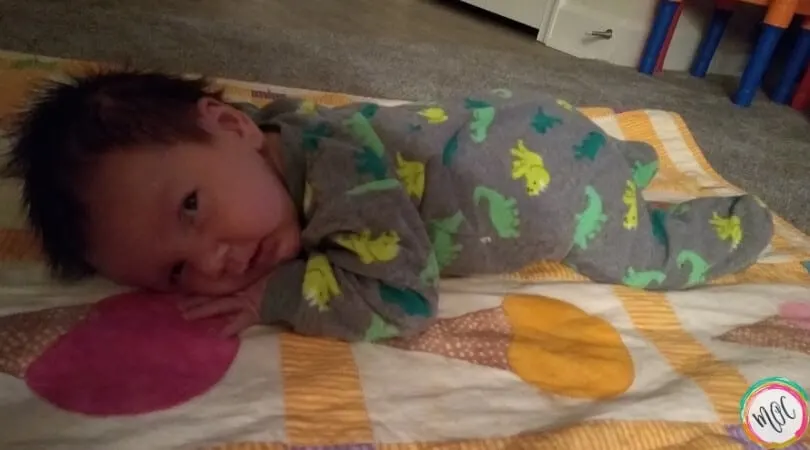 Wake Time
Most of his wake time is consumed by feedings this week. He's definitely in a growth spurt.
Grandparents were here this week, so I tried to pass him to them as soon as he was done eating so they could get as much time with him as possible.
Unfortunately, it was still pretty limited, as I was having to swoop in and take him for his nap a few minutes later.
He didn't get as much stimulation this week with the extra holding and snuggles.
He also didn't get as much floor time and tummy time, since we had a third dog here and our puppy, Copper, was going a bit nuts running around!
He certainly enjoyed his extra snuggles this week, though!
He also rolled over at 5 weeks 6 days from belly to back…twice. He hasn't repeated it yet, but he seems to want to practice and fusses through it- but hasn't done it again.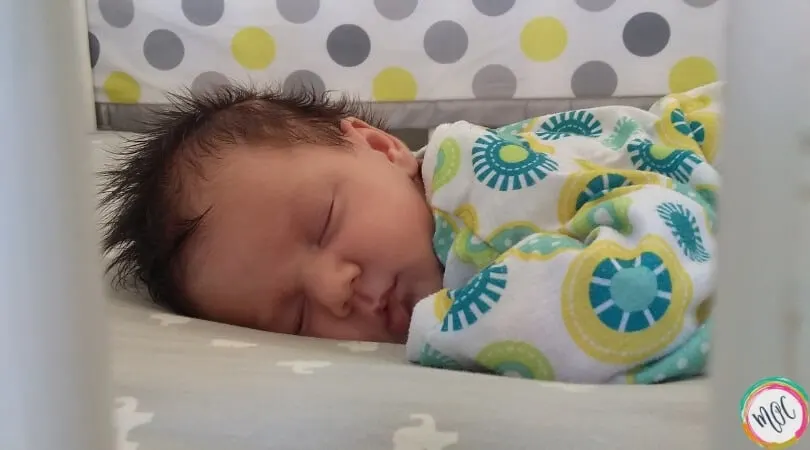 Naps
Naps were a little bit more unsettled this week due to reflux issues.
He had a hard time for the first hour, and again I do think it was mostly due to reflux. It may have been paritially due to less stimulation during his wake times as well.
He did seem to move past the issue we were having with him being unsettled for the last hour of his naps.
For the most part, he's sleeping through and not crying out as much during this last hour.
We've also moved this week to letting him sleep on his belly for naps. What a difference this makes!
We are still using the zipadee-zip this week, and have continued to not swaddle him.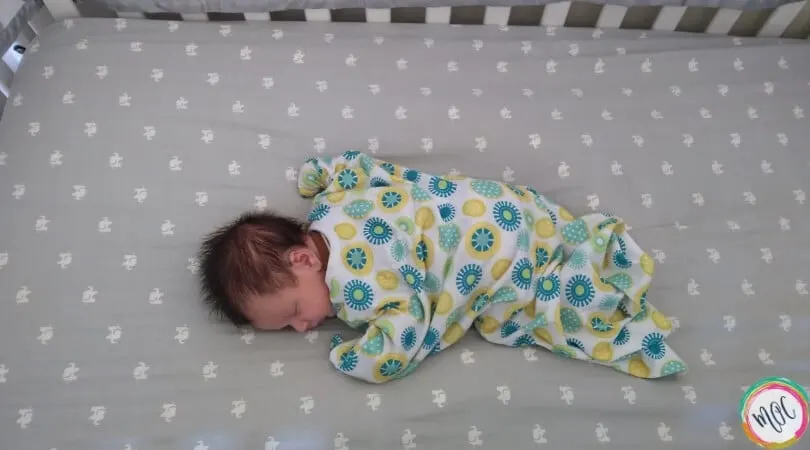 He occasionally needs a pacifier to help soothe himself, but we try to limit how much he has it.
His last nap of the day is hit or miss. This nap happens after the 6 pm feeding.
He seems to start his witching hour at that time and just doesn't want to sleep.
If this goes on another week, it might be time to start thinking about increasing his wake time, and/or the stimulation level.
He's not ready to drop a nap, however, and definitely not ready to drop a feed yet.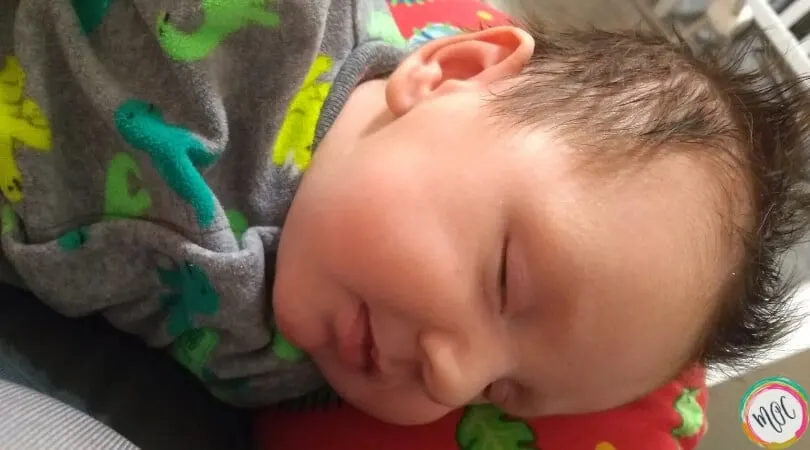 Nighttime Sleep
At 9 pm I feed him, and then he gets put to bed immediately.
This week was rough for bedtime.
He did not want to go to sleep. He was also having reflux issues, so I'm hoping the Zantac starts to help him settle better.
We set him down in his crib awake. He stays quiet for a few minutes and tries to sleep. Then he cries out. We wait a moment, then go help if he needs it.
We pat his back, we rub his back, I also run my hand over his head and down his face (which he seems to love), and we try picking him up briefly and setting him back down.
As soon as he's calm, we leave and try again.
We repeat.
He just doesn't sleep lately.
This goes on for a couple of hours. Sometimes until midnight.
Eventually we try the pacifier.
If that doesn't work, we either put him on his belly, or in the rock n' play.
We try to use those three tactics as our last resort, however.
We don't like him in the rock n' play overnight, or on his belly overnight.
He's very much back to waking every three hours right now.
He's genuinely hungry when he wakes, so I give him a full feed. Next week, I'll be attempting to help him stretch these back out if possible.
Since he's in a growth spurt this week, I am not attempting to decrease middle of the night feedings.
The great thing, is that after a diaper change, and a full feed, I lay him in his crib wide awake, and he's never had any issue putting himself back to sleep.
He seems to really know the difference between day and night nicely (always has), and he's quiet and not requiring assistance to go back to sleep at these two middle of the night feedings.
Life With Two
Caroline was preoccupied with company this week. She latches on to grandma like crazy!
As a result, she wasn't too interested in having wake time with William, or accompanying me for feedings as she normally does.
It was so nice to see her get some extra attention this week during the times I get pulled away to feed or help William.
We are in a good routine, and their schedules are working well together.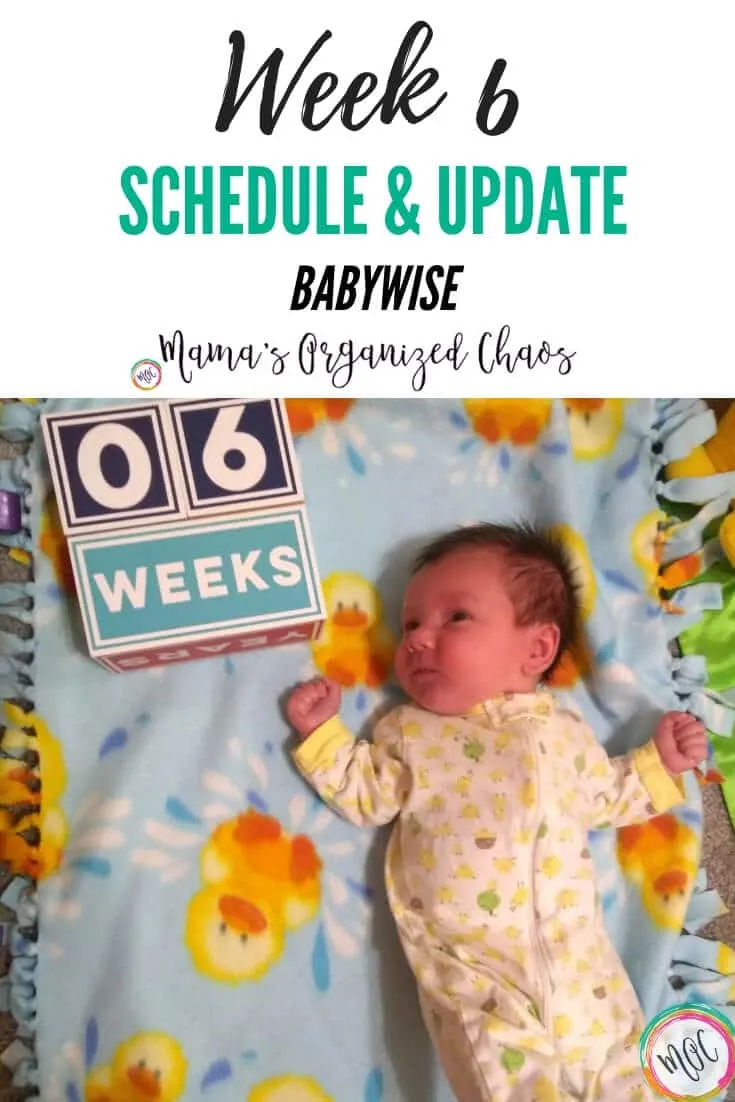 New This Week
William was just coming out of his first wonder week during week 6.
Wonder week 5 (leap 1) was fascinating to watch him go through.
You can read all about this leap and our experience with William at this post.
He is so much more alert, and can obviously focus in on things that are further away now.
He's listening to our voices more, responding to touch, and really starting to interact.
He had some little grins and is starting to "talk" more.
Schedules Page
See all of our schedules and scheduling resources!
Photo Credit: www.mamasorganizedchaos.com
See all of our schedules on this page, from newborn to preschool age!
Photo Credit: www.etsy.com
Download our printable baby schedules from newborn to 6 months and perfect the eat, wake, sleep cycle for your baby!
Includes recommended schedules.