Caroline graduated to the British Swim School Turtle 1 level! It is so amazing to see how far she's come since joining this swim program back in June of 2017.
Caroline was about 2.5 at the time. In a little over 1 year she's completed the Tadpole, Swimboree, Seahorse, and Minnow levels. She's now at a level where she'll be learning some beginner swim moves, which she is thrilled about!
To see the goals of each level, visit the British Swim School Program page here. For our experiences, see a full list of our monthly blog posts over the last year at the bottom of this post.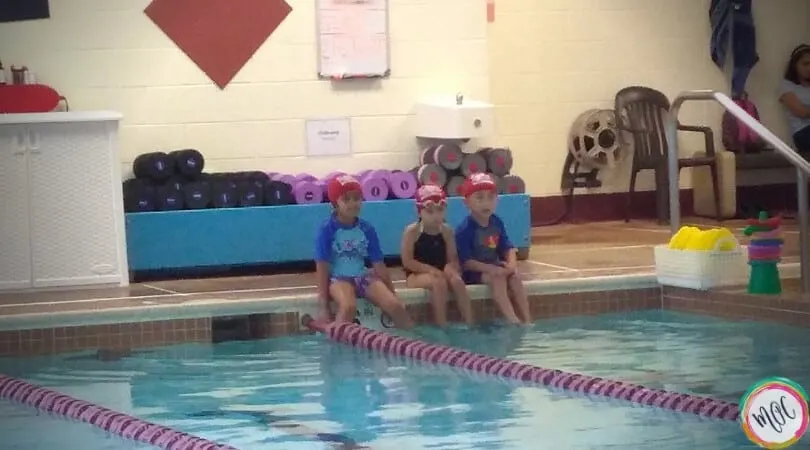 In exchange for an honest review on this blog, British Swim School of Central MD has provided my family with free swim lessons. All opinions and thoughts are my own.

**See below for an enrollment special!
Goals of the British Swim School Turtle 1 Level
Streamline with flutter kick independently
Jump in+ rollover + float+ swim-flip-swim to safety
Independently swim 10 yards of elementary backstroke with arms out of the water
Independently swim 10 yards of elementary freestyle with arms out of the water
Demonstrate breathing on the side
Our Experience With Turtle 1 So Far
Caroline has had 3 classes at this level so far. She was unable to keep the same instructor (Ms. Kimmie), when she switched levels. I wasn't quite sure how that was going to go, because Caroline does SO well with Ms. Kimmie, but so far I've been super impressed.
Often, Caroline does really well with changes. It seems to refocus her… that is, of course, only once she gets past any nervousness or fears of the change. This change was no different.
We kept the pool location the same. Caroline is now in class with Mr. Nick. It's a great class time. She is the first class time on Saturday. There is only one other class going on at that time in the same pool.
That all adds up to being a nice, quiet, focused class. Caroline has seemed to really benefit from that.
She was a bit nervous at first to work with Mr. Nick. He handled it perfectly, however, and just got her in the pool. He's set high expectations and calls her out if she is doing anything that isn't reaching those expectations.
As a parent, I SO very much appreciate that!
Caroline has done great with the two male instructors that she's had at British Swim School. She's nervous to work with them at first, but then she seems to listen to them better than she does with the women instructors.
Not sure if this is a coincidence, or if she just naturally listens to men better, but she's doing a great job listening and trying her best.
There is quite the range of skills in the 4 children present in her Turtle 1 class. She's the newest to the level and needing the most work on the new skills and concepts.
There are two children that are in the middle as far as skill set, and there is one girl that is ready to practically take off swimming to the next level.
This is one thing that I really like about British Swim School. Each lesson, the children all do the same basic skills, but the instructor gets one on one time to scaffold the lesson to each child's individual needs as he or she sees fit.
I also love that Caroline gets to see other children doing a skill that she might not have mastered yet. She learns so much from just watching the other children take their turns.
The first class at Turtle 1
In her first class at turtle 1, they worked on the following: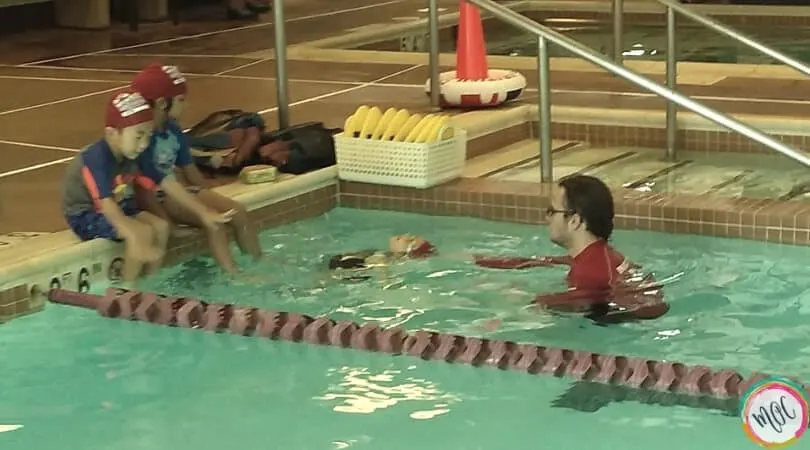 Independently pushing off of the wall (facing the wall, holding on with both hands, and pushing with feet)
Kicking to propel themselves (while on their back)
Practice jumping in and rolling over (something she'd done to be able to graduate the minnow level)
Caroline was thrilled to find out that she still gets playtime during the last 5 minutes of class! I had no idea she was worried about this!
Caroline really hates having water in her eyes. Since she'd been doing such a great job putting her face in and being so brave, I told her I'd talk with her instructor at the Turtle 1 level about wearing goggles.
Mr. Nick was ok with her wearing goggles, so she was thrilled.
When Caroline saw that there was only one person left before it would be her turn, she'd pull her goggles down over her eyes and get ready. So focused and on top of things!
She did great pushing off of the wall on her own, and just needs a little more power behind her legs to get going.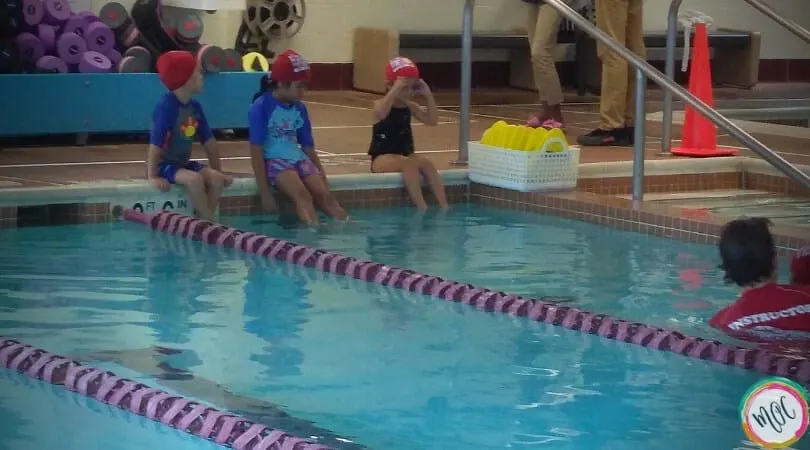 She is working with Mr. Nick on keeping her legs straight and doing faster kicks.
Some of the other children started working on adding arm movements in for the backstroke. Caroline needed a lot of focus on her kicks, so he refrained from teaching her the arm movements just yet.
The second class at Turtle 1
In her second class at turtle 1, they worked on the following:
Independently pushing off of the wall and submerging face (one arm on the wall and one arm out, pushing with feet, submerging face, and then flipping over to back)
Kicking to propel themselves (while on their back)
Practice jumping in and rolling over (something she'd done to be able to graduate the minnow level)
Shark arms back to the wall with face in water
Something that I noticed with Caroline's earlier levels, was that there was only a focus on "shark arms" (arms extended over head with hands together), when there was a substitute instructor. For some reason, the instructors that Caroline had in her classes never put much of an emphasis on it.
As a result, it's now kind of a foreign concept to her and she's having to get used to the idea. She's more focused on the fact that her face has to be in the water, which she still doesn't like.
She's not able to multitask well and do both (face in water and shark arms) at the same time just yet, but she's getting the idea.
She likes to try and tell Mr. Nick (as she did with Ms. Kimmie), that she doesn't want to put her face in the water. She's always tried bargaining (I'll do it once, etc.). Mr. Nick isn't having any of that. Go Mr. Nick!
On the parent side of things, I've told her if she doesn't listen to her instructor and put her face in, she won't be given the luxury of goggles. The combination seems to be doing the trick and she's doing her best to put her face in (most of the time).
I'm thankful that Mr. Nick isn't putting up with or giving in to any of her tactics to get her way.
The third class at Turtle 1
She actually had to miss one class due to being sick. After the week off, she resumed things as usual and didn't skip a beat.
In her third class at turtle 1, they worked on all of the above that had been done in the first two classes, along with one new skill: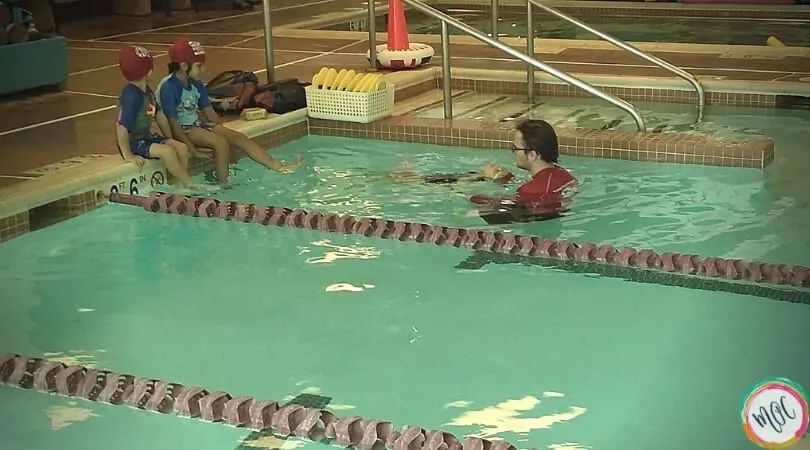 Jumping in independently, face in with shark arms, then rolling over to kick while on their backs
This was a lot for the children to remember, but they all did their best and it was fun to watch them put everything together!
Caroline did much better with putting her face in, and with getting her kicks faster and more effective.
It's amazing how comfortable she looks in the water now. I'm really impressed to see her grow and her skills start to really come together as she learns beginner swim moves!
Now I'm just wishing I still had access to a pool to work with her throughout the week. I am really excited to see how far she'll have come by next summer!
Enrollment Special 20% off :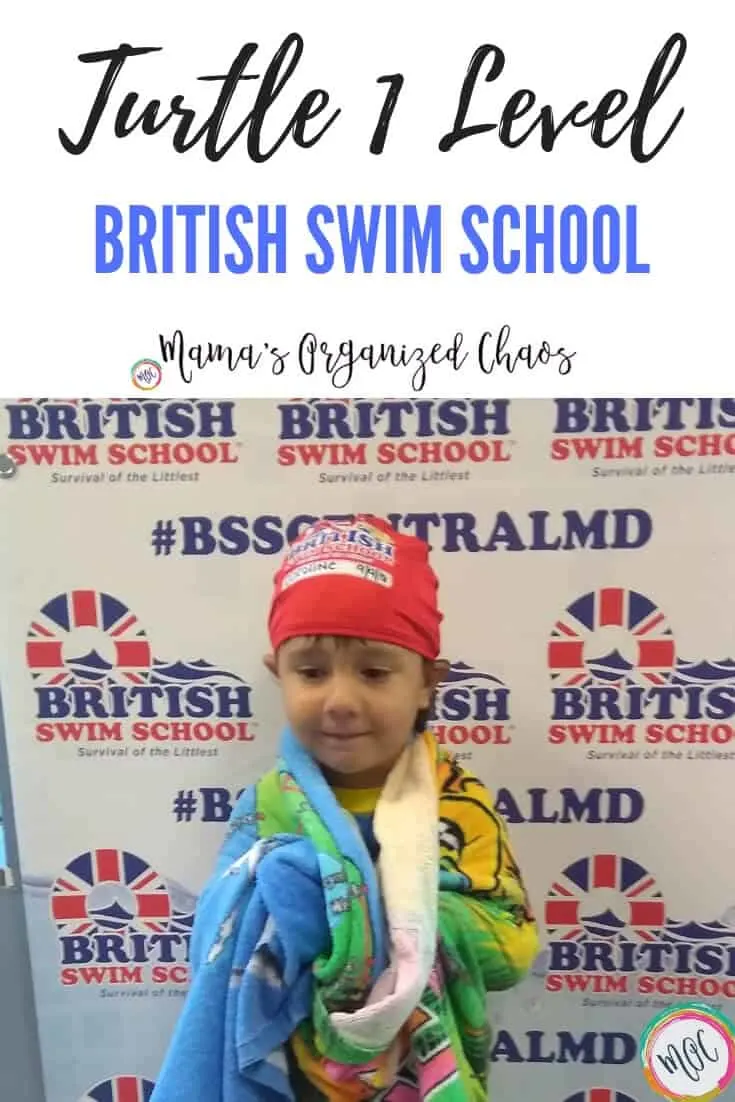 If you are interested in signing up with British Swim School here in Montgomery County, MD, I am really excited to announce that you can receive 20% off your first 4 lessons! When you call to enroll, use the code #MAMAS18. The information for our central Maryland British Swim Schools can all be found at this link.
Other Posts About Our British Swim School Experiences: