What a momentous occasion to have finished out this school year- for the kids, the teachers, the school staff, and even the parents and families. This year it truly took a village for school happen successfully.
Caroline was in kindergarten this year- during a pandemic. What a way to start school, right!? It was already going to be new and different. She was already going to be nervous. I was already going to be sad. Gosh, add in the pandemic and all the emotions quadrupled at least.
I was sad that she wasn't getting her special year. I was secretly also happy that she was getting to stay home a little bit longer. She was nervous to do school on a computer, then nervous to go back in person. It was weird and new and different and none of us knew what to expect.
Caroline tackled this school year with such grace. She was focused on the best and as a result her year was amazing. She handled virtual school as a kindergartner. Enough said right? That's amazing. And not only did she handle it, she thrived.
She managed everything on her own after the first 2 weeks. She knew how to get around on the computer, how to submit assignments, and I was hardly needed at all. It was amazing to watch. Her writing exploded and blossomed. Her reading grew stronger and she became more confident.
Her academics thrived, but also she made sure to make friends and friendships. Just as she would have done in person, she made me reach out to parents time and time again. She set up virtual playdates. She even had weekly FaceTime calls with a couple of friends.
As a parent of a kindergartner, I didn't know what to expect during a normal year, so I have nothing to compare it to. But this year, while it had many challenges, it also brought some really great things.
I got to know the faces and names of all of her classmates and friends. I saw her teachers face every day and got to know him. I feel like the connections this year were so much more than they would have been in other years. In a normal year, I imagine that I'd really only see the teacher a few times- back to school night, and a couple of parent-teacher conferences. This year, I saw her teacher and classmates daily. As a result I felt that everyone made stronger relationships and it is so special to have that.
Today is the last day of school. It was such a progression this year with so many changes. We went from all virtual with me sitting on the floor of her room as she navigated Schoology and Google Meet in September, to two weeks later being completely hands off as she did virtual school on her own. Then she started hybrid in April going 2 days a week with masks on all day. Then she started 4 days a week. Then she started riding the bus. She experienced so many changes this year. She has not once complained about wearing a mask. She hasn't complained about much of anything really, except that she couldn't go 5 days a week!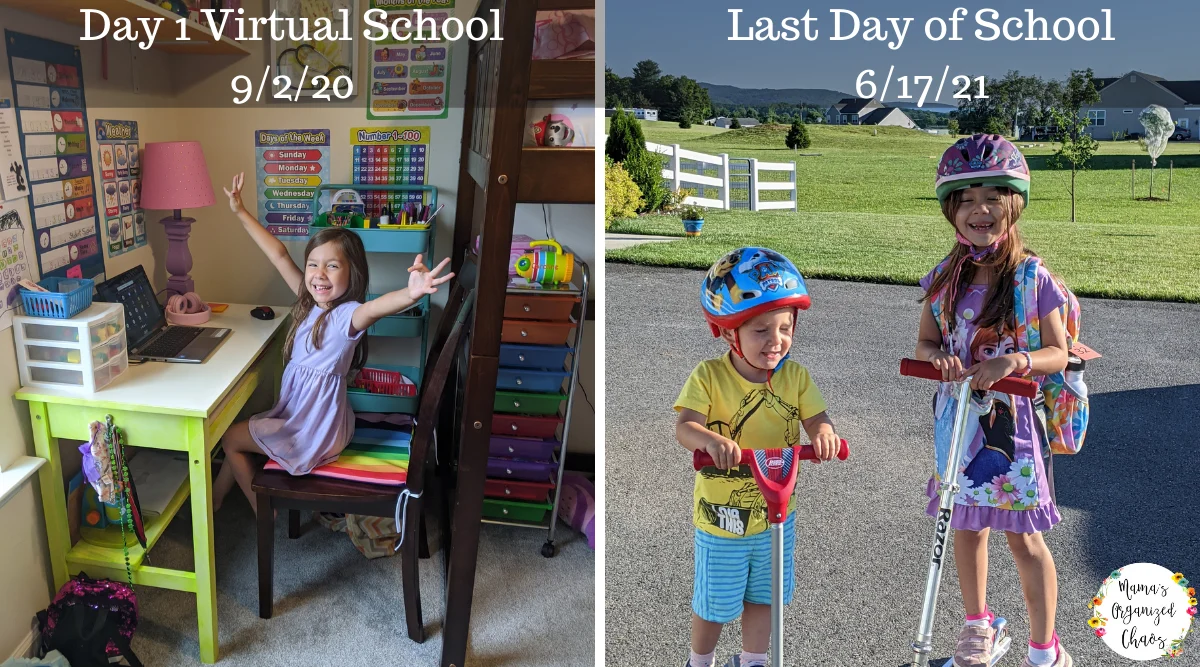 Simply put, she loves everything about school.
Today she is so sad. She doesn't want school to end. She doesn't want a new teacher. She doesn't even care if she gets a summer break. She'd keep going right through.
Today I am sad. I think all of the emotions of this roller coaster year have come crashing down. I am sad that this year is coming to an end. I am sad that she'll have a new teacher. This year was incredible, even with the craziness of it all.
I am proud of her- so dang proud.
Caroline never struggled to understand the virus, the need to keep our distance from others, the need to wear masks, etc. She never struggled to understand the severity of it all and what it could cause. She took it seriously and still does.
Now, with low positivity rates across the country, masks are coming off and things are getting back to normal. That she does have a hard time understanding and backtracking from this year and half long journey of masks and distancing.
In our world and the world of all parents with young children, things just aren't back to normal. Not yet. My husband and I are vaccinated, but our kids are not. Our kids can't be yet. And so we keep our masks on and we still keep our distance.
I have no idea what next year will bring. I know that the kids are back in school full time. We'll have to wait and see what they decide on masks, and where we are with children being vaccinated. In the meantime, we continue teaching our daughter about how she is increasingly becoming more and more safe, as more people decide to get vaccinated.
Next year will be exciting. I can't believe we already have a first grader on our hands! Already, the years are going by way too fast. And as always, that pull of wanting to see our daughter grow, and wanting to hang on to her and slow time down are constant.