May 23rd. It was only 3 months, 3 weeks, and 4 days ago. Insignia Homes broke ground on our house. It was quite possibly the slowest and fastest time of our lives.
We are the kind of people that, when we decide what we want, we get it. We do it. We make it happen.
We're used to Amazon prime delivering things in 2 days. We don't wait for the next holiday. We don't buy things like crazy. But when we want something, we often just get it.
We live within our means and only buy what we can afford. We don't have credit card debt. If we can't pay for it outright, we don't buy it. We try to be smart.
Then there is this house. We didn't get to sign the papers and move in. We got to sign the papers and then hurry up and wait. Wow is it hard to wait for something so exciting!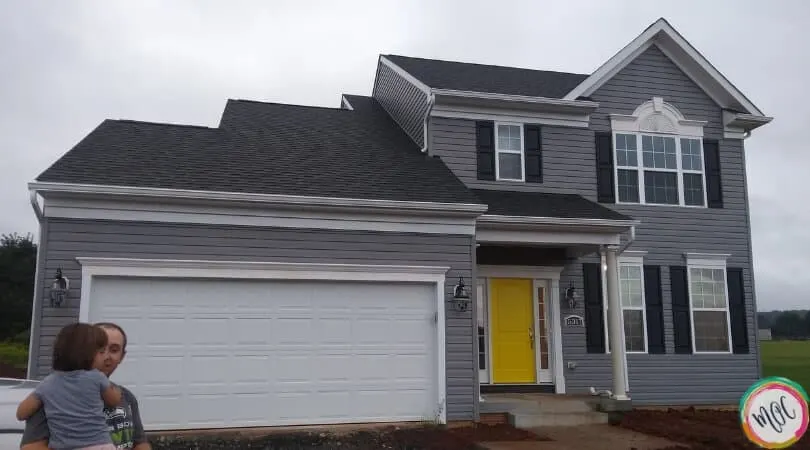 We moved into an apartment less than 5 miles away. We watched the progress almost daily. We were fascinated with the build process, and anxious to move in.
In some ways this house seems like it was built in the blink of an eye, and in others, it felt like forever. It is so hard to wait for something you long for so badly.
It's a house. I know. But this house is more than just a house to us. This is our home. This is where we see ourselves forever. This is where I see myself getting my one on one time with April Rey. This purchase might possibly be because of sweet April.
Honestly, had April lived, I don't think we'd have moved. I think we'd be in our townhouse still. I wouldn't have wanted to move with a newborn. We would have waited.
After she died, however, I just knew it was time. I knew that I didn't want a newborn and a 3 year old in a 2 bedroom townhouse. I knew I needed to get away from the seemingly ever busy suburb that we were in. I knew that I needed space, quiet, fresh air, peacefulness.
We'd have moved eventually, but it wouldn't have been to this house. This house feels like a gift from April. A place to honor her. A place to connect.
And so, I've been anxiously waiting to get in. I want nothing more than to be able to walk outside and feel the peacefulness take over.
The day has finally come. Our FINAL walk through is today. TODAY! September 17, 2018.
Today we go on our final walk through of the house with our builder. The house that we've walked countless times. The house that we saw built from the ground up. We saw every single action that went into this house. Today we walk it again, knowing that we get to move in just days from now.
This week also marks the last week of my husband's insanely busy work schedule during the summer. The fall weather is arriving. The hard sleepless summer is coming to a close.
Football season is here. Fall weather is here. Boots and jackets. Fall colors. My favorite time of year has finally arrived. And with it comes more time with my husband, and a move to our perfect, forever home.
Around the corner is winter. William will be arriving. And so I am eager to get this house set up. Eager to paint and decorate and settle in. Eager to get the baby clothes out and fill his drawers with essentials. Eager to wash the cloth diapers and just get things ready. Eager to have him in my arms.
It's amazing to me how fast this time went. My last update on the blog, was at the end of July- New Build House Updates (July 2018). I meant to get in another update in August, but totally failed to do so.
And now here we are. It's mid-September and we are doing our final walk through.
I last left off when the house had the kitchen cabinets installed. Clearly, a ton of things have been done since that day, since it is now move in ready!!
Exterior: In these photos, you'll see the septic system being put in, the heat pump, water lines, and power lines. The siding and exterior elements were almost complete, and the exterior lighting had been installed.
Interior: This is when things got insanely exciting. Our kitchen had the final touches done. We had our granite counter tops, the beautiful under-mount sink, and the appliances! The pantry shelving is in as well.
The bathrooms also started to really come together with tile work being done. Then the lights were all installed, and the flooring was in. It was really starting to look like a house now!
September then showed up. Originally, we were told that the estimated completion date on the house was September 30th. Insignia Homes– they were typically finishing these houses sooner than that estimated build time.
We trusted in their build times, and back in March, we signed a lease for our apartment that was through- September 30th. I knew we were cutting it close, but adding another month was a lot of extra money. And so I trusted that it would work.
Well, when September showed up, this Mama got nervous. I was suddenly super stressed. We didn't have a final date yet. We didn't really know if we'd have a place to go once our lease was up.
I couldn't secure a date for movers, for our washer and dryer delivery, and so much more. I couldn't DO anything but just sit and wait. It was so frustrating and stressful.
I put an email out to our builder/realtor team asking for a completion date, an estimate, anything. Reminding them that we had to be out of here by September 30th.
The builder called me later that day and calmed my worries. He'd have us in the house in September- NO PROBLEM! Even if the weather didn't cooperate, and he couldn't finish the grading, landscaping, paving, etc. Even if he couldn't quite finish the exterior, he'd move us in.
He had everything scheduled for completion on the inside of the house this last week. And on Friday, September 14th, we got the call. Our final walk through would be Monday (today).
The land is not graded. The driveway is not paved. The landscaping can't be done yet. But we will be in this house. And as soon as the weather cooperates enough, those things will also get done.
So, now I am scheduling and getting ready for our move. In just days, we get to be in!
Here is where I get to blow your mind with how amazing our house looks on the inside.
It has been cleaned and is just beautiful. We are thrilled with all of our flooring, cabinet, counter top, and tile choices. Everything goes together so nicely and flows so well. It's perfect!
I don't quite know the exact move in date yet, but I know it's only a matter of days now. And I can tell you that we are pumped. We are beyond excited to make this dream come true.
We have our fence company just waiting on our call to come and do their official measuring. We have movers ready. We have everyone ready. Odds are, we'll sleep there before our furniture even arrives- because we are that excited!
We have plans for paint colors, where pictures will be hung, and more. And I will try and capture a good video tour of the house before all of our stuff is inside!
April Rey, this house is for you. For us. We'll have early morning talks under the starry sky. I'll breathe it all in and feel you as much as I can. I promise to always hold tight to the calmness and strength that you send our way. This house is that reminder for me.